Complimentary breakfast is top expectation for travellers staying in hotels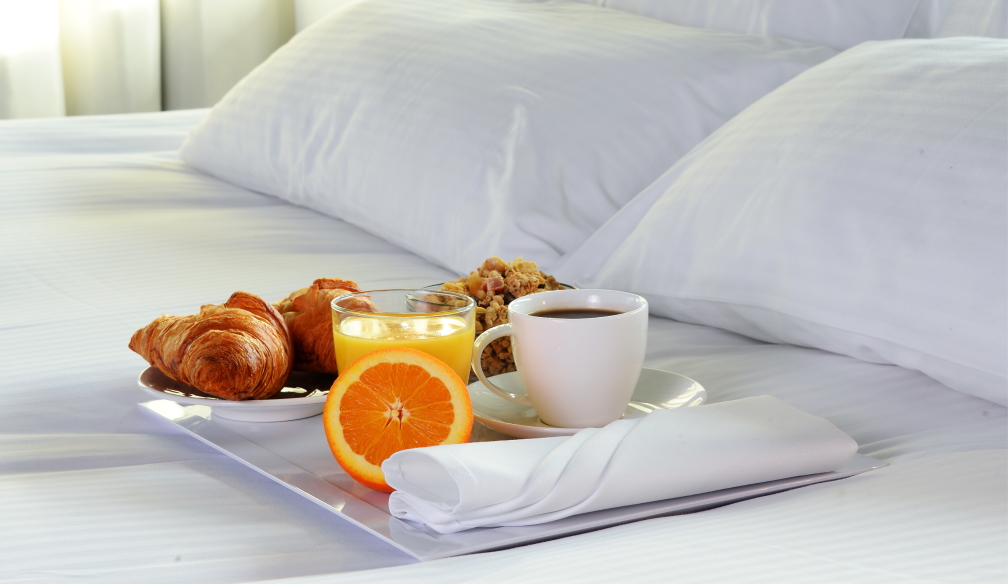 Agoda has revealed the top three things international travellers are looking for when they book accommodation in Australia, and the results may surprise some hotel owners. 
The Agoda survey, conducted by YouGov, asked travellers from nine different markets (South Korea, Taiwan, Philippines, Vietnam, Thailand, Malaysia, Indonesia, India and Japan) what they expected in terms of products and services offered by hotels, in comparison to expectations when staying at Agoda Homes style properties, which includes private apartments, villas and unique properties. 
The results showed international travellers have much higher expectations from Australian hotels than other forms of accommodation. 
Overall, 70 per cent of respondents said they expected a hotel to offer a complimentary breakfast. This was followed by toiletries (69 per cent), daily housekeeping (64 per cent) and a concierge service (64 per cent). 
However, the mix of top three priorities varied greatly between the nine countries surveyed. 
Agoda's Oceania Director, Zsuzsanna Janos, said the research showed it was increasingly important for hotel owners to know where their guests were coming from and match their offerings accordingly. 
"Hotels that have a clear understanding of the products and services that potential guests from particular countries expect, are more likely to keep their rooms full and generate revenue," she said.
National differences
"This research highlights that Asian travellers should no longer be seen by Australian hotels as one market, and there are many cultural nuances to consider. 
"We can see from the research that South Korean travellers rated quality bedding as one of their top three expectations when staying at hotels, even though this wasn't identified in other markets. So, for a hotel to be even more attractive to South Korean travellers, it would be helpful to provide a range of pillow choices, for example. 
"Taiwanese were the most likely to prioritise toiletries – they ranked it as their top expectation from non-hotel accommodation providers, and second top expectation from hotels." 
Indonesian travellers were the only ones who said that facilities – such as a pool or gym – were one of their top three priorities at hotels. 
Guests from India put ground transport or a car rental service on their list of top expectations at hotels, while both Taiwanese and Japanese travellers want hotels to have adequate luggage storage. 
Japanese travellers were less particular about their hotel requirements, with only 51 per cent expecting a complimentary breakfast or toiletries. 
Ms Janos said: "While travellers are once again relishing the opportunity to re-explore the world, they want to make sure they have the best possible experience, and that includes finding accommodation that matches their needs and desires. 
"The trick is for hotels to have multifaceted marketing strategies that appeal to specific nationalities to take advantage of the surge in international travel. That's because we have entered an era where hotels can reap the benefits of offering tailored services." 
Data breakdown: Top expectations at hotels (by travellers' country of origin)
South Korea
Complimentary breakfast – 69 per cent
Bedding choices (type of pillows, etc) – 67 per cent
Toiletries – 67 per cent.
Vietnam
Daily housekeeping – 64 per cent
Toiletries – 61 per cent
Concierge services – 61 per cent.
Indonesia
Toiletries – 75 per cent
Complimentary breakfast – 74 per cent
Facilities (pool, gym, etc) – 73 per cent.
Taiwan
Complimentary breakfast – 83 per cent
Toiletries – 77 per cent
Luggage storage – 76 per cent.
Thailand
Complimentary breakfast – 73 per cent
Daily housekeeping – 71 per cent
Toiletries – 70 per cent.
India
Complimentary breakfast – 60 per cent
Ground transport / car rental service – 58 per cent
Daily housekeeping – 56 per cent.
Philippines
Toiletries – 73 per cent
Daily housekeeping – 71 per cent
Concierge service – 71 per cent.
Malaysia
Complimentary breakfast – 81 per cent
Toiletries – 81 per cent
Daily housekeeping – 78 per cent.
Japan
Complimentary breakfast – 51 per cent
Toiletries – 51 per cent
Luggage storage – 34 per cent.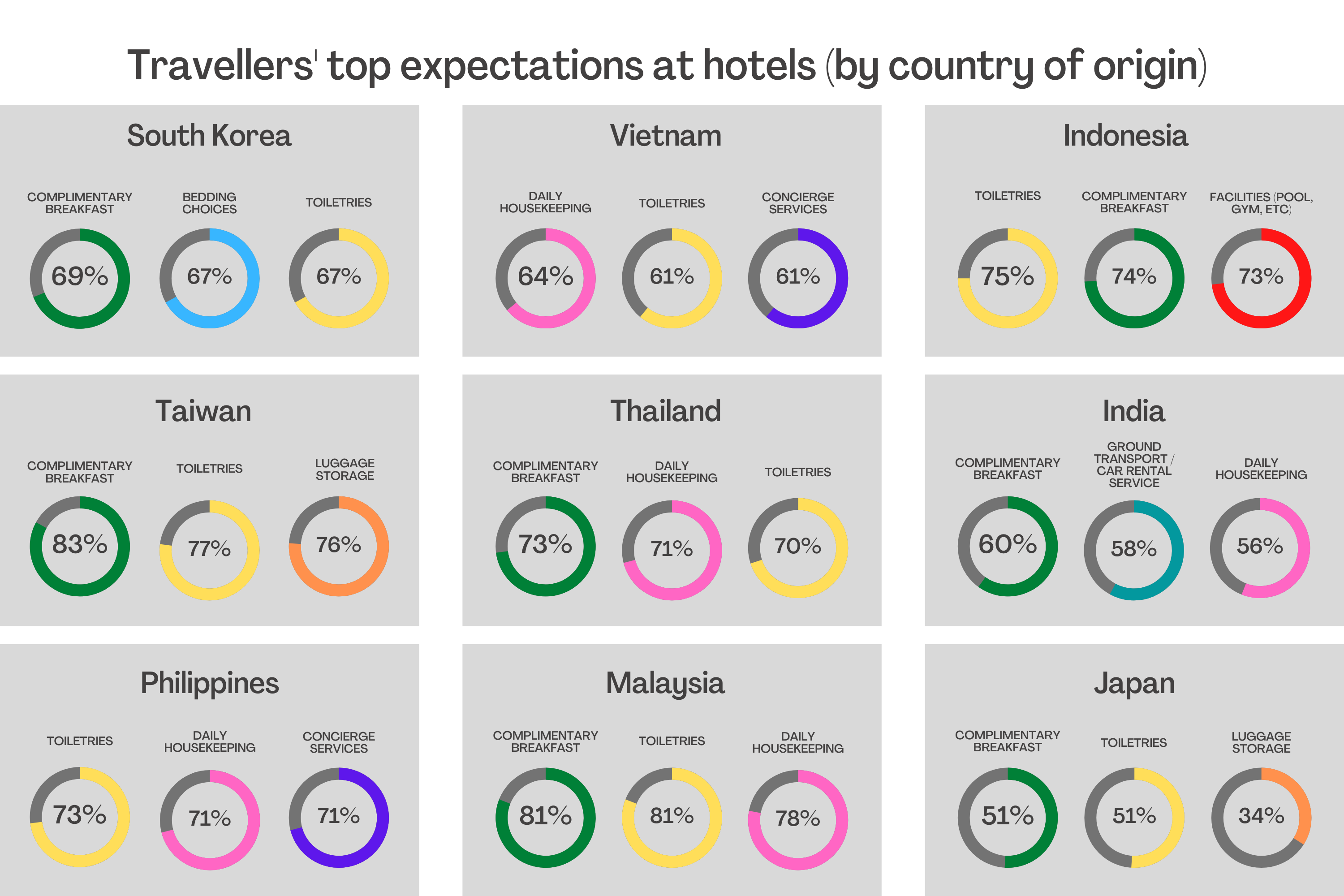 About the data
All figures, unless otherwise stated, are from YouGov Singapore Pte Ltd.  Total sample size was 11,698 adults.  Fieldwork was undertaken between 11-16 Nov 2021 (all markets except India and Japan), 16-22 Nov 2021 (India and Japan).  The survey was carried out online.  The figures have been weighted and are representative of respective markets' adults (aged 18+). 
YouGov is a global provider of analysis and data generated by research in 43 markets from an online panel of over 7 million.  As market research pioneers YouGov's data consistently outperforms others on accuracy, as concluded by Pew Research.