Hilton Hiroshima Debuts as Newest Addition to Flagship Brand's Portfolio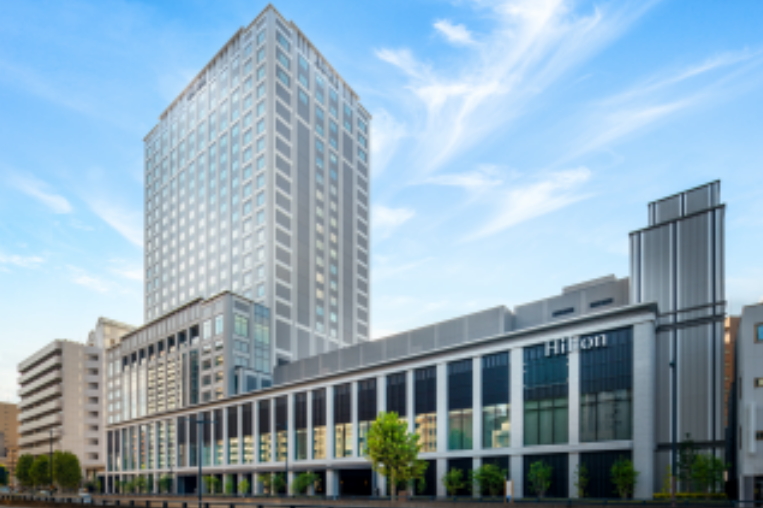 Offering convenient access to popular UNESCO World Heritage sites in Hiroshima, the new 420- room hotel features one of the largest MICE facilities in the Chugoku and Shikoku region 
Leading global hospitality company  Hilton (NYSE: HLT) today announced the opening of Hilton Hiroshima, marking Hilton's first flagship  branded hotel in Hiroshima. Under an agreement with Fujimi-cho Development G.K., a Special  Purpose Vehicle (SPV) set up by Setouchi Brand Corporation, Hilton Hiroshima is managed by Hilton. 
Conveniently situated in the center of Hiroshima city, the hotel is within a 10-minute drive from  Hiroshima Station and is within walking distance of the UNESCO World Heritage Site "Atomic Bomb  Dome," and Peace Memorial Park – which attract more than 1.7 million visitors per year1. The hotel  also offers easy access to major dining, shopping and sightseeing spots such as the Hiroshima Castle  and Itsukushima Shrine with its famous floating torii gate.  
"We are delighted to announce the opening of Hilton Hiroshima as the latest addition to Hilton's  flagship brand, in the centre of the Chugoku and Shikoku region," said Timothy Soper, area vice  president, head of Japan, Korea, and Micronesia, Hilton. "With Hilton's extensive experience in Japan,  we are incredibly honoured to partner with Setouchi Brand Corporation to set a benchmark for Visitor statistics to Hiroshima Peace Memorial Museum in 2019.
hospitality in the region. Being at the heart of both commerce and tourism, Hilton Hiroshima has been  designed to meet the needs of both leisure and business travelers alike, as well as visitors attending  international conferences and exhibitions. With Japan set to host the G7 summit in Hiroshima next  year, we look forward to welcoming both international and domestic guests with Hilton's signature  hospitality." 
Shin Isaka, chief executive officer, Setouchi Brand Corporation, said, "Today we are pleased to  commence operations of the first Hilton hotel in Hiroshima. As an international city of peace, there is  a strong demand for Hiroshima to host peace-related academic conferences and international  meetings. The opening of Hilton Hiroshima with extensive conference facilities in the city center near  Peace Boulevard has been a long-held dream, and this would not have been possible without the  confidence and support our partners, such as Hilton, have placed in us. We look forward to warmly  welcoming guests from around the world to this new landmark, which will offer a unique experience of  the cuisine, history, and culture of Hiroshima including the Seto Inland Sea with the Tatobi (the beauty  of multiple islands)." 
The newly built 420-room Hilton Hiroshima features one of the largest convention facilities in the region,  and the hotel can accommodate international MICE events of more than 1,000 people with 19 banquet  and meeting rooms with the latest LED technology and state-of-the-art AV equipment. Additional hotel  facilities include four restaurants, an executive lounge, a wedding chapel, a fitness center, an indoor  pool, and sauna. Guests can also relax at the hotel spa, Spa by L'OCCITANE, which is the first  L'OCCITANE spa to open in the region. 
Hilton Hiroshima's guest rooms, including suites, are located on the 7th through 22nd floor. The room  décor pays homage to the culture and natural surroundings of the region, with blue accents that reflect the Seto Inland Sea, art featuring graphic designs of Japanese maple tree, "Momiji" and amenities  such as Bizen porcelain teacups which are inspired by the traditional craftsmanship of the region. The  hotel overlooks the vibrant cityscape of Hiroshima, with views of the Seto Inland Sea and beautiful  mountains in the distance, allowing guests to experience the charm of Hiroshima in all seasons. 
The hotel's design concept extends to the four dining outlets, where guests can enjoy the tantalizing delicacies of Hiroshima – a treasure trove of ingredients – many with a modern twist. 
FLOW Lounge

is the perfect place for guests to get together and socialize regardless the  occasion – whether over freshly brewed coffee and pastries in the morning, healthy and hearty  dishes during lunch, artisanal sweets in the afternoon, or after-work drinks with locally sourced  and produced tapas in the evening. 

MOZAIK

is the hotel's all-day dining restaurant, where local ingredients are stylishly elevated  with local flavors through breakfast, lunch, and dinner buffets, or high-quality à la carte options. Hilton's locally renowned sweets buffet will also be served on weekends.  

SENSUI

Japanese Restaurant draws from the region's best quality local produce to offer Sushi,  Teppanyaki, and Kaiseki to guests. Helmed by chef Takagi, owner of renowned Michelin two starred restaurant, "Kyoto Cuisine Takagi" in Hyogo prefecture, the sophisticated and serene  space designed with organic woody textures offers the ideal setting for special occasions. 

In partnership with Mr. Roggerio Igarasi, owner and chief bartender of renowned bar TRENCH,  No. 25 in Asia's 50 Best Bars 2022,

ZATTA

Bar & Lounge is where guests will want to be to  enjoy the best of Hiroshima nightlife with live entertainment. Catering to over 100 guests,  serving afternoon tea and evening cocktails, including locally produced sake, ZATTA's  stunning interior design and contemporary ambience sets the scene for a night to remember.  
Alexandra Jaritz, senior vice president, brand management, Asia Pacific, Hilton, said, "For over a  century, Hilton Hotels & Resorts has been a beacon of hospitality in some of the world's most sought after destinations, and we are delighted to debut the brand's 600th hotel in the heart of Hiroshima. As  the brand continues its solid growth momentum across the region, we look forward to delivering  exceptional stay experiences with the light and warmth of Hilton's signature hospitality." 
Hilton Hotels & Resorts marks its continued global growth by reaching its 600th property with the  openings of Hilton Hiroshima and Hilton Dubai Palm. In addition to the latest milestone openings, the  brand recently grew its footprint in Mexico with the opening of Hilton Tulum Riviera Maya All-Inclusive  Resort and Hilton Cancun, an All-Inclusive Resort. Hilton Hotels & Resorts also debuted the largest  hotel in Asia Pacific with the opening of Hilton Singapore Orchard and made its highly anticipated entry  in the Maldives with Hilton Maldives Amingiri Resort & Spa. 
As a member of the Hilton portfolio, Hilton Hiroshima participates in Hilton Honors, the award-winning  guest-loyalty program for Hilton's 18 distinct brands. Members who book directly on the Hilton website  have access to instant benefits, including a flexible payment slider that allows members to choose  nearly any combination of points and money to book a stay, an exclusive member discount, free  standard Wi-Fi and the Hilton Honors mobile app. Members also have access to contactless  technology exclusively through the industry-leading Hilton Honors mobile app, where Hilton Honors  members can check-in, choose their room, and access their room using a Digital Key. 
Hilton Hiroshima is located at 11-12 Fujimi-cho, Naka-ku, Hiroshima, 7300043, Japan 
For more information, or to make a reservation, travelers may  
visit
https://www.hilton.com/en/hotels/hijshhi-hilton-hiroshima/
or call +81 82-243-2700.