How to time a bombshell like Trump's tax returns
Written by

Richard Holden, Professor of Economics, UNSW
It's unlikely The New York Times[1]' publication of Donald Trump's tax records just before the first presidential candidates' debate was a coincidence.
This looks like a classic example of what political scientists and commentators call an "October Surprise" – a news story deliberately timed to influence the US presidential election.
Read more: The first US presidential debate was pure chaos. Here's what our experts thought[2]
Much is at stake – the presidency, as well the entire House of Representatives and one-third of the Senate. What is in the minds of voters before they vote is crucial. This gives interested parties great incentive to strategically time the release of information they might have been holding on to for some time.
A well-timed "bombshell" can sway the outcome. But what is the best timing? The first Tuesday in November is still a long way off. Why not wait?
Remember what happened last election
Remember 2016, when both Trump and rival Hillary Clinton faced last-minute scandals.
Trump had his "Access Hollywood tape[3]", featuring him talking crudely about women. The Washington Post published the tape on October 7, two days before his second debate with Clinton. Given the recording was from 2005, it is hard to conclude the timing of the Post's publication wasn't strategic – if not by the newspaper then by the source of the material.
But this October Surprise arguably proved far less damaging than the bombshell that hit Clinton just 11 days before the election, when FBI director James Comey announced the bureau was reopening its investigation into Clinton's use of a private email server while US Secretary of State.
The FBI had previously investigated and deemed Clinton and her team extremely careless in not using secure government emails to handle classified information. But it recommended no charges. The case was reopened when more emails, sent by Clinton aide Huma Abedin on the laptop of her husband Anthony Weiner, were found. Making the story even juicier was that the FBI found the emails while investigating Weiner for sending sexually explicit messages to a 15-year-old girl.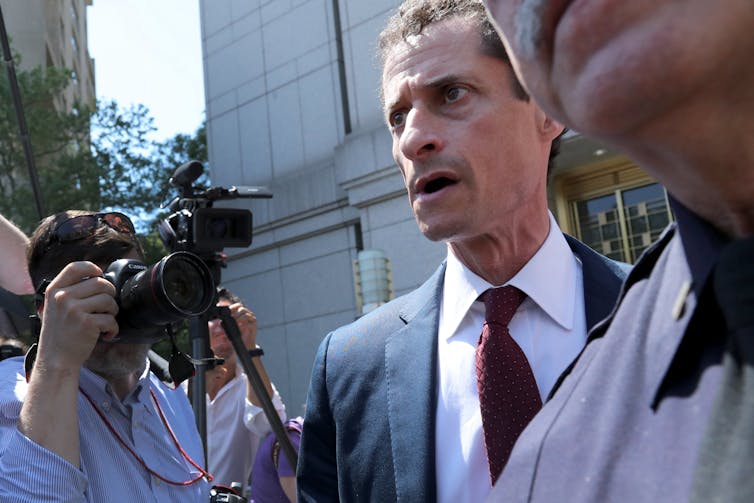 Andrew Gombert
While there is no suggestion Comey's announcement was a deliberate October Surprise, its timing certainly didn't help Clinton. Nothing came of the reopened case. Had Comey made the announcement a few weeks earlier, the election might have gone to Clinton.
Read more: Why Weiner is Wonderful[4]
Credibility versus scrutiny
The superficial lesson from 2016 might appear to be that the closer to the election you can drop a bombshell, the better.
Indeed analysis of political scandals since the late 1970s show more occur with as as an election get closer.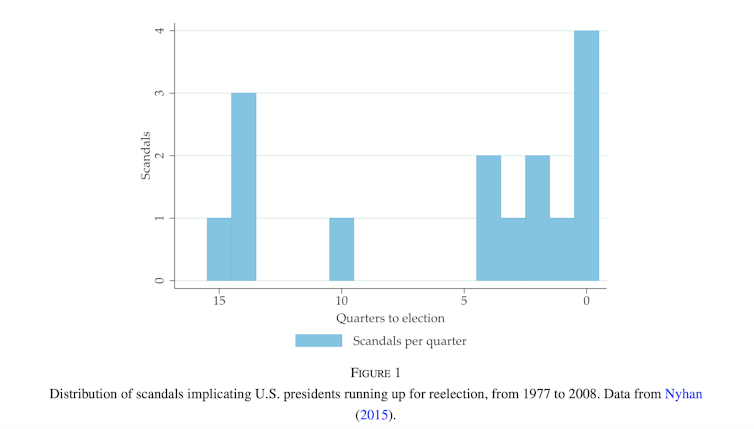 Authors: Richard Holden, Professor of Economics, UNSW
Read more https://theconversation.com/vital-signs-how-to-time-a-bombshell-like-trumps-tax-returns-147141