Vital Signs. The RBA wants to cut unemployment, and nothing — not even soaring home prices — will stand in its way
Written by

Richard Holden, Professor of Economics, UNSW
Ahead of the definitive official read of the economy from the treasury in the budget on Tuesday[1], the Reserve Bank has given us two special insights into its own thinking in the space of 14 hours.
They suggest that (first) the economy is improving, and (second) the bank is not going to let up on driving that improvement, not for anything — including concern about climbing home prices — until it has pushed unemployment down and wage growth back up to where it believes it should be.
The first insight was in Deputy Governor Guy Debelle's Shann Memorial Lecture on Thursday night. The second was in Friday's Statement on Monetary Policy[2][3]
Growth without inflation
The statement emphasised that the although the bank expects economic growth to bounce back fairly strongly, getting inflation back within the bank's 2-3% target band and getting wages growth up will take much longer
As the statement put it:
despite the stronger outlook for output and the labour market, inflation and wages growth are expected to remain low, picking up only gradually.
On one measure just 1.1%[4], the lowest on record, underlying inflation is to climb to 1.5% over the course of 2021 before gradually climbing to close to 2% by mid 2023.
It's well short of the bank's target of 2-3% which is only likely to be achieved with much higher wages growth driven by much deeper inroads into unemployment.
Read more: Josh Frydenberg has the opportunity to transform Australia, permanently lowering unemployment[5]
Those inroads will be easier to achieve if COVID is firmly under control.
The bank explicitly linked its forecasts of an improving economy to an assumption that Australia's vaccine rollout accelerates in the second half of the year. It could have added to that (but didn't) the importance of getting purpose-built quarantine facilities up and running.
Its baseline forecast has economic growth of 4% in the year to June 2022 and 3% in the year to June 2023.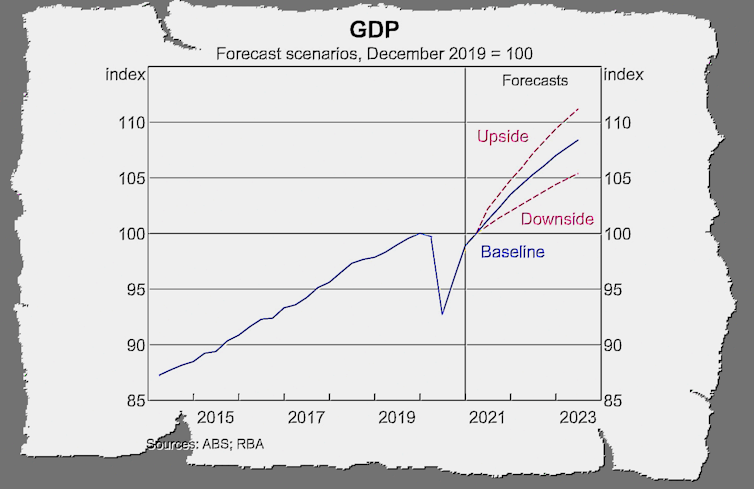 Authors: Richard Holden, Professor of Economics, UNSW
Read more https://theconversation.com/vital-signs-the-rba-wants-to-cut-unemployment-and-nothing-not-even-soaring-home-prices-will-stand-in-its-way-160171