What'll happen when the money's snatched back? Our looming coronavirus support cliff
Written by

Danielle Wood, Program Director, Budget Policy and Institutional Reform, Grattan Institute
At almost 10% of gross domestic product, and a much larger per cent of government spending, Australia's fiscal response to the COVID-19 crisis has been one of the biggest in the world[1].
The government is spending an average of A$26 billion a month on programs that didn't exist in February.
To put that in perspective, before COVID-19 the government's total average monthly expenditure this financial year was going to be $42 billion.
While far from perfect, these emergency measures have been successful at supporting the incomes of many households and businesses.
But, as this chart shows, each and every one will be gone by the end of October, making October a very dangerous time for businesses and for the economy.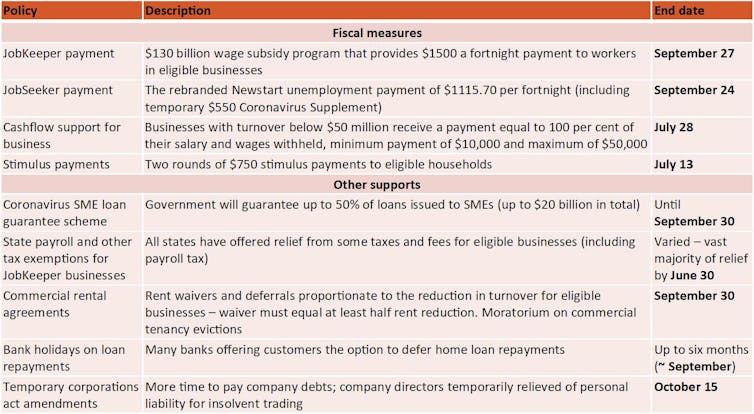 Authors: Danielle Wood, Program Director, Budget Policy and Institutional Reform, Grattan Institute
Read more https://theconversation.com/whatll-happen-when-the-moneys-snatched-back-our-looming-coronavirus-support-cliff-138527