A Guide To Using Pamphlet Display Holders For Marketing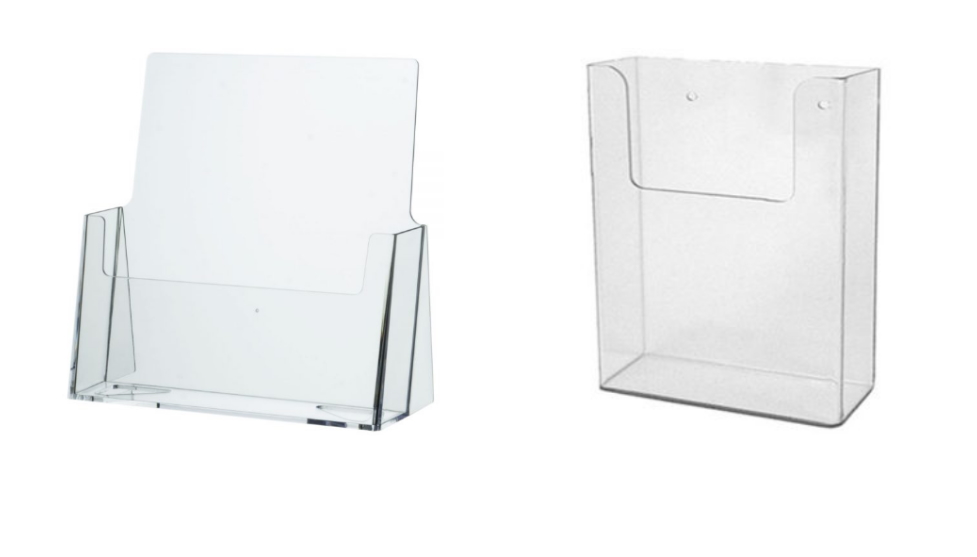 Literature racks are an important consideration for most businesses when looking to store and display different kinds of literature, including menus, magazines, brochures, leaflets, instruction guides, and flyers. 
Literature racks come in a variety of sizes and types. You will need to consider numerous options when selecting shelves and holders to display promotional literature.
Organizing Advertising Materials With Brochure Holders For Effective Marketing
Would you like to manage your office promotional materials more effectively? Information centers, retail stores, offices, and restaurants use brochure holders to display marketing materials. 
The display options for pamphlets include multi-tiered displays and literature racks that accommodate magazines, booklets, and flyers. A marketing display can benefit from brochure holders. Customers are more likely to engage with a product promotion and visual aid if they have access to it. All types of organizations, whether they are trade shows, schools, or specialty vendors, distribute printed advertisements to share information. Literature racks and brochure holders can meet the needs of professional and commercial businesses. These cases are meant to hold information pamphlets that customers can easily access and take with them to review later.
Business owners should take advantage of the cost-effectiveness of literature that customers can take with them and other such displays for marketing. Pamphlets, menus, and service catalogs and menus can all be displayed in a brochure holder. Any office computer can be used to design and print creative and informative handouts. 
A pamphlet display with multiple pamphlets is often used to store promotional materials, press kits, and applications for businesses. Whether you're attending a job fair or a trade show, these racks are essential.
Brochure Holders' Placement Styles
Wall-mounted: Businesses with limited space will benefit from literature racks that come with a wall-mount. To decorate your main lobbies, use your promotional materials in entrances, hallways, and main lobby areas instead of putting up paintings or quotes. Wall-mounted acrylic brochure holders can also be used as file holders for the office, as cubicle hangers, or pamphlet cases.
Floor Standing Racks: These racks hold books and magazines as well as other reading materials. A display fixture acts as a centralized hub for information. These are used by businesses to display marketing materials or company messages.
Holders for CounterTop: These holders display brochures in waiting rooms, on counters, and at points of sale, so customers can easily find the information they need. You can provide guests with free information by using pocket fixtures for pamphlets. You can use this method to promote special offers and extra benefits at their favorite spots.
By placing literature racks in your store, you can convert curious customers into returning ones. By providing customers with a brief reminder of your company's services, take-away brochures help build recognition for your brand. For high-traffic places such as visitor centers and lobbies, these displays are great for letting guests read for a moment. 
Materials Used For Constructing The Holders
A wooden literature rack offers a traditional design that adds warmth to any office. For high-traffic areas, hardwood fixtures are durable and present an upscale appearance.
For their durability, plastic and acrylic materials are the more popular choice for pamphlet displays. The majority of plastic units have a clear hard shell, but some have colored injected molded parts.
For displaying literature on countertops, metal wire holders are available with a multi-pocket design as well as a single-pocket holder. This rack's minimalistic design allows customers to see the contents without obstruction.
Using Brochure Holders For Effective Marketing
Leaflets and brochures play an important role in marketing. Having them on your premises encourages passers-by to stop and look around or to consider returning in the future.
Placing brochure holders in the right place and choosing the right type of brochure holder depends on the size and type of building you have, as well as how many brochures you want to display. 
It is beneficial to display brochures near your premises' entrance. As your customers enter your business, they can get an overview of your products and services. Even people who don't intend to enter might consider taking one if they see them from outside. When you display many brochures at the same time using a free-standing stand, you will catch your customers' attention immediately. Pacing brochure stands close to the doorways can encourage anyone entering or leaving to take one, resulting in a higher return rate.
Strategic placement on tables and various surfaces of countertop holders for brochures around the premises can provide more opportunities for customers to pick one up as they roam around the store. Placing them on the payment or checkout counter can be especially effective, allowing staff to hand them to customers at the time of purchase. When they are placed in their bag, customers can easily take them with them and persuade them to return.
Even if you have limited space, a brochure holder can prove to be a valuable tool for marketing. In addition to taking up minimal space, wall-mounted brochure holders provide easy access to brochures. 
Placement is key; arrange them at an appropriate height where customers can see them and where they can easily pick up brochures without having to bend over or stoop. The wall can be adorned with a variety of brochures by using holders with tiers.
You may need to change the areas in which brochures are displayed if the store layout changes or if it is necessary to advertise in different parts of the store. A change in layout, however, does not necessarily require additional marketing materials. In most cases, brochure holders are easily portable, which means that you can move them around your store to give it a fresh look when needed without spending any additional money.
Final Words
Any organization must display free literature that is easy to access in order to be successful in marketing. Placing pamphlets right at visitors' fingertips with pamphlet holders is a great way to increase your sales! Recruitment offices, tourist bureaus, or service centers can benefit from using such holders, which makes the facility more user-friendly.