Bonza reveals it's 'Here for Allstralia' as thousands of travellers have their say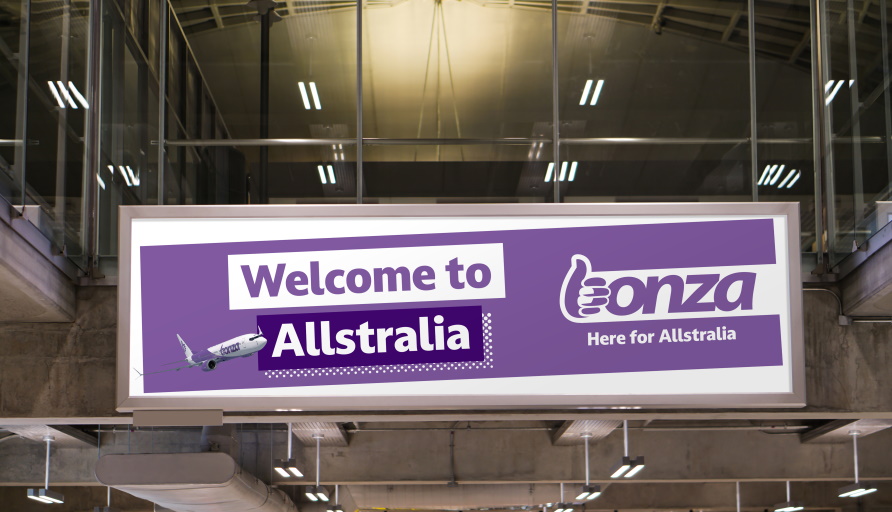 Thousands of travellers have had their say about new low-cost carrier Bonza ahead of its launch in the first half of 2022. Since Bonza was announced in mid-October, thousands of potential future customers signed up to learn more about Bonza and many completed an online survey to nominate their preferred Bonza destinations. That's in addition to over 3,600 Aussies who registered their interest in jobs.
Bonza has revealed where Aussie travellers say they'd like the low-cost carrier to fly to and from. The destinations requested are spread far and wide across the country from Hobart to Broome, and Busselton to Cairns. They also include, but are not limited to Albury, Tamworth, the Whitsunday Coast, Uluru, Bundaberg, Newcastle, Hervey Bay, Townsville, Cairns, Gold Coast, Sunshine Coast, Orange, Ballina Byron, Port Macquarie, Toowoomba, Coffs Harbour, Mackay, Rockhampton, Gladstone, Darwin, Launceston, Karratha, Alice Springs, Mildura, Broken Hill, Exmouth, Devonport, Mount Isa and Hamilton Island. 
"The initial response from potential customers has been nothing short of Bonza!," says CEO Tim Jordan. 
"We've had requests for flights to all corners of the country proving that Aussies are keen to explore their own backyard. Our focus is firmly on providing leisure travellers more low-cost options for discovering new and especially regional destinations. That's why Bonza is here for 'Allstralia', says Jordan.
Jordan revealed 'Here for Allstralia' has developed into the brand's guiding principle and will be featured in its advertising and marketing campaigns in coming months as the company moves closer to launching flight sales in early 2022. 
The survey asked travellers how they feel about Bonza's arrival into Australian skies next year and the most common response was 'excited' along with 'about time', 'awesome' as well a few 'beauty mate' and 'you rippa' responses. 
Expressions of interest from Australian airports closed on Monday 15 November and Bonza is currently in negotiations to firm up its launch route map. In parallel with airport discussions, Bonza's leadership team continues to have conversations with State and Territory Governments to confirm the airline's head office location which Jordan has confirmed will be in a regional centre. This announcement is said to be 'coming soon' and will lead to further job creation in regional Australia.