What Is More Expensive When Creating Video Games- Development or Marketing?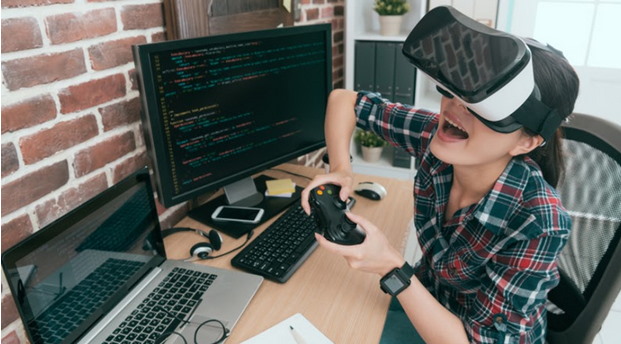 The modern-day sedentary lifestyle caused a major shift in preference for video games over physical activities. The availability of the internet and the launch of Steam, a purchasing platform that converted the desirability into accessibility, and hence the world ushered a new era of entertainment challenging all the existing sources. It is expected that the gaming industry would cross 18-billion dollars of net worth by the time we reach 2022.
Additionally, the stay-at-home lifestyle of the current year is expected to accelerate at the race towards the pre-set goal. The thrill of the outside world we miss nowadays staying indoors, we try to find through virtual reality, hence adding to the gaming industry.
The multi-billion-dollar gaming industry of today is backed up by designers and programmers putting in their continual effort to stay relevant, bring in innovation, satiate gamers, and bring in greater revenue by providing the finest experience. The unprecedented growth of these games emerging like weed do not just thrive on excellent aesthetics and all over experience but also tremendous marketing plans to top the charts.


Birth of Video Games


The birth of video games in the 1970s can be owed to the remnants of World War II, the humongous mainframes which were used to break codes. When these computers made an entry into the academic institutions, experimentations regarding programming took place, and that is how the simplest forms of video games ushered a new era of technological advancement. These video games were commercialized in the name of arcade games, which were self-operating structures, somewhat resembling the modern-day slot machines in casinos.

On Development of Video Games


The average salary of a game developer for a month can be as high as $10,000. 

A programmer's salary is a little higher by a margin. 

On average, studios use $10,000 per person per month on an average.

 A team of 200 employees would require $40,000,000 with an additional cost of office, management fees, license fees, equipment, pantry supplies, software licenses, and more. 

Rounding up, an average game manufacturing may cost at least $55 million. 
The massive popularity of Pokémon Go and PubG in recent years increased the margin of mobile game revenue exponentially. 
Almost 50% of the entire market is controlled by the mobile gaming industry at this moment, which takes $500 to $3б000 for an app-based game. 

Whereas an

AAA

game development can cost up to $60 million. 
Since the current day competition seeks for better versions of games in order to remain in demand, the question of cost-cutting is almost out of consideration.

The Various Genres of Video Games and Their Industry Footprint


The manufacturing budget solely depends upon the type of games. These types are namely:
Simple 2D game – Red Ball, Sudoku, etc.
3D Game – 3D Shooting, Clash, etc.
Mid-Level Mobile Game – Angry Bird etc.
High-Level Mobile Game – Clash of Clans, etc.
AAA Games – GTA, FIFA, NFS, etc.
Real-Money Games – Dream11, MPL, etc.

Real-money Games Market


The real money games are nothing but online games where punters put the money on chances of winning a certain bet. This can also include bidding on political competitions, sports, and so on. The current stay at home lifestyle is sure to influence the emergence of more of slot machines with bonus games. Owing to the closing down of public places like casinos, the percentage of the population enjoying wagering would turn their heads to these gaming websites. These websites, if recognized, are not only licensed and security guaranteed. 
An estimate says the global online gambling market is worth over 40 billion dollars every year, and further estimations report a spike in revenue generation of more than 74 billion dollars by the time the world reaches 2023.

 Playtech, since 1999 has been providing online poker rooms, casinos, bingo halls, sportsbooks, and live casinos.

Microgaming, considered as one of the best software providers, has been in business since 1994, providing a poker network with a focus on VR roulette. 

Net Entertainment has been another of such sort, considered as one of the best offers a wide variety of games, including live dealer games. 
Players have to realize first the importance of reliable software providers before diving into the world of online wagering platforms.

Modern Day Marketing for Modern Day Games


2015 has seen an incredible growth of the gaming industry by 8.5%, worth a value of 99.6 billion dollars. Hence, for advertisers, it presents a huge opportunity to collaborate with game publishers and blend into a changing market. 

Utilizing the data publishers, they are able to make their audiences into potential consumers. 

The market is crowded with a variety of games even belonging to the same category; the challenge is now to identify the correct audience for those specific types. The video game marketing strategists are not lagging behind in choosing the correct methods of reaching the target audience. 
Surveys have found the rise of influencer marketing on YouTube, and other social media platforms, have made it to the gaming industry. And now, more than 90% of gamers would watch a YouTube stream before finally reaching out to immerse their hands on a new game on the market, creating a huge pool for customer targeting. 

A data-led approach which successfully gives result across media and devices possess the potential of increasing the marketing reach, whether it is content marketing or influencer marketing or PR.

 Adapting correct marketing policies have often proved that even average games can collect higher revenues. 

Almost 40% of the entire budget is spent on marketing, which is almost equal to the development cost and oftentimes, it has been noted in AAA-games the marketing cost exceeds that of the development while the indie games cost almost nothing when it comes to marketing. 

Celebrities Endorsing Video Games is Effective Yet Expensive


It is quite common in the gaming industry to hire celebrities as voice artists, and this strategy can be included as a part of a shrewd marketing policy to attract a fan base and convert them into potential customers.
The appearance of famous personalities in computer games can be dated back to the 1980s when Bruce Lee was hired by publishers to do the job. Kit Harrington, Keanu Reeves, Kevin Spacey, Rami Malek are some of the famous faces seen in current years' gaming scene. Celebrities being actively engaged in promoting games is another effective strategy for clever marketing. We have seen Arnold Schwarzenegger promoting Mobile Strike in a $5 million Super Bowl advertisement. Well, hiring celebrities for such endorsement is an expensive affair and often overruns the actual production cost.

Concluding Thoughts


For a game to be successful, it is not just the characters, the storyline, the graphics, or the sound quality that makes it top the charts but also the way of how this is presented to the world. In this fast-moving digital age where thousands of games are released at the same time, it is important to apply the correct tactics of marketing to turn the target heads towards a product; else, the entire game might turn into a failure in spite of its quality.
According to the industry's rule of thumb, 40% of the investment goes into marketing, whereas the rest into development and management. While the right-management can lead to savings of unnecessary expenditure during marketing, a clever, insightful marketing plan is indispensable to help gamers find a quality product. Hence, the development, management, and marketing are the three legs of a tripod that determines which product is there to stay and make a name.