Oztent Group awarded a Red Dot Design Award for OZTENT RV-5 Plus 30-Second Tent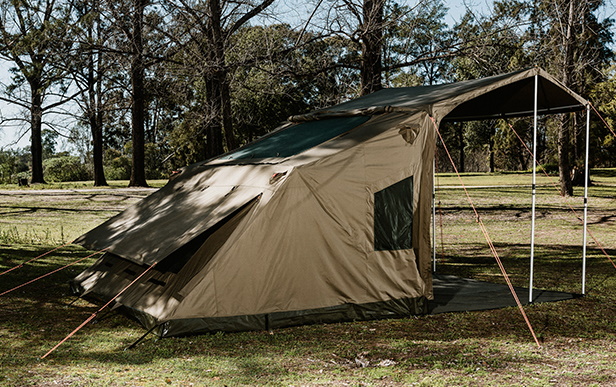 Announced in Germany, at the end of last month, the Red Dot is the award for high design quality. The international jury only awards this sought-after seal of quality to products that feature an outstanding design.  
This year the prestigious Red Dot Awards attracted around 7,900 entries from over 60 countries, from which the Oztent Group was the only company in the Oceania region to be awarded a Red Dot in the Outdoor and Camping Equipment category. 
"As a business we constantly think about how we can create awesome outcomes for campers everywhere"; explains Luke Eather CEO of The Oztent Group. 

"We have found that such solutions are achieved through both innovation and by further refining and improving what was already an exceptional offering."

It is rewarding to see such an esteemed panel of experts endorse this approach and award us this Red Dot Award." 
The judges were impressed with the speed, ease of use and reliability of the OZTENT RV-5 Plus; meaning that camping is simple, fast and comfortable all the time, every time – irrespective of the weather conditions.
Employing the OZTENT's unique 30-Second Frame, it takes less than 30 seconds to set up this tent, that comfortably sleeps up to 5 people. Constructed of high quality, heavy duty, 8oz polycotton canvas and 510g PVC tub floor, its' SkyMesh Skylight, which can be opened and closed internally, allows campers to sleep under starlit skies, free of mosquito bites.
It's not just the tent that impressed the judges, but the complete package.  The OZTENT RV-5 Plus incorporates attached reflective guy ropes, light loops, covered power inlets, a fly and a large, attached peaked awning (for additional height) that extends cover and shade well beyond the base of the tent.  All of which is 100% waterproof and UV50+ protected. 
The OZTENT RV-5 Plus is also engineered to be exceptionably modular.  Meaning campers can add other OZTENT products or connect to tents and vehicle awnings, allowing them to adjust their whole campsite set up to as desired or required. 
When discussing this year's competition, Professor Dr. Peter Zec, founder and CEO of Red Dot, said; "I have been particularly struck by the exceptional creativity shown by the award-winning products. It is really impressive and praiseworthy that there are still designs out there that can surprise us with their form and functionality. This makes it clear that design cannot be restricted or brought to a standstill by unfavourable circumstances." 
The OZTENT RV-5 Plus 30-Second Tent retails for around $1,799 and is available nationally through all reputable outdoor and camping specialists.
For more information on the OZTENT RV-5 Plus 30-Second Tent and the complete OZTENT range, visit www.oztent.com.au.
ABOUT The Oztent Group:
The Oztent Group was founded over 30 years ago by Australian inventor Joe Viglione who was so frustrated while putting up a conventional tent that he invented one that took just 30 seconds to pitch. Affectionately named 'the marriage saver' by Joe, the rest of Australia knows it as the OZTENT RV Range.   
The Oztent Group remains an Australian owned and operated company, providing Australian and international adventurers with a range of premium outdoor camping products, designed to create awesome camping experiences. 
The Oztent Group has global operations through its USA base, with a network of longstanding and knowledgeable distributors servicing customers in multiple regions around the globe.
The Oztent Group hold numerous patents and accolades for the innovation and designs they have brought to market over the years. 
Brands owned by the Oztent Group include OZTENT, FOXWING and MALAMOO. 
ABOUT THE ORIGINAL 30 SECOND TENT: 
OZTENT RV is the original, patented 30-second tent. Using it's 30-Second Frame, a unique internal frame and hinge-mechanism, OZTENT tents eliminate the need, and time, required to thread poles to keep the tent up. Along with innovative design, OZTENT tents also use heavy-duty, internationally certified, materials to withstand harsh Australian conditions.
The design profile of the OZTENT RV is so iconic that it is the only tent in the world protected by a Registered Shape Trademark. 
ABOUT THE RED DOT DESIGN AWARD:
In order to appropriately assess the great diversity of products and projects in the area of design, the Red Dot Design Award is divided into three disciplines – Red Dot Award: Product Design, Red Dot Award: Brands & Communication Design and Red Dot Award: Design Concept. With roughly 20,000 submissions, the Red Dot Award is one of the biggest design competitions in the world. 1955 marked the first year that a jury came together to evaluate the best designs of that era. In the 1990s, Red Dot's CEO Prof. Dr. Peter Zec developed the name and brand of the award. Ever since, the prestigious distinction "Red Dot" has been a seal of outstanding design that is highly regarded internationally. The award-winners are presented in Red Dot's yearbooks and museums as well as on the Red Dot website. Additional information can be found at www.red-dot.org.