Jim's Group launches powerful partnership with TradeMutt to back blue collar mental health efforts
Written by

Tess Sanders Lazarus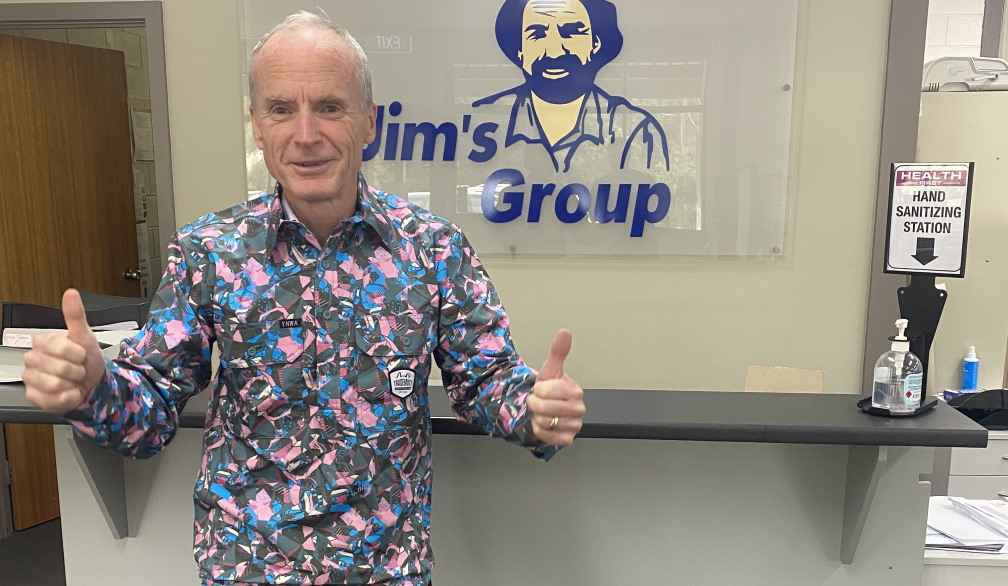 Jim's Group has teamed up with Brisbane based social impact work wear brand, TradeMutt, to start conversations about mental health among the blue collar community. Jim Penman, the founder of the iconic Jim's Group, has approved all of his franchisees to wear TradeMutt's funky eye-catching work wear to help make an invisible issue impossible to ignore.
"Joining forces with TradeMutt has been the perfect marriage for our two companies. Myself, along with my wonderful team behind the scenes at Jim's Group, feel strongly about TradeMutt's cause and we are honoured to support their great work. We have purchased their clothes, and are encouraging all of our franchisees to get behind TradeMutt's mission as well by purchasing their gear," Jim's Group founder Jim Penman said.
"By supporting TradeMutt we are helping them to fund and provide professional mental health support to tradies, truckies, and blue-collar workers through their mental health initiative, This Is A Conversation Starter (TIACS). TradeMutt has been instrumental in initiating conversations around mental health in Australia by providing a free text, chat and call back service direct to qualified psychologists, which is in line with our core values at Jim's Group.
"At Jim's we have introduced a new initiative called 'Funky Shirt Friday' and we are encouraging everyone to wear their TradeMutt shirts to support the cause.
"We all know that the lock down the Andrews Government forced solo operators into in Victoria ruined lives and decimated families. Hard working people were kicked to the curb without appropriate support. TradeMutt did what they could to help people during this time and they need ongoing support to keep up their good work."
TradeMutt is a social impact workwear brand, by tradies for tradies. They make funky eye-catching  work wear designed to start conversations about mental health among the blue-collar community. Through the sale of Trademutt Workwear they help fund free and unlimited professional mental health support for tradies, truckies and blue-collar workers through their own support service TIACS.org, their not-for-profit mental health support service. Five percent of all product sales go towards funding TIACS, and unlike other psychologists; TIACS does not require a Mental Health Plan from your GP.
According to the cofounder of TradeMutt, Edward Ross, in the last 12 months, TradeMutt has helped provide more than $500,000 worth of counselling to tradies and sole operators in Australia through their mental health initiative TIACS.org
"It has been incredibly rewarding and exciting to see our impact grow over the last couple of years. Receiving the support and endorsement from a company with the power and reputation of Jim's Group is helping us to spread our message even further in the community," Ross said.
"Our mission is to support businesses and programs, both in Australia and overseas, whose purpose and ethos aligns with our unwavering drive to create positive change. The backing of Jim Penman and his team is helping us to take another step towards this goal.
"We have generated over 2100 hours of free mental health care through TIACS, and provided over 9000+ hours of employment through Send-Able through the sales of our work wear – these are two statistics that we are enormously proud of.
"The state of mental health in this country is a real cause for alarm, so we are honoured knowing that these hours directly equate to blue collar workers accessing mental health services that they may not have otherwise. Nobody deserves to suffer in silence, so when trades put on our work wear in the morning they are potentially starting a conversation that could change somebody's life.
"Jim's Group is a trusted household brand which has feet on the ground all over the country. With their staff and franchisees wearing our gear, we will be spreading our message into more homes and businesses than ever before.
"We have grown our amazing TradeMutt team from two to 15 full-time staff since our humble beginnings. Jim Penman's legendary story that has seen his part-time gardening business transform into one of the world's most well-known and regarded franchises with over 3800 franchisees, inspires our team to continue pushing towards positive change."
According to Penman, TIACS is a phenomenal free text and call service that provides access to psychologists in a relatable, reliable, and discreet way. He is incorporating information about TIACS into the Jim's Group materials moving forward.
"Mental health has always been a central concern for the team at Jim's Group, so when COVID-19 magnified the mental health crisis Australia was already facing – we acted quickly to offer support to our workforce. Moving forward, we will be encouraging our people to reach out to TIACS when they need a mental health hand - which is why we want to back TradeMutt's work," Penman said.
"TIACS was created to remove the physical and financial barriers that prevent so many Australians from reaching out for professional help when they need it. We believe these resources are unparalleled, and will change and save the lives of so many tradies, truckies and blue-collar workers across the country."
You can access TIACS Monday-Friday 9-5 on 0488846988 or head to TIACS.org
To find out more about TradeMutt and the impact  being made head to trademutt.com