Tips for selecting your large house number for visibility
Written by

Simon McIntyre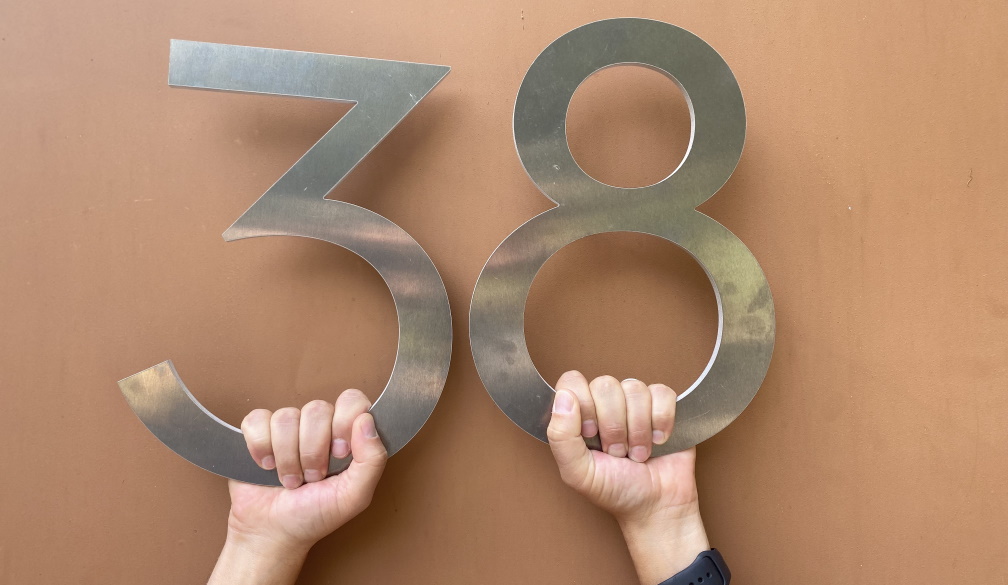 House numbers are a crucial part of any home, both in design and for practical reasons. We have all been there, trying to find a friend's house or a business we have never been to. A prominent and easy to read house number makes it easy to find the home or business you are looking for, without all the stress.
While our 150mm large house numbers are the most popular, that does not mean it is the best fit for every home. Finding the right large house numbers for your home is essential, and we have plenty to offer.
There a few factors to keep in mind when choosing your house number, and we want to talk you through each of them.


1. Distance of the Home from the Street
The first factor to take into consideration is the distance of your home, or the area where you are placing your numbers, from the street. House numbers Australia is there to help people, emergency services, mail carriers and more, locate your home.
The further the home or mounting area is from the street, the larger the numbers should be. A great example to illustrate this point are traffic lights. They do not look that large, but they are in fact much larger than you think. Since they are so far from the street, or above in this case, they are larger than you might imagine to help increase visibility. This same principle applies to your house numbers. The further they are from the street, the larger they should be.
Make sure that the further your home is from the street and the further the numbers are away, the larger and clearer they are so that visitors, mail carriers and emergency services can easily find your home.


2. Mounting Surface for large house numbers
The next thing to keep in mind is the surface where the numbers are going to be mounted. Is the surface large enough to accommodate large numbers? Is the surface narrow? Would numbers work better horizontally or vertically? These are all things to ask.
The colour of the surface also makes a difference. Light surfaces call for dark numbers, dark surfaces call for light numbers. Our house numbers are sold individually, this means you can place them horizontally or vertically on any surface you like to fit the space you have and to make the best configuration possible.
If you are mounting your numbers right on the house, you cannot move your home closer to the street. If you are mounting your numbers on a sign post or a fence, you may want to move it closer to the road, if possible, to help improve your visibility even further. With any sort of mounting surface, you can always print out your numbers and then see what they might look like before you make your final choice.


3. House Number Font Certainly Matters
All fonts are not created equally. Some fonts are simply easier to read at a glance than others. Some fonts are also designed to be bolder and to be more easily readable from distances and with less scrutiny. When choosing font, size can relate back to the font that you choose. Our font, 'Elwood' is a thinner font that would need to be larger in order to be seen clearly from a distance.
A bolder font with thicker lines like our 'Mount Eliza' font would certainly be easier to see from a distance, even with a smaller font. You want to shy away from fonts that are overly ornate, that might be curvy or written in cursive, and that are not easy to read by just glancing at them.
If you are concerned about readability, you can always print out the number in the size and font you are thinking of choosing and look at it to see what it might look like and to see how easy it is to read.


4. Colour Choice
The last thing to keep in mind is the colour that you are choosing. Large numbers are great, but if they blend into the house or the area where they are mounted, they are still going to be less visible than you want them to be.
Your house numbers should be a contrasting colour from the surface where they are being mounted. If you have a surface that is very light, try to get a dark number, black is a great choice that works with a huge number of homes and home designs. If you have a mounting surface that is very dark, white numbers or aluminium numbers can pop and can really stand out.
Large house numbers are the best way to ensure that your number is going to be highly visible from the road to anyone passing by. Choosing large house numbers that are a good font that is easily readable, finding a good mounting space for those numbers, and finding numbers that are going to be a good colour can really make a difference.
We offer a range of house numbers in options of: 100mm, 150mm, 200mm, 300mm, and 400mm.