The gig economy is nothing new for musicians – here's what their 'portfolio careers' can teach us
Written by

Alana Blackburn, Lecturer in Music, University of New England
The "gig economy" has been the life for musicians for many years. Despite financial instability and the prospect of unemployment, why do musicians choose this type of work? And what can we learn from their motivations?
A study[1] published by the Australia Council for the Arts estimated that 15,400 musicians (excluding composers) were working in Australia in 2016. In that year, 80% of musicians were freelance or self-employed. Of the rest, 12% had a working salary or wage and 8% didn't work in music.
The survey also shows that musicians undertake a wide range of arts-related and non-arts activities. This mix of activities helps with developing skills to adapt to changing environments and maintain their financial position.
Read more: Why gig workers may be worse off after the Fair Work Ombudsman's action against Foodora[2]
Freelance musicians will be the first to admit it's a difficult choice of career. Nevertheless, despite this career path being a necessity for most, there are some reasons why musicians and artists (or similar employees) choose to head down it.
Musicians can survive under these circumstances by developing important overarching and transferable skills. A variety of reasons and skills ensures they remain employable, rather than employed.
Living the gig life
For musicians it is commonly described as a "portfolio career", a career of multiple jobs – usually paid and unpaid, part-time or freelance work. Many jobs are based on short contracts or negotiated relationships where no long-term commitment is required.
This type of employment presents financial challenges. Benefits such as superannuation and paid leave are often missing.
Read more: How gig economy workers will be left short of super[3]
However, musicians (and other artists) consider what they do meaningful work. Personal values are at the heart of what they do, rather than organisational rewards such as a salary or promotion.
Musicians personally identify that their work has a purpose. Therefore, subjective measures of success and the freedom to make independent choices are significant elements of their portfolio career. The benefits include being able to take charge of their own career management and feeling empowered to grow, develop, achieve and contribute in a variety of creative and professional ways.
Their intrinsic success lies not in what others expect of them, but in achieving personal freedom and being true to their beliefs. It's about meeting personal and professional needs.
A study by Ruth Bridgstock[4] found that portfolio career musicians are motivated by a self-directed working environment driven by personal values. Their career is measured by psychological success and often based on a passion for what they do.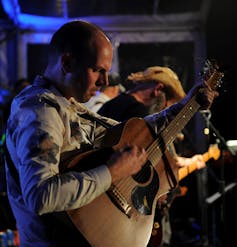 Perry Duffin/AAP
Much like other fields including small-business owners, independent contractors and consultants, gig work is seen as taking charge through self-determination. They enjoy the freedom and responsibility of shaping their career, which forms part of their self-identity.
A survey[5] of musicians' education, training and professional practice also revealed that passion was the driving force in their careers. However, when asked if they would prefer to work entirely within the music industry, many of the respondents answered no. This suggests a personal desire to develop skills and interests in other areas.
The survey responses also indicate that musicians are life-long learners. They want to continually learn new skills in and outside their field.
Read more: Why music is not lost[6]
Learning survival skills
Adaptability and self-awareness are two main abilities that help make musicians ideal gig workers. In a dynamic working environment, musicians need to be open to new possibilities and to apply creative decision-making.
A portfolio career requires continuous learning, enterprise skills and social networking. Transferable skills, such as communication, teamwork, planning and organisation, are also necessary. Musicians demonstrate these skills through long-term and short-term career goals, the capacity to work from one project to the next, collaborating with other artists and balancing high- and low-risk ventures.
Musicians want to learn and have the ability to intentionally act and adapt to change. They demonstrate self-knowledge, a dependency on personal and professional networks, personal enterprise and technological skills. To survive and support their art by managing multiple jobs, musicians develop a strong capacity to self-manage.
Despite the challenges of working as a portfolio careerist or working in the gig economy, it turns out musicians are generally satisfied with their life[7]. The skills and attributes musicians possess reflect a flexible, self-managed career drawing on numerous experiences and passions.
For those who can't have, or don't want, a 9-to-5 career, the lessons of musicians can help them design a career that suits personal and professional needs, as well as contributing to the economy in a variety of ways.
Authors: Alana Blackburn, Lecturer in Music, University of New England
Read more http://theconversation.com/the-gig-economy-is-nothing-new-for-musicians-heres-what-their-portfolio-careers-can-teach-us-98247