how money for (less than) nothing is helping out the budget
Written by

Isaac Gross, Lecturer in Economics, Monash University
A week ahead of Thursday's budget update, it finally happened.
Instead of the government paying to borrow in a way that would add to the burden on the budget (as has happened since time immemorial) it actually got paid to borrow.
Think about that. Investors with millions of dollars to lend went to the Australian treasury and said not only we won't charge you interest, but furthermore we will pay you 0.01%[1] to make sure that you take it.
Not all of the borrowing the government did on that day was for negative interest rates; the rest was for slightly positive rates, but the dam has been broken[2].
The loan is short-term, being repaid in March 2021, and the payment to the government is still small relative to the scope of the budget. But future, bigger bond auctions might yield bigger payments at even lower (ie more negative) interest rates.
Who'd lend for less than nothing?
Australia is late to the party. Interest rates on government borrowings are below zero in Japan and much of Europe. Bloomberg news now says that a jaw-dropping US$18 trillio[3]n of global debt is trading at negative rates.
Germany for example can borrow at minus 0.8%[4]. And while Treasury's borrowing last week was only for three months, investors are willing to lend to Germany at negative interest rates for 30 years!
Read more: The government has just sold $15 billion of 31-year bonds. But what actually is a bond?[5]
Who'd lend money for less than nothing? Many of us do it when we put money in deposit accounts.
Our banks might pretend they are giving us (a small amount of) interest, but in practice it's often drowned out by the fees, meaning we end up paying them to take our money.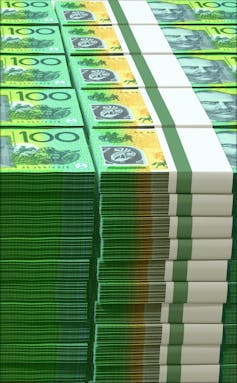 Authors: Isaac Gross, Lecturer in Economics, Monash University
Read more https://theconversation.com/negative-rates-explained-how-money-for-less-than-nothing-is-helping-out-the-budget-152082