the Reserve Bank has done as much as it can. Now it's up to the government
Written by

Richard Holden, Professor of Economics, UNSW
Last week Reserve Bank of Australia Governor Philip Lowe, and his top lieutenants, appeared before[1] the House of Representatives Standing Committee on Economics.
This time-honoured tradition goes roughly as follows.
The governor makes an opening statement that contains nothing not said before in public.
Committee members then take turns trying to trick the governor into agreeing to some policy position those members hold.
Being experienced and smart, the governor politely sidesteps these questions and repeats some version of part of their opening remarks.
For example, Craig Kelly (the Liberal member of the southern Sydney seat of Hughes) asked Lowe the following:
What about the effects on the long-term dynamism of the economy? If I'm at the university now and I'm thinking what my future career would be, if I look at it and I go down the track of the Public Service, I'm not affected economically by something like a pandemic, but if I'm in a small private enterprise it could wipe me out. Doesn't that tend to tip the balance towards less dynamism in the economy?
Lowe responded with 160 words that said precisely nothing.
Despite this theatre, the governor's testimony provides a useful opportunity to reflect on exactly where Australia's policy response to the current economic crisis is up to, and the Reserve Bank's likely future role.
Read more: No snapback: Reserve Bank no longer confident of quick bounce out of recession[2]
We're pursuing the right strategy on COVID-19
Lowe reaffirmed what our political leaders – along with the overwhelming majority of the Australian public – agree on: the nation (despite the Victorian quarantine debacle) has pursued the right strategy to COVID-19, investing in the long-term good of the economy by containing the virus, so consumer and business confidence can return.
As Lowe put it:
From the outset there was a very strong sense that we needed to build a bridge to the other side when the virus is contained. As things have turned out, that bridge has had to be longer and stronger than we might have hoped would be necessary. Even so, it has been the right strategy.
James Ross/AAP
There's not much more monetary policy can do
Lowe reiterated that the rather extraordinary measures taken by the Reserve Bank are essentially all it can do in terms of monetary policy.
It has cut the cash interest rate to an historic low of 25 basis points (0.25%) thereby lowering mortgage rates and corporate borrowing costs. Lowe has said repeatedly he regards this as low as the Reserve Bank should go.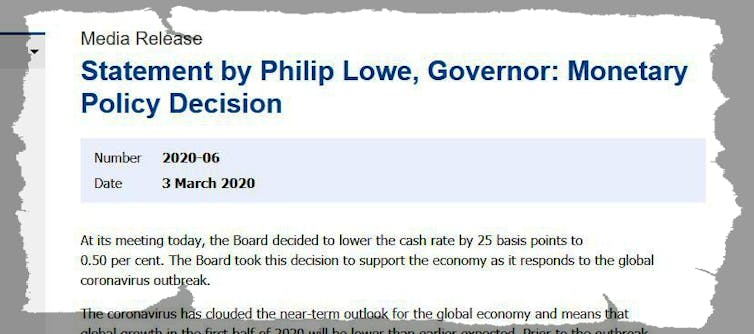 Authors: Richard Holden, Professor of Economics, UNSW
Read more https://theconversation.com/vital-signs-the-reserve-bank-has-done-as-much-as-it-can-now-its-up-to-the-government-144667