It's the luxuries that give it away. To fight corruption, follow the goods
Written by

Reza Tajaddini, Senior Lecturer in Finance, Swinburne University of Technology
There is disquiet about the French owners[1] of the luxury brands Luis Vuitton, Christian Dior, Givenchy and Gucci giving a whopping €300 million to the rebuilding of Notre Dame Cathedral. Such largesse, critics say, could be better used for humanitarian causes.
Read more: Why are we so moved by the plight of the Notre Dame?[2]
This is more than a rhetorical point. It is almost certain that some of the profits made by all sellers of luxury goods come from criminals who have siphoned off government funds. Rather than being spent on health, education and other social welfare programs, the money has been spent on luxury goods.
Luxury goods are used to facilitate corrupt transactions and launder dirty money. Using data for 32 high-income and emerging economies[3], we have found a strong correlation between luxury item expenditure and societal corruption.
Our findings confirm previous research, such as luxury car sales being substantially higher[4] in OECD countries with higher perceived corruption levels.
We are not saying that luxury brands are doing anything criminal. Nonetheless they could make a great gift to the world by pitching in to build the institutional architecture needed to combat corruption.
Corrupt figures
Anecdotal evidence of the connection between corruption and luxury items is easy to find.
Right now, Malaysia's former prime minister, Najib Razak, is on trial over the looting of billions of dollars from government accounts. Police raided his multiple homes and collected 280 boxes of luxury items estimated to be worth more than US$270 million[5]. This included 12,000 pieces of jewellery worth up to US$220 million, 423 watches worth US$19.3 million and 567 handbags worth more than US$10 million.
Last year, Brazilian customs officials found luxury watches worth an estimated US$15 million in the bags[6] of the entourage of Teodorin Obiang, vice-president of Equatorial Guinea. The son of Teodoro Obiang Nguema Mbasogo, president since 1979, he was convicted of corruption by a French court[7] in 2017.
Swiss authorities seized his fleet of luxury cars, including a Koenigsegg One:1 (one of just seven built, worth US$2 million) in 2016. The same year Dutch authorities seized his US$120 million super-yacht[8] at the request of a Swiss court.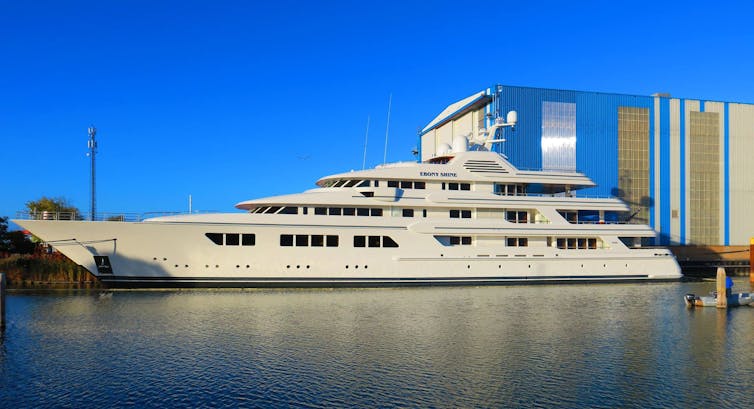 yachtharbour.com
[9]
Equatorial Guinea, meanwhile, ranks 141 out of 189 nations on the UN's Human Development Index[10].
The list goes on and on. When the Viktor Yanukovych was deposed as Ukrainian president in 2014, for example, his palatial home[11] revealed wealth far in excess of his official income. So too did the home of his attorney-general, Viktor Pshonka, which included a nest of Fabergé eggs[12].
Calculating the correlation
Our analysis covers all countries for which annual data on luxury spending per capita are obtainable, from 2004 to 2014. The sample includes the major emerging economies (Brazil, China, India, Russia and South Africa) and major high-income countries (US, Japan and Germany). Collectively the 32 sample countries represent about 85% of the world's GDP.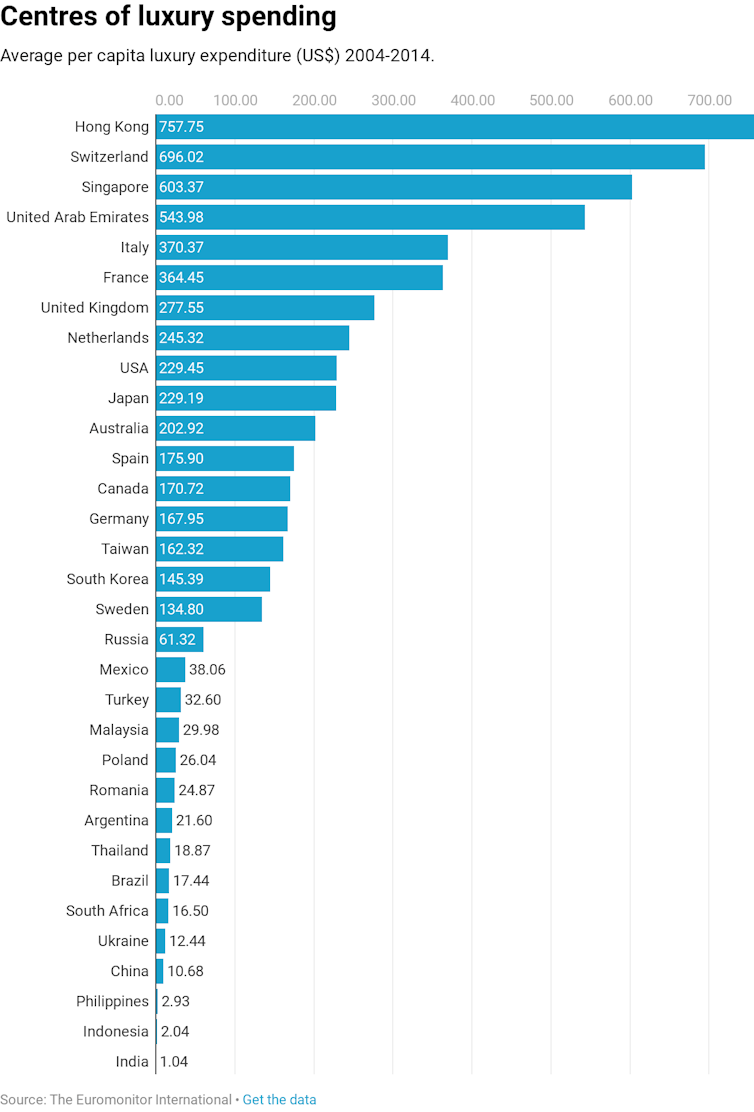 Authors: Reza Tajaddini, Senior Lecturer in Finance, Swinburne University of Technology
Read more http://theconversation.com/its-the-luxuries-that-give-it-away-to-fight-corruption-follow-the-goods-113553