We're running out of time to use Endgame C to drive coronavirus infections down to zero
Written by

John Daley, Chief Executive Officer, Grattan Institute
The New South Wales and Victorian governments showed foresight on Sunday by announcing a shut-down[1] of all non-essential activity. On Saturday we described this strategy on Saturday as Endgame C[2] – with the goal to drive new infections down to zero.
But after meeting Prime Minister Scott Morrison last night, the two states backtracked[3] and for now will only close pubs, clubs, cinemas, nightclubs, and restaurants. Schools will be closed in Victoria and the ACT, and parents will be encouraged to keep their children home in NSW.
State governments should stick to their guns and move more quickly to shutting down more non-essential businesses and activities.
Read more: The case for Endgame C: stop almost everything, restart when coronavirus is gone[4]
Our best hope to limit the long-term economic damage and to save the lives of our friends and families is to do everything we can to reverse the spread of this virus.
Coronavirus is growing exponentially in Australia – with a sufficiently broad shutdown, it should fall exponentially as well. Choosing Endgame C now means that the shut-down will be much shorter than if we wait another week.
Australian COVID-19 cases up to Monday March 23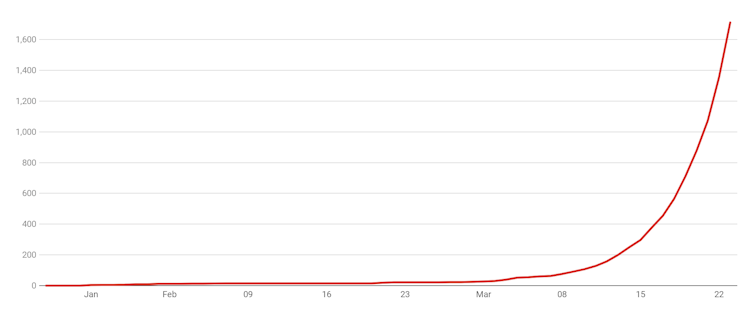 Authors: John Daley, Chief Executive Officer, Grattan Institute
Read more https://theconversation.com/were-running-out-of-time-to-use-endgame-c-to-drive-coronavirus-infections-down-to-zero-134393