We depend so much more on Chinese travellers now. That makes the impact of this coronavirus novel
Written by

Mingming Cheng, Senior Lecturer, School of Marketing, Curtin University
Australia has joined New Zealand[1], the United States, Indonesia, India, Israel and other countries in deciding to refuse entry to all foreigners flying from or who have recently been in mainland China.
These bans dramatically escalate the potential economic impact of the novel coronavirus.
Read more: How does the Wuhan coronavirus cause severe illness?[2]
Over the past two decades China has grown from a minnow to a whale in international travel. Not counting mainland Chinese visiting Hong Kong and Macau (about 76 million in 2018), data from the United Nations World Tourism Organisation[3] show the number of Chinese going abroad climbed from 2.8 million in 1997 to about 73 million in 2018.
This places China fourth in terms of international visits[4], behind Germany (about 92 million), the United States (88 million) and Britain (74 million).
Rise of the Chinese traveller
Besides Hong Kong and Macau, Chinese travellers most visit neighbouring nations – Thailand, Japan, Vietnam, South Korea and Singapore. Next is Italy, then the United States and Malaysia.
Australia is somewhat down the list – just the 17th-most-popular destination for Chinese visitors in 2018 (1.4 million visits). New Zealand was the 26th (about 448,000).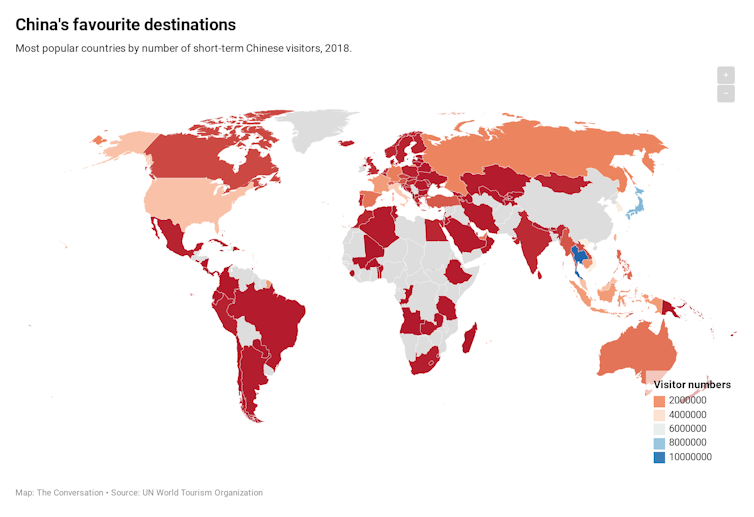 Authors: Mingming Cheng, Senior Lecturer, School of Marketing, Curtin University
Read more https://theconversation.com/we-depend-so-much-more-on-chinese-travellers-now-that-makes-the-impact-of-this-coronavirus-novel-130798