10 THINGS THAT WILL HELP YOU SOLVE YOUR STORAGE PROBLEMS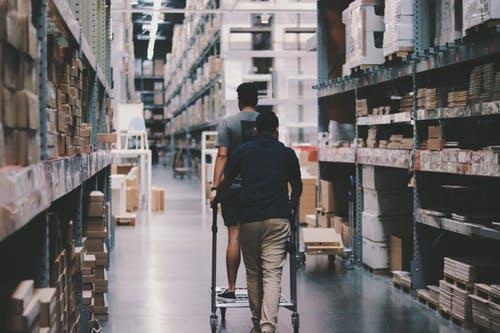 In today's world of modern technology, managing a warehouse is a challenge. A warehouse must be run by maximum efficiency, which is the main goal. Your main concern is the tools and equipment that are required to maintain a warehouse. People don't pay attention to warehouse management.
They ignore it, and because of it, the storage becomes complex and messy. It's important to manage, properly organize the storage. Whether the warehouse is big or small, it needs maintenance often. The work should not be delayed because it will only cause chaos in the work environment. Sometimes it is better to plan everything before starting things. Analyze the warehouse, come up with a plan and then apply it.
Looking at the big picture would always help you to have good storage solutions to your problems. The people of industry and business only know what struggle is to manage your warehouse storage. It is not an easy task as it looks from the outside. This task needs a good amount of time, concentration, management skills, and dedication. It is getting harder every day due to the latest trends in marketing and management.
The warehouse problems are often expensive, so for them, we need reasonable and smart solutions. Sometimes the problems would look very difficult and unable to handle, but some simple solution tips can solve them.
This article would enlighten you with 10 tips and tricks that will help you solve your warehouse storage problems.
MORE VERTICAL REACH:
A very common issue that is faced by people who work for the warehouse is that their job requires them to bend or overextend themselves according to their height. People with short height are unable to do simple tasks which leads to disturbance. This can cause serious physical injuries to the workers.
A simple solution to this problem is also modern technology. You can use lifting tables, a mid-level picker for items. These lifts are very beneficial for workers. It helps in easy movement, maintaining a good posture and changing place to another place. The operator can move freely, reach higher levels, and manage the racks or shelves. Identify tasks that do not offer high heights in places where the clear height determines lower piling heights.
OPTIMIZE WORK AREA:
If your workspace is small or big, it is very significant to manage your warehouse and optimize your work area fully. No free space should be left. Arranging and managing the item is very important but difficult as well. Small and narrow shelves can become very challenging and a problem, it can cause unintended damage to your products, material, and space as well.
A large space improves your efficiency. Managing and optimizing the space would save you a lot of cost and labor. To solve this problem, we can do the work in minimizing time and save time and cost too by getting the best selling fast-moving inventory for the facility of the workers. We can use forklifts to reach the upper levels of ceilings. You can replace large spaced items with new updates inventory.
PICKING OF ITEMS:
In any business or warehouse, picking up the item and then packing it and shipping it to the shipping address. All this process makes the cost rise high in the warehouse. This problem can be solved in different ways. Using bar codes and biometric scanners to eradicate numerous procedures and human handling. Increase precision and period to choose by setting up a separate select position for each Product code.
Boost productivity in picking by developing your warehouse to enable horizontal rather than vertical selecting. You can get pallet inverters that would save time that can waste by moving heavy loads of items manually. In these ways, the picking, sorting, packing, and shipping would become more convenient by providing you effective and efficient results.
PRECISE INVENTORY:
Imperfect or incomplete documents sometimes show itself when a warehouse worker seeks to grab the inventory from an intended position, and it's not there or it's guided to store the material in an already packed area. Effort, time and resources were spent performing regular physical checks and promising to better the mistakes, which often contribute to missed orders and wrongly-picks. If you achieve effective procedures and methods, such as controlling simple records and managing them, they are an important aspect of the development of your business. This will also deliver outstanding customer service and correct product delivery at reasonable costs. Keep your records simple and easy to understand. The record should contain item detailed description. Name and label everything around.
EFFICIENT DESIGN:
The layout or design of any warehouse plays a vital role in the storage of items. You should consider good designs and layout when you are choosing them for your warehouse. This would avoid future problems and chaos. The flow of sequence is important. The items should be in proper order and well organized. Customers or workers that are accessing the products should be a convenient experience.
Easy access to everything can solve storage complexity. When it's about space, you should optimize the vertical space. How you handle products when its time of manufacturing until the customer receives it, every process is important in storage solutions. Quality material, efficient and effective design, and storage equipment, all are the main aspects of storage solutions of the warehouse.
PORTABLE LIFT TABLES:
Moving around the heavy, bulky products around the warehouse consumes a lot of time. Consumers do not like eating, and for giving them a better experience, it is our responsibility to use efficient resources and facilities of modern technology.
Portable Lift tables would lift the heavy products and transport them around the warehouse without any damage or causing injuries to the workers. A heavyweight lift table can ensure that your goods are easily carried avoiding the risk of damage, accident or lack of progress, instead of moving an inefficient mover across the store.
ELIMINATE MANUAL LABOR:
A very easy and common solution to problems is using advanced, portable automation. Using the right equipment and making sure you are investing your time and money on high-quality material are key aspects of managing your warehouse in a balanced and organized way. Make the facilities more secure, profitable and portable. Purchase advanced automation like Pallet inverters, Pallet dispensers, and stretch wrap machines. These will save you the manual labor, which can also cause harm to the laborers. It would save time, and you can manage other things in a more balanced way.
MAXIMUM CAPACITY:
Your business is going very well and busy. You are making growth, and the capacity is being all optimized. Now you are worried about space, but there is an answer to all your worries. Your warehouse must have a workplace where the workers are doing inventory transfers manually.
You can get space-saving equipment, which would free lots of space for you, and it will improve efficiency. For example, freezer spacer removers can be used for all cold items storage, which would save lots of space. Pallet inverters can help you with transferring loads from one place to another, and you can save time and labor as well. The better approach is to not spend quality time, resources and employees on menial tasks when you could massively increase warehouse capacity and productivity growth.
HYGIENE MATERIAL TOOLS:
In any workplace and a warehouse, hygiene of the workplace and items is very significant. If you are working with food, the contamination can occur in it. Wooden pallets also cause contamination, and they wear out with time. Using quality machines for handling all the cleaning and washing purposes is necessary. Instead of using wooden pallets, use plastic pallets, as they are better and will not cause any hygiene factors to the work environment. Use washing equipment for hygiene factors in the warehouse.
SAFETY OF WORKERS:
In any business, workers are very necessary. Every work would be impossible without them. The safety of workers should be the priority. If you notice that the workers are performing unsafe tasks and they are trying to make their job easier by doing unsafe tasks, then you should immediately ask them to stop.
Ignoring safety measures can cause serious harm to the workers and may cause damage to the workplace as well. Your employees will take on less physically demanding jobs and improve productivity by installing automated tools and facilities. For example, get pallet dispensers, as they are perfect for material handling. Pallet tippers and upenders as they move crates by hand or forklift pallets when packing. Washing equipment for hygiene factors in the warehouse.
FINAL WORDS:
Warehousing is not an easy task, and it requires hard work and dedication. You should be smart enough to be updated with modern technology. A better and perfect approach is to use advanced automation for your convenience and feasibility. All the above-mentioned things would help you in solving your storage problems.