Vital signs. Zero inflation means the Reserve Bank should cut rates as soon as it can, on Tuesday week
Written by

Richard Holden, Professor of Economics, UNSW
What do US pizza executive Herman Cain, US conservative commentator Stephen Moore, US Chief Justice Earl Warren, and Australia's Reserve Bank governor Philip Lowe have in common?
More than you might think.
The immediate issue for Lowe is Wednesday's inflation figures[1] released by the Bureau of Statistics. Inflation for the first quarter of 2019 came in at 0.0%. Zero. Nada.
Taken together, the sum of consumer prices moved not at all between the last quarter of 2019 and the first quarter of 2019. The annual increase (all of it in the last three quarters of last year) was 1.3%.
However you cut the numbers, inflation is now incredibly low. The Reserve Bank's measures of so-called underlying inflation (that mute the effects of sharp movements in things such as the prices of fruit and vegetables) are at the same level they were in 2016 when the Reserve Bank cut rates twice – in May and then August.
The Reserve Bank must cut
It has to do it again. The market expects it and is pricing in a cut.
Trading on the Australian Securities Exchange implies that 67% of those wagering real money expect the Reserve Bank to cut its cash rate from its present record low of 1.5% to another uncharted low of 1.25% when it next meets to consider rates on Tuesday May 7, a fortnight before the election.
A day earlier, before the release of Wednesday's shockingly low inflation figure, only 13% expected a cut on Tuesday week.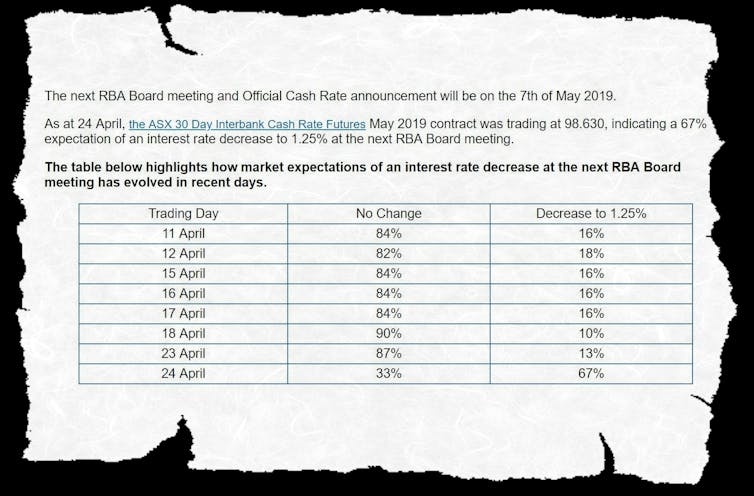 Authors: Richard Holden, Professor of Economics, UNSW
Read more http://theconversation.com/vital-signs-zero-inflation-means-the-reserve-bank-should-cut-rates-as-soon-as-it-can-on-tuesday-week-115931