why consumers don't punish big polluters for greenwashing lies
Written by

Adam Austen Kay, Lecturer, School of Business, The University of Queensland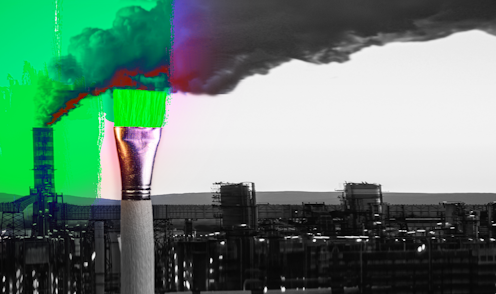 Stigma is an awful burden for business. But what if – for some companies – stigma is an asset?
That's what I and an international team of researchers set out to investigate in a new paper published in the Journal of Management Studies[1].
We examined how consumers around the world responded to firms in stigmatised industries like oil and gas that are found "greenwashing[2]", meaning they claim to do more for the environment than they really do.
We anticipated that the market would punish greenwashers, but we thought it would treat firms seen to be "dirty" rather differently.
Specifically, we thought the market would either
punish dirty firms more, as might the judge of a repeat offender in court; or

punish dirty firms less, as might parents who overlook poor behaviour by their child with outdated excuses like "boys will be boys".
What we discovered has important implications for greenwashing and important implications more broadly.
What we found
In a study tracking 7,365 companies in 47 countries over 15 years, we found that consumers financially penalised firms for greenwashing – but not if those firms were stigmatised[3] as dirty.
In other words, the market imposed a kind of tax on companies for greenwashing, unless they were already regarded as big polluters.
In order to find out why stigmatised greenwashers were exempt from this market tax, we conducted a follow-up experiment.
Read more: 'Toxic cover-up': 6 lessons Australia can draw from the UN's scathing report on greenwashing[4]
After a pre-study to determine which industries are most regarded as "dirty", "clean" or "neutral" (the answers were oil and gas, solar and wind power, and stationery and office supplies), we presented 458 consumers with a statement from the corporate citizenship report of a firm in one of these three industries.
In the statement, the firm professed its core values of honesty, integrity, and environmental sustainability. The only difference between the three versions of the statement was the industry the firm was in.
Read more https://theconversation.com/boys-will-be-boys-why-consumers-dont-punish-big-polluters-for-greenwashing-lies-194902