'Can-do capitalism' is delivering less than it used to. Here are 3 reasons why
Written by

Peter Martin, Visiting Fellow, Crawford School of Public Policy, Australian National University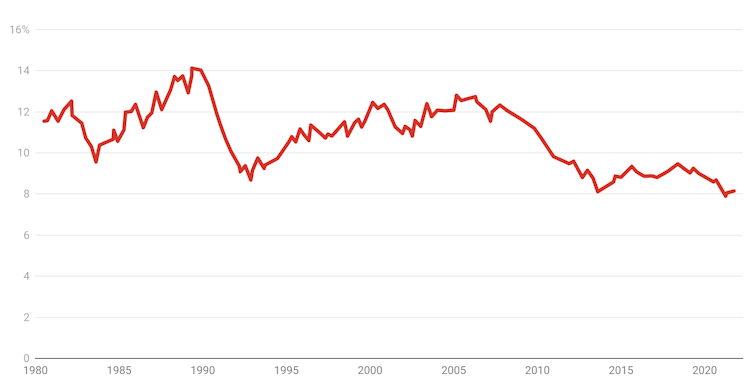 The good news is supposed to be that when the government gets out of the way "can-do capitalism" will have us roaring back to where we were before.
That's the prime minister's newest slogan[1], and we had better hope for more.
The unpleasant truth is that before the pandemic Australia's economy was disturbingly and unusually weak. Can-do capitalism wasn't doing what it should.
Reserve Bank chief economist Luci Ellis[2] put it this way a few days after Morrison talked about freeing the engines of the economy to do their work.
In the decade or so leading up to the pandemic, there was a nagging sense that these engines of prosperity were running out of steam – investment was low, productivity growth was lagging, and many of the behaviours we associate with business dynamism were on the decline.
Outside of mining, business investment had been shrinking as a share of the economy for more than a decade.
Private non-mining business investment, share of nominal GDP
ABS, RBA
[3]
Outside of the ride-share industry, fewer businesses were being created and fewer businesses destroyed.
"For all the talk of disruption, the overall sense one gets from the data is of a bit less dynamism or inclination to shake things up," Ellis said.
And we were in the middle of a "great resignation[4]" of a different kind to the departures from jobs being seen in the United States.
Australians were increasingly resigned to staying in the jobs they had. Job switching had sunk to all-time lows.
Proportion of employed Australians who switched jobs during the year
Read more https://theconversation.com/can-do-capitalism-is-delivering-less-than-it-used-to-here-are-3-reasons-why-172376