TV Antenna Installation in Albury-Wodonga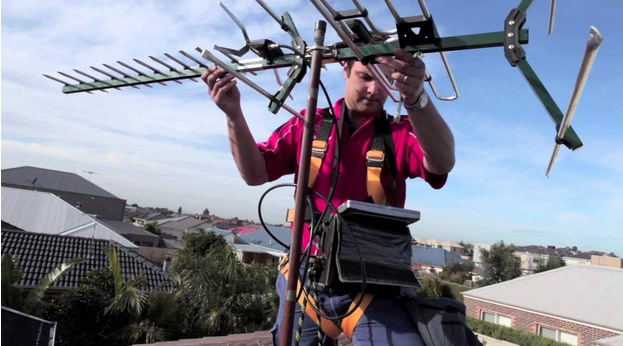 Your old TV antenna causing you problems? The image quality of your TV is not up to par? Do you need to upgrade your fully digital antenna? Matrix Solutions \will assist you and advise you on all your questions regarding the supply and installation of TV antennas serving Albury-Wodonga and all surrounding areas.
Albury Wodonga Antennas specializes in solving problems with the installation of television antennas and satellite systems. Matrix Solutions performs complete repairs and maintenance, as well as the installation of home theatres and TVs for you and your family. Our team of specialists and professionals offers our customers reliable and cost-effective solutions.

Matrix Solutions serves single-story or multi-story buildings, residential apartments, small and large businesses. Our specialists will help our customers with the repair of antennas and cables, as well as the elimination of electrical interference and interference from obstacles that affect the quality of your signal such as electrical devices, mountains, buildings, or even trees. 


Before Installation
Matrix Solutions are experts in everything related to antennas. We install antennas and provide services to ensure repair and troubleshooting, as well as advise on all issues that arise. Matrix Solutions uses only high-quality equipment, cables that will last you a long time.

We install only high-quality Australian-made products. All antennas are supplied and installed with guarantees. The work will be carried out by qualified specialists at a convenient time for the customer.

Matrix Solutions has 8 years of experience in the field of antenna installation. Our professional technicians can quickly diagnose your problems and fix antenna problems and interference on the spot. Matrix Solutions supplies and installs ultra-high-quality digital antennas so that you could watch all your favourite free TV shows in full HD.


During Installation
Matrix Solutions will perform the work efficiently and within the agreed time frame. The installation is carried out by qualified and competent technicians. Upon completion of the job, the client receives instructions on every aspect of using the TV.
Matrix Solutions technicians can install additional Foxtel retail outlets throughout your home. If your Foxtel is installed in your living room, our technicians can spread the signal from that box to other rooms in your house.


After Installation
All our services have a warranty period. But even after this period, we offer all our customers support, assistance and system maintenance.
Contact us now for TV antenna installation in Albury Wodonga.