Are Google Penalties Real?
The world of internet marketing is complex and there are many things that you must know to rank a web page and keep it in the SERPs. There are also a lot of untruths when it comes to Google and Google Penalties. If you are not familiar with Google penalties, then you might believe that Google punishes webmasters by deindexing their sites for such things as duplicate content and the purchase of links. So, what is true and what is not?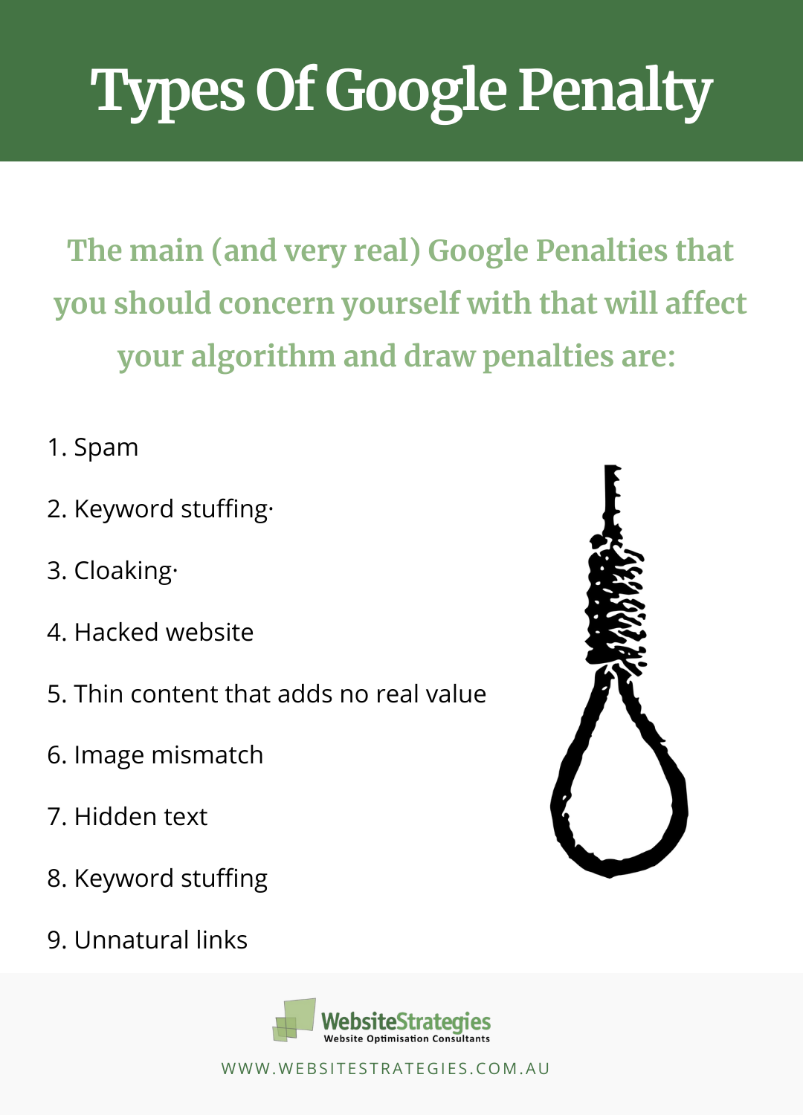 Types of Google Penalties
The first thing that you need to know is that there are two types of penalties that are issued by Google, for breaking their guidelines. The manual penalty is one that occurs when a real human causes the removal of a website from the SERPs due to its spammy and harmful behaviour. The algorithmic penalty is one that is applied systematically through an algorithm to reduce the position of a website in the SERPs because of behaviours that are not condoned by Google.
Manual penalties will eliminate your website from the SERPs completely until you make the necessary changes to bring your website back to Google standards. Some websites may have been attacked by hackers or are plagued with spyware or spam and Google will penalize these sites to prevent the spread of these problems throughout the internet. An algorithmic penalty will cause your website's visibility to be reduced. You will need to bring your site up to Google standards to have it ranked again.
Are Google Penalties Fact or Fiction?
This list covers some of the penalties that Google doles out, some are real, some are not.
Google Image Penalty
If an image that is hosted on your webpage looks different when a search is conducted in Google images, then you could receive a manual penalty for the fact that the images do not match. This manual action was introduced by Google in 2013 and sites that are affected are those that look to be trying to deceive Google Images by trying to have them index images that are different than those that are located on the website. This penalty may be applied to sites that use watermarks to safeguard their images from theft. If you are not sure what this means then there is a good chance you don't need to worry, however, if your site is one that tries to deceive people by having them click on an image and then what they are expecting is met with something completely different on the website, then you do have something to worry about.
Paid Links
If it is discovered that you purchase links to your website, you run the risk of complete removal from Google. This is also true for anyone who sells links. To be clear, the penalty is not necessarily for paid links, it is for websites that obtain large volumes of links through artificial means or through spam through large scale link buying schemes, link building software, guest posts and selling or buying links. Google wants links to be done naturally and to benefit users of the web, not to assist the web page with its rank. If your site is marked for this penalty, you could receive the penalty of your site disappearing from the SERPs until those links have been fully removed.
Duplicate Content
It is believed that your website will be punished for having duplicate content both on the actual site or through syndication where your content is reproduced on another site. Google says that there is not penalty for duplicate content, however, duplicate content can be harmful. The reason is that Google wants search results to be filled with a wide range of content to offer people choices. If there is some duplicate content, the search engine will attempt to locate the original website and rank it higher than the one that has simply copied the original site's content. Some duplication is not likely to cause harm, but it is always a great idea to create original content and reduce syndication where possible.
Single Keyword
Your site can receive a penalty for a single keyword and Google will prevent you from ranking for that keyword while the rest of your website looks great in the SERPs. If Google detects that a page of your site is exhibiting unnatural behaviour that specific item will be penalized, and the rest of your site can remain untouched. One example of this would be poorly written, keyword-stuffed content that attempts to rank for a keyword because it is viewed as thin content that does not add value.
Over-Optimization
If you are working on building massive amounts of links containing specific anchor text or authoring a ton of pages that are stuffed with keywords, chances are that you will be penalized eventually.
404 Pages
When visitors to your website experience too many broken or removed links or pages that are not found, it can harm you rank. The reason is that your bounce rate will increase and lower the engagement of visitors because they are frustrated with the results.
The main (and very real) Google Penalties that you should concern yourself with that will affect your algorithm and draw penalties are:
Spam

Keyword stuffing

Cloaking

Hacked website

Thin content that adds no real value

Image mismatch

Hidden text

Keyword stuffing

Unnatural links
An ethical webmaster will do none of these things. The reason is that a website that is built out properly and has valuable content should rank itself by proving itself to its visitors. If you are worried about your website or some of these possible penalties, it is never a bad idea to visit Google's Webmaster Tools help page to see if your site complies with the rules and standards. If you are thinking about having a website built, it is always a good idea to consult with an ethical SEO expert who will ensure that your page is built correctly and that it will rank in Google while avoiding any and all of these penalties.
Image by WebsiteStrategies