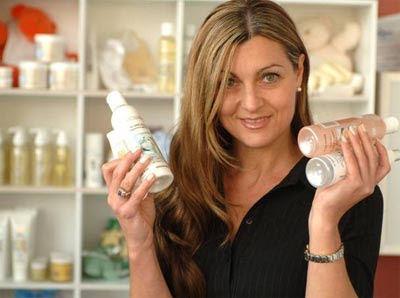 Managing a global business for 27 years while raising two boys as a single mum has equipped Catherine Cervasio, founder and owner of
Aromababy
, an organic baby skincare brand, with the skills, resilience and tenacity to push through tough times.
Having faced some setbacks and challenges in the past – including buying her ex-husband out of the business after a three-year court battle – has shown Catherine that it takes more than passion and entrepreneurial spirit to prevail. Sometimes it's going back to basics and creating a plan that can put you back in control - a tactic she has employed to ensure Aromababy is well-positioned to see this pandemic through. This year has thrown a lot at businesses but Aromababy is busier than ever although operating with a somewhat different lens than what Catherine had originally imagined at the beginning of the year.
When COVID-19 emerged Aromababy was hit on two fronts: exports and retail sales. "We've always focused on our relationships with manufacturers and retailers, some of which we've had for 20 years. So, to lose exports to Hong Kong, Singapore, Korea and China, and some of our Australian retailers, was completely overwhelming. I took a few days to gather my thoughts and dug deep and reminded myself of what this business does well - making beautiful, effective and well-researched natural products."
Knowing she was going to have to make some changes to her business operations, and with the help of ANZ's Business Planner, a free 5-minute online survey, Catherine felt confident taking the next steps. "I used ANZ's online tools to do a cash-flow forecast and from there develop a short-term plan, working through how much money we would need to build up our stock and buy equipment, and restructuring our loan to ensure we could continue paying it off. I've previously paid $10,000 a month for business advice that ended up telling me things I already knew. The ANZ templates are free, written by experts and can be used to create your own models for planning and growth. Now that's money well saved."
Laboratories became too busy to produce her products on time because they started developing their own brands and producing sanitiser for government contracts - which meant in effect, they became her competitors. Catherine took matters into her own hands. "Our supply chain is critical in getting products to market, so I went back to how we started. I formulated a few new products and we manufactured them on site. It enabled us to get products to market that wouldn't have otherwise been possible. "This led to some natural brand extensions, including a family hygiene category of cotton face masks which are selling online with Myer, and natural sanitisers.
Catherine also refreshed Aromababy's website making it more consumer-friendly, and dialled-up promotion on social media. She began taking on more manual labour too - packing orders, delivering, picking up the phone to customers and focusing on giving "stellar customer service".
Despite some retail presence not open due to restrictions, Aromababy has been able to continue operating as a toiletry manufacturer and a business fulfilling online orders.
"I love going back to basics and ANZ's Business Planner has reminded me to go back to the things that were so important when I started my business - so I could take control. Even the smallest amount of help from ANZ has been crucial, and I don't know where Aromababy would have been without it."
ANZ is committed to helping Australian businesses go through the ups and downs of business. Check-in on your business today, try the ANZ Business Planner
here
.