10 TIPS FOR SMALL BUSINESS INTERIOR DESIGNING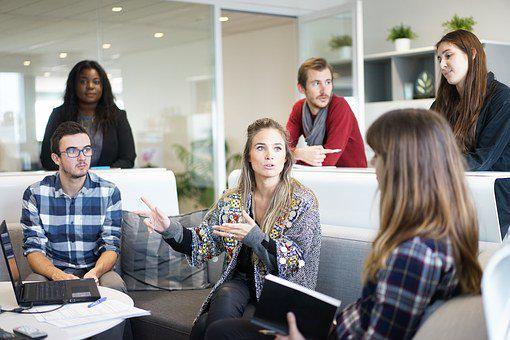 In recent times, companies design offices in a way, which is suitable for the employees. Since the productivity of employees depends a lot on their comfort, the office design also requires adequate attention. In addition, the office is a kind of a business image for the company, and very often, visitors, clients, and partners judge the status and capabilities of the organization precisely by the design of the office. Therefore, the interior of the office should be very carefully thought out to the smallest detail.
Here are some tips for designing the interior of offices:


Great lighting
Good lighting is an indispensable feature for offices. Your employee's productivity can be badly hindered if you do not provide adequate lighting. Try inculcating daylight in your office. Not only will it be refreshing for your employee, but it will also save your money which would otherwise be wasted in the payment of hefty electric bills. Wide windows are a good idea if you want to give light plus a good view of your employees.


Keep the color scheme in light colors
The colors you choose have a major effect on your employees and their productivity. Choose light colors in the working space. They have a calming effect and do not distract your employees. Choosing bright colors is a good idea when you are considering cafeteria or mixed spaces or the recreational areas of your offices.


High quality, practical office equipment
Avoid buying equipment from cheap stores without ensuring quality. Your employees are your biggest and most valuable asset. Take good care of their health and well-being, and they will take great care of your business.



Choose a minimalistic style
Office design requires maximum conciseness and spaciousness. Nothing distracts from work when there is simple, ergonomic furniture. A minimum of furniture, but at the same time, it performs a maximum of functions and effectively organizes the workspace.
Make sure of these things when you are designing the office.
All the pieces of furniture or interior should blend in together

Everything is harmonious and thought out.

The light is evenly distributed, and daylight is included to a maximum.

The colors used in the interior are light, while decorative elements are usually absent.
You can style with modern furniture
The office in the modern style is a mixture of elegance, beauty, curved lines, and imitation of natural patterns. A room in this style is less functional than in a minimalist style, but this fully pays off with an attractive appearance. The coworking space Melbourne has to pay extra attention to all these points. Mainly used colors are soft light shades - beige, green, gray, blue. Furniture is made to order from natural materials similar to them. All furniture with rounded corners, without hard lines. If space and theme allow, you can use vases, paintings, panels, and other decorations, but it is worth observing if it is not hindering productivity. One good example of a vase is a chinese porcelain type of a vase that has a very unique antique design that will enhance your space more beautifully and pleasant in the eyes.


High tech office
Creative, ultramodern design and maximum functionality, a complete lack of decor and the presence of chrome surfaces are the hallmarks of this style. In the design of lighting, the main role is given to the ceiling lighting system, and the lamps on the desktops play a minor role. All furniture should be made in one style. Tables are mainly angularly coupled with ergonomic chairs.


Office in the style of techno-art
A selection of paintings and ultra-modern architecture is a signature of this design. Abstract interior, bright colors, unique furniture design, all this is typical for techno- artistic offices. The abundance of glass and polished elements provides a futuristic design feel. For a special effect, columns, attics, ceilings with several levels, doors, and windows of unusual shapes and sizes are used. This design is ideal for companies that are engaged in advertising, the development of creative projects, art studios.


Employee seating
Pay special attention to the location of employees' desks to competently organize the work process. To do this, it is not necessary to demolish the walls or erect partitions, and you just need to use some tips:
Be sure to divide the office workspace into zones. It can be a recreation area, a common area, a working area.

Workplaces of employees should be located away from the front door. Near the front door, it is better to arrange waiting areas.
Include plants in your interior
There are different varieties of plants that give a great benefit to the office environment. Other than the pleasant view, they also clean the air and make the indoor environment rich in oxygen and free from substances, including harmful gases.
Today's modern office is a harmonious combination of minimalism, aesthetics, and ergonomics. It means a large number of people may it be employees, regular customers, visitors, interns, couriers, and partners can benefit from these spaces.


Make a proper recreation area
It can be equipped with a soft sofa and armchair. A small table or a cupboard for magazines and advertising brochures are also a great addition. It should be as comfortable as possible, so you can put a vase of flowers, hang pictures, or ask your employees to personalize the place themselves. Not only will this step beautify and refresh the place, but your employees will also develop a connection with the place. A coffee machine and a water cooler would be appropriate to keep in this area. Many offices keep games like foosball, ping pong, or snooker in the recreation area for employees. An ideal option would be a room hidden from the attention of visitors. A kitchen, a locker room, and personal lockers for workers can be equipped here.


CONCLUSION
Your employees spend a better part of their days away from their homes and at the office, serving your interest. Making sure they know that you have their best interests at heart is the best way you can be of service to them. The above tips are helpful if you want to make them feel valued at the workplace and make sure that their working procedures are made easy and enjoyable.