Office design trends emerging in 2020
Written by

Business Daily Media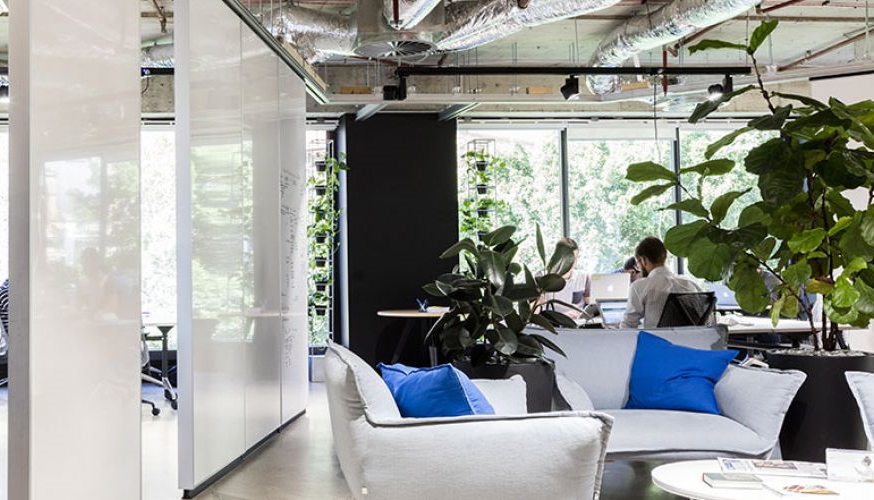 As businesses progressively become more complex in terms of functions, operations, rapidly changing technologies and a demand for more wellness-centred solutions, finding the right office interior design to meet these needs is becoming increasingly challenging. Providing dynamic, flexible spaces that are authentic to the brand and human-centric is at the core of great, modern workplaces, and leading businesses in 2020 will be seen to better understand the influence good design has on a workplace.
A business that understands the significant impact that purposeful designs can have on employees, commercial door and wall design leader, Lotus, share some of the trends emerging in workplace design for 2020.
1. INCLUSIVITY
2020 will see more Inclusive Designs, defined by the Centre for Inclusive Design1 as 'recognising the diversity and uniqueness of each individual by providing flexible and adaptable systems'. Whilst open plan workspaces can be difficult for organisations to navigate, their valuable functional attributes mean they aren't going anywhere any time soon. As such, shifting away from the traditional 'one size fits all' office model, businesses will instead look for ways to provide employees with both personalized and private spaces.
Dr Kate Hartigan, Head of Marketing and Brand at Lotus, explains, "We spend a large amount of our time at work and we all have differing individual needs – personality styles, sensory requirements, behavioural patterns, mental and physical health considerations, wellbeing – and functional workspaces should be designed with these needs in mind. Employers need to think about how the physical environment impacts employee's wellbeing, and business productivity and aim to design considered and inclusive workspaces that bring out the best in people."
These new-age workplace designs cater for the diversity of a company, and physical examples of this can be seen in features such as standing desks, functional furniture, flexible meeting spaces, collaboration areas with whiteboards or integrated technology, workstations and dedicated acoustic-insulated phone booths appearing in workplaces, built into dynamic spaces that are adaptable to the needs of individual employees and the task at hand.
Kate adds, "These inclusive designs mean employees are feeling seen and heard, resulting in a more engaged and thriving workplace. Look for products that allow spaces to be adapted and easily modified to suit the needs at hand, be it collaborative work, meeting rooms, private conversations, presentations with clients or creative spaces to think deeply. For example, we are seeing the incorporation of acoustic sliding doors into corporate space, traditionally seen in the education sector. This allows for rooms to be opened up, or closed for privacy, whilst effectively managing noise."
2. BRINGING THE OUTDOORS IN
Looking to nature as an architectural framework, Biophilic Design is inspired by the natural world and bringing the outdoors indoors. Whilst not a new concept, it has made a name for itself, particularly in residential spaces, and continues to gain a huge amount of traction in workplace design as we begin to understand the benefits of nature and natural elements on people.


Biophilic Design integrates shapes, colours and patterns associated with the outdoors, such as wood, stone, natural light and plants to help strengthen the human-nature connection. It puts an emphasis on technology-driven energy efficiency, sustainability, environmental conservation, and ecological compliance in order to establish a more harmonious relationship between nature and our buildings2. Shown to improve wellbeing by 15%, productivity by 6% and creativity by 15%3, purposeful biophilic design is fast becoming a key component of workplace enhancement and employee satisfaction.


Physical examples of biophilia in the workplace include the incorporation of live plants, trees and vertical gardens, as well as water features, high-quality ventilation and natural lighting.


A study by Human Spaces reported that natural light was named by 44% of employees as the number one element desired in the workplace, and along with views of the outside was very important for employee wellbeing, productivity and energy levels. "The use of transparent walls, such as the Lotus Opera, Slider and Glas-Stax products, helps maximise the transfer of natural light through a space," says Liz Jones, CEO, Lotus. "With natural light proven to have a positive effect on people's mood, stress levels and overall wellbeing, it is important to address this in an office setting."
3. DOMESTICATED SPACES
A recent study by CNBC4 showed 70% of professionals, globally, now work remotely at least one day a week, and 53% work remotely for at least half of the week. While employers are becoming increasingly flexible with these work preferences, having employees physically present at work helps to boost morale, build personal connections, and improve the optics of the business for prospective talent and clients, and still needs to be a priority for organisations.
In a bid to make the workplace more enticing, companies are now more frequently taking the time to put their unique stamp on spaces, reimagining their offices to recreate a domestic aesthetic and in doing so reiterating a sense of family or community, comfortability and culture within their business. They can even go as far as including some of the favorite home amenities, for example, an office could look into this coffee vending machine Melbourne company to incorporate a new coffee machine for their office space, improving the space and amenities offered for all employees.
Kirsty Harder, Head of Sales and Commercial Strategy at Lotus, explains, "The ability for businesses to inject their brand personalities into workplace design is key to the idea of fostering a family or community at work, demonstrated by customised interior design elements tied to the story, history or branding of an organisation as opposed to traditional blank canvas interior design trends. Products are customisable to individual requirements, with the placing of brand colours and custom designs on to interior features like our Operable Walls, or incorporating printed, decorative and coloured glass Acoustic Sliding Doors into the design of a workplace is becoming a popular trend." Find out more https://larnecdoors.com.au/

As the trend of working remotely and engaging internationally increases around the world, connecting employees to the workplace through technology has also become a crucial element of workplace design. There is an increase in the introduction of specialised meeting rooms designed to cater to video conference calls and file sharing, with screens creating the illusion of life-size employees sitting directly at the other end of the table, software allowing workers to work collaboratively on documents and real-time discussions activated wherever you are in the world.
4. CONNECTIVITY AND FLEXIBILITY
Connectivity, Flexibility, Integration and Engagement are the workplace design buzzwords for 2020, anticipated to stimulate an entirely new generation of moveable, multi-functional, adaptable and inspired designs.
Kate Hartigan explains, "With flexible design, we need to be creating spaces that cater to a range of functions and individual preferences. For me, it starts with Connectivity – an individual's understanding of their connection to the built environment and its impacts on their emotions, cognition and health. Next is Flexibility – people demanding more flexibility from the built environment as they become more in tune to its impact on them. Integration follows on from this, being a desire for spaces to be integrated with the wider environment to tailor spaces to activities. Engagement is last – designing spaces that allow for meaningful experiences that are clearly focused, inclusive and encourage people to not just perform, but to be engaged in their environment and thrive."
Focusing on maximising space and multi-functionality, organisations are turning to solutions that embody these four themes and allow for the complete transformation of their environments from meeting rooms to production studios, and communal open spaces to quiet, focused rooms, in the blink of an eye. The Operable Wall and Sliding Door products' main purpose is to physically transform environments and make them flexible, opening up or subdividing spaces as required in order to maximise freedom of the space, with a key focus on acoustic comfort. The use of glass panels visually opening or connecting different spaces, or agile whiteboard panels, encourages collaboration, creativity and engagement between people.
Other examples of flexibility in the workplace can be seen with the emergence of trends like 'hot desking', which sees employees choose where they sit on a day-to-day basis, giving them the opportunity to work alone or alongside teams or persons required specifically on that day. This configuration also includes co-working zones to ensure employees are able to collaborate as a team at any time.
This year, one thing is for sure - originality is in and conformity is out in workplace design, with human centred, purposeful flexible spaces that people thrive in a priority.
For more information about what we do, visit www.lotusdoors.com.au.
About Lotus Folding Doors
Lotus was founded in the 1960's supplying door and hardware retailers with various types of folding doors. Following the theme of adaptive space systems, Lotus introduced an Acoustic Operable Wall product range and moved into supplying installed product to the building industry. With manufacturing, design, acoustic capabilities being expanded and the introduction of Glas-STAX, Opera, Acoustic Sliders and Rotating Panel systems, Lotus is now the exclusive supplier of their products to the commercial building sector. Lotus is available throughout Australia and New Zealand. www.lotusdoors.com.au