Bondi Lifeguard, Harrison Reid, on creating 'not just another mattress in a box brand'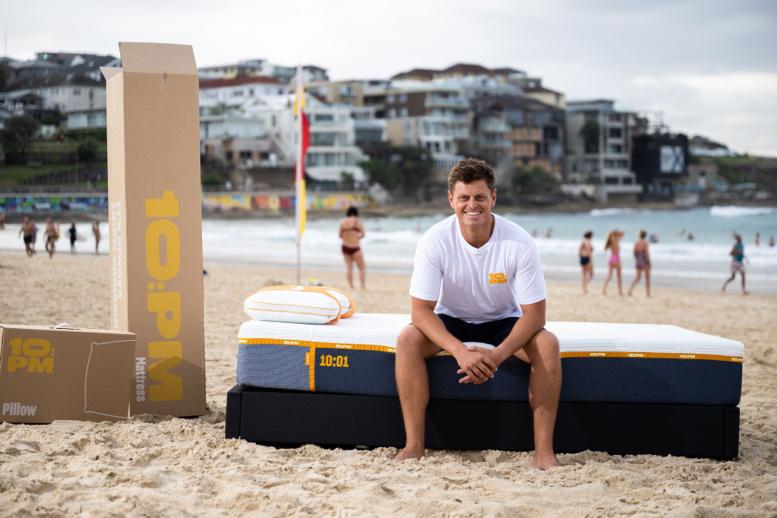 Over the last few years, 'self-care' has been a term continually on the rise but for the most part, it's purchases like – face masks, a Pilates class or taking yourself out for coffee – that comes to mind, not the big purchases like beds or mattresses. But arguably, having a quality mattress is the epitome of self-care.
I launched 10:PM, Australia's newest eco mattress brand, after noticing a gap in the market for Australian made mattress in a box, as majority are made offshore.
Australia has a reputation for high-quality manufacturing standards and strict regulations, which ensures our mattresses are durable and are the highest standard in comfort and support. This translates to a higher level of quality control and a lower likelihood of defects or issues down the track. By producing our mattresses in Australia, we also significantly reduce carbon emissions associated with transportation as we aren't shipping from other countries in container loads. Additionally, mattresses don't take well to being compressed for long periods of time, we have eliminated that issue by having a very fast manufacturing turnaround time and don't have our products sitting around for long periods of time.
It was also important for my products to be sustainable, affordable, quality mattresses with an easy purchasing experience. As such, 10:PM mattresses are all locally made with leading technology not seen in any other mattress in a box brands.
Whilst many Aussies may recognise me from Bondi Rescue, most wouldn't know that I have a long family history in the mattress industry. My father owned mattress retail stores in New Zealand for more than 40 years, and before I moved to Sydney, I was hand-delivering our mattresses to customers.
It was a natural progression for me to go into the mattress business and it's one I feel genuinely passionate about given people spend around 26 years of their life on their mattresses – that's 31% of the average life expectancy in Australia.
In the last 12 months, 10:PM has grown and developed into something a lot bigger than I have imagined. We have built a website to market 10:PM, launched a guerilla ad campaign, obtained a 3PL warehouse and began sending out deliveries throughout Metro Sydney (national distribution coming soon).
Our initial success comes down to a number of reasons. Combining Dad's 40 years of experience with my passion has been invaluable and having our mattresses made by Australasia's largest bedding manufacturer, with over 85 years of experience. In conjunction we have created one the most comfortable and supportive mattress in a box product. We sent our 10:03 mattress to one of my dad's stores in New Zealand, and the consensus from his sales team was that it is compatible with a mattress that retails for $5000. Even though we have a 100-night trial, we firmly believe that the 10pm mattress is one you will love and not send back.
After spending years on the beach as a lifeguard, plus a childhood of loving the ocean, I wanted to ensure my venture helped in any way it could. 10:PM products use recycled plastic bottles removed from the ocean – using 27 bottles in each Queen-sized mattress. After just announcing the launch, we had already removed 32,140 plastic bottles from the ocean.
Australian made for Australians is what 10:PM lives, breathes and sleeps. Everything is made right here in Australia with Aussie comfort front of mind. While affordability is important, but also temperature management, with our 10:02 and 10:03 mattresses having Thermobalance technology, which disperses heat and hot spots from your mattress when you sleep. No other mattress in a box brand has this technology.
Creating cut through in a crowded market
A goal in launching 10:PM has also been to educate people on mattress health. Many of us don't care for our mattress like we should and keep it, well beyond its use by date. This can lead to many health implications including itchy and watery eyes, eczema, brain fog or even affect cognitive function.
In a quest to showcase what Australians are sleeping on and to encourage people to change their mattress more regularly, I recently engaged building biologists to scour Sydney streets to test a bunch of dumped mattresses – the results were shocking. All the mattresses tested showed skin cells, dust mites, semen, urine, blood and mould. The findings reveal that many of us are literally sleeping on a petri dish every night – some of us sleeping ourselves sick, without even realising it. As a start-up, we lack the big marketing budgets of our competitors, so we had to think outside the box on how to reach as many people as possible through social sharing and earned media. So, we used our competitor's discarded mattresses on the streets of Sydney and turned them into billboards, or Billbeds – humourously tapping into Sydney suburb stereotypes and prompting people to check the state of their own mattress and start the conversation around their mattress health.
For Bondi, we focused on epidermis particles, shed by everyone who's ever caught a quick siesta on it… in Bondi backpacker-ville, it probably contains not-so-trace amounts of Irish, Brazilian, German, and hideously sunburnt Pom.
In food meccas like Newtown, we reminded those having a late-night snack in bed that any spills hang around and ferment in your mattress, until you make the move to a new, ultra comfortable, microbe neutralising, eco-friendly, Aussie mattress from 10:PM.
Using these dumped mattresses to test, and then for our Billbeds campaign, has been such a fantastic way to not only talk seriously about the importance of mattress care and health but it's also given us a platform to speak to Aussies in a way that's funny but very relatable.
For the ultimate selfcare – ditch your old mattress (and the dust mites...) for a 10:PM mattress with all the comfort, hygiene and support you need for a solid night of rest.

10:PM's mattresses come in three models, the 10:01, 10:02, and 10:03, and in single, king single, double, queen, and king sizes starting at $649 for a single. Accessories including mattress protectors and pillows start at $169.

See the mattress range here and accessories here.