Localsearch, is aiming to become Australia's number one online business directory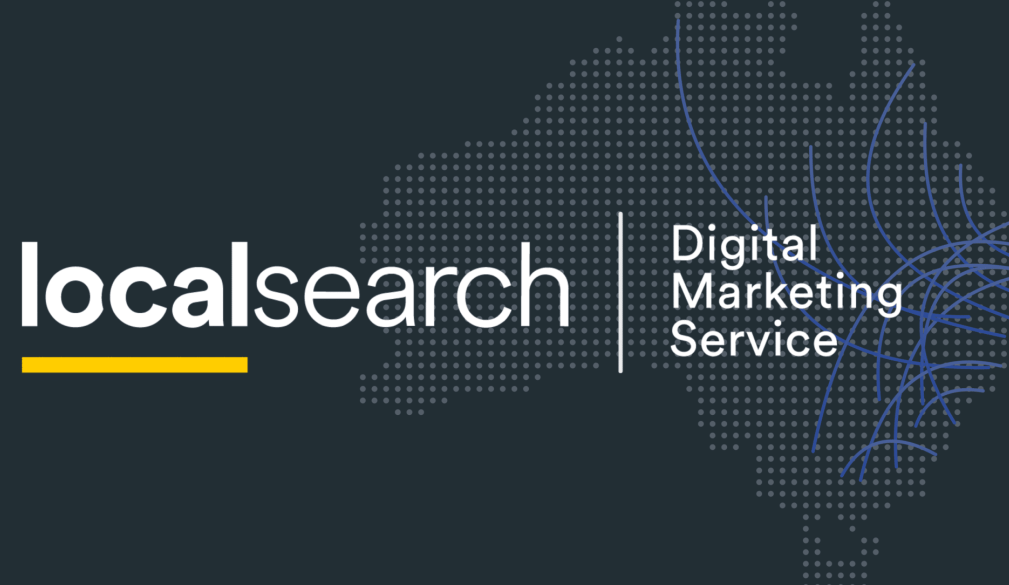 LOCALSEARCH PULLS RANK IN SEARCH TO BE NUMBER ONE SOURCE FOR SMBS 
Leading Australian-based digital marketing service provider for small-and-medium-sized businesses,
Localsearch
, is aiming to become Australia's number one online business directory (now digital presence service), overtaking the longstanding Yellow Pages within the next 24 months. Yellow Pages has held the number 1 market spot for online business directories for over 25 years.
Continuously supporting more than 28,000 small businesses for more than 29 years — while also providing free support to a further 217,000 businesses through the digital presence (online directory) offering — 
Localsearch.com.au
has seen significant online traffic growth across the last 12 months. Specifically, through seeing 700,000 searches per month increase to 1,000,000 searches per month, approximately accounting for a 40% increase in Australians searching for businesses in their local area through Localsearch's free digital presence platform. 
As of June 2022,
Localsearch.com.au
is currently attracting 1,521,000 (+26.1% on previous month) organic traffic, while the Yellow Pages draws in 3,154,000 (-5.8% on previous month) amount of traffic. (Source: SEMRush)
Over the past 12 months, Localsearch's free digital presence product has grown to now host
217,000 number of business
listings, a 5% increase on last year (approximately 15,000 new listings). This fast-tracked growth solidifies the free, crucial service Localsearch provides for small and medium businesses to have some form of presence online and funnel through customers enquiries to support them.   
The SMB community makes up the lionshare of the Australian business economy. According to the Australian Small Business and Family Enterprise Ombudsman (ASBFEO) –
Small Business Counts December 2020 report
– small businesses account for 98.4% of all Australian businesses. Additionally, the ASBFEO
recently reported
that small businesses provide employment for more than five million Australians  – with two out of every five people with a private sector job working in a small business. The sector contributes $483 billion to the economy each year.
Founded and headquartered in regional Queensland, Localsearch plans to keep up with SMB demand for digital services by expanding further across the country beyond their footprint in the Northern Territory, Queensland, New South Wales and Victoria, with recent launches in Bendigo and Ballarat. The business is aiming to again grow its current 217,000 SMB listings across the next 12 months. 
Director of Digital and Growth at Localsearch, Adam Boote says:
"At Localsearch, we continue to champion the mum and dad businesses of Australia. They're the backbone of our economy and it's important for us to be able to offer them a digital presence in order to be seen online, funnel through customer enquiries and get back to the core aspect of their business. 
"It's only natural that as demand for our free
Localsearch.com.au
website grows then so do we. Localsearch is headquartered in regional Queensland but we have ambitious plans to continue growing further throughout Australia and be able to help even more businesses out there. As we grow, it's only natural our online footprint does as well. If we're the number 1 location for SMB listings, then we're delighted for the business that gets to take advantage of that." 
Due to the current cost of living and the pressures it places on small and medium businesses, as of September 2022, Localsearch will begin implementing a subscription-based model for customer payment – allowing clients who currently have the Localsearch Digital Presence offering the ability to pay month-to-month, rather than a yearly fee. 
Mr Boote continued:
"We've been listening very carefully to our clients and this is what they've asked for. Subscription-based modelling helps better manage cashflow and gives our clients more time to concentrate on their business, their own service offering and making a living without needing to worry about all the technical digital presence opportunities in the background." 
Chief Commercial Officer at Localsearch, David Holihan
, joined Localsearch in 2017. In the first 3 years of his role, he flew to every corner of the world, speaking to businesses who either had success going through the transition from traditional marketing to digital presence, were going through the transformation or, most importantly, had failed going through the transformation. 
"Localsearch started 29 years ago, paving the way in an industry that is now extinct," Mr. Holihan said. 
"We are now a leader in an industry that has never existed before, helping regional businesses make that transformation themselves one again." 
Localsearch has been nominated for multiple prestigious industry awards for a number of years in a row, including recently being awarded the Google Premier Partner Awards for the Growing Businesses Online Category. 
Localsearch has been the go-to for regional businesses for more than 29 years. The business provides a complete digital marketing solution catered for small businesses by creating opportunities through a complete suite of services from its online registration directory platform to SEO, SEM, social media marketing and website hosting.