GSS 2023 goes online with month-long Great Shopee Sale starting 6.6
Shoppers can look forward to exciting rewards this mid-year season on Shopee, including earning over 100 million Shopee Coins with Daily Shopee Shake game
SINGAPORE -
Media OutReach
- 1 June 2023 -
With more and more shoppers now choosing to start their shopping journey online, Shopee has revolutionised the way Singaporeans shop during the beloved Great Singapore Sale (GSS) that used to happen this period every year.
This year, Shopee will be rewarding its shoppers with over 100 million Shopee Coins at its 6.6 - 7.7 Great Shopee Sale as it looks to deliver value and joy to shoppers.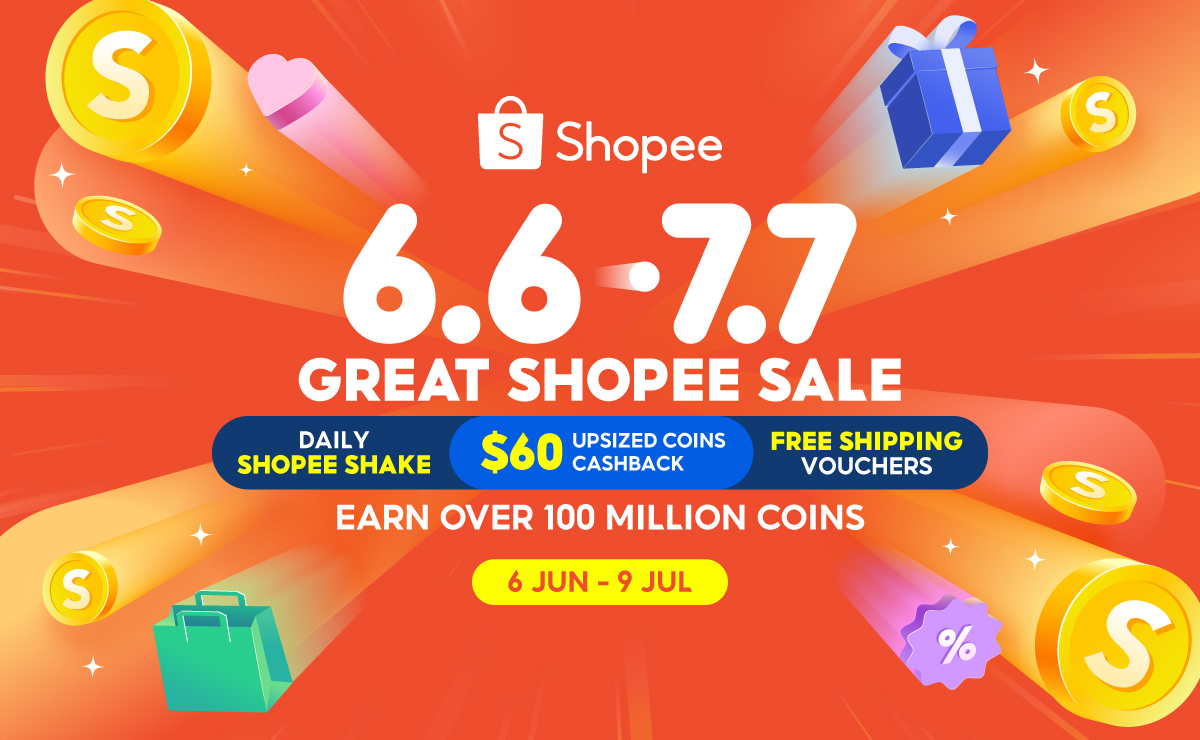 A key milestone in mid-year shopping season
Shopee has become crucial in users' entire end-to-end shopping journey, with over 75% of users in Singapore choosing to search, compare and eventually buy a product on Shopee. GSS on Shopee celebrates its 5th edition this year, and has grown to become a key milestone in the mid-year shopping season.

Winston Goh, Head of Marketing at Shopee, said, "Our 6.6 - 7.7 Great Shopee Sale marks a key milestone in the mid-year shopping season, and is an opportunity to show our appreciation to our shoppers who have been a vital part of our success this year. By rewarding them with Shopee Coins, we aim to make their online shopping experience even more enjoyable, engaging and fulfilling."

Coins rewards anchor this year's GSS
This year's GSS will see shoppers earning coins faster and across more channels. Shoppers can earn upsized cashback with vouchers, as well as daily plays of the campaign's anchor game Shopee Shake. Shopee Coins, Shopee's in-app currency which shoppers can earn through making purchases, participating in activities and livestreams, playing Shopee Prizes and completing other tasks, was created as part of Shopee's commitment to make online shopping fun and engaging, and to reward shoppers for their loyalty and support. Every 100 Shopee coins earned is equivalent to S$1, and shoppers can use them to offset their transaction amount when making a purchase on Shopee, or to do good by donating their coins to beneficiaries of their choice.

This year, the Great Shopee Sale TV commercial also unites five local dancers in an iconic Shopee dance performance. The talent selection reflects the diversity of Shopee's users, in line with Shopee's brand personality and commitment to delivering a hyper-localised shopping experience. From 30 May - 27 Jun 2023, users can participate in the Great Shopee Sale Dance Challenge on Shopee's TikTok channel @shopeesg for a chance to win up to 100,000 Shopee coins.

More convenience with island-wide collection points
Shopping with Shopee will also be ever-more convenient this Great Shopee Sale. Apart from doorstep delivery, users can also opt for self-collection at their own convenience. With Shopee Xpress's extensive network of collection points and lockers, most homes are within 250 metres of a self-collection point. Currently, there are close to 600 shop locations across the island where customers can collect their packages for free with $0 minimum spend. The locations include convenience stores, mini-markets, mobile phone shops, eyewear stores, and even shops within shopping malls.

Shoppers can also look forward to this exciting line-up of events with attractive deals and vouchers:

Great Shopee Sale (6 to 8 June): Daily Shopee Shake to earn Shopee Coins, $60 Upsized Coin Cashback and Free Shipping Vouchers

15th Mid Month Mall Sale (15 June): Enjoy $15 off $100 flash vouchers and Free Shipping Vouchers

25th Super Shiok Sale (25 to 27 June): Enjoy the lowest prices on more than 250k Bestsellers, $25 Coins Cashback and Daily Shopee Shake

Great Shopee Sale Finale (7 to 9 July): Daily Shopee Shake, $50 Upsized Coin Cashback and Free Shipping Vouchers

Shop 6.6 - 7.7 Great Shopee Sale and earn over 100 million Shopee Coins at
https://shopee.sg/m/gss
.
Hashtag: #Shopee
The issuer is solely responsible for the content of this announcement.
Shopee
Shopee is the leading e-commerce platform in Southeast Asia & Taiwan. Shopee promotes an inclusive and sustainable digital ecosystem by enabling businesses to digitalise and grow their online presence, helping more people access and benefit from digital services, and uplifting local communities.

Shopee offers an easy, secure, and engaging experience that is enjoyed by millions of people daily. Shopee is also a key contributor to the region's digital economy with a firm commitment to helping homegrown brands and entrepreneurs succeed in e-commerce.

Shopee is part of Sea Limited (NYSE: SE), a leading global consumer internet company. Sea's mission is to better the lives of consumers and small businesses with technology through its three core businesses: Shopee, Garena and SeaMoney.