Alibaba Cloud Debuts Its Sustainability Solution at i Light Singapore 2023
AI-powered show to launch an immersive light experience with sustainability as a spotlight
SINGAPORE -
Media OutReach
- 1 June 2023 -
Alibaba Cloud, the digital technology and intelligence backbone of Alibaba Group, is proud to be the partner of i Light Singapore 2023, organized by the Urban Redevelopment Authority (URA).
Alibaba Cloud will unveil its latest sustainability solution with an immersive light experience that puts a spotlight on sustainability and encourages greener lifestyle choices.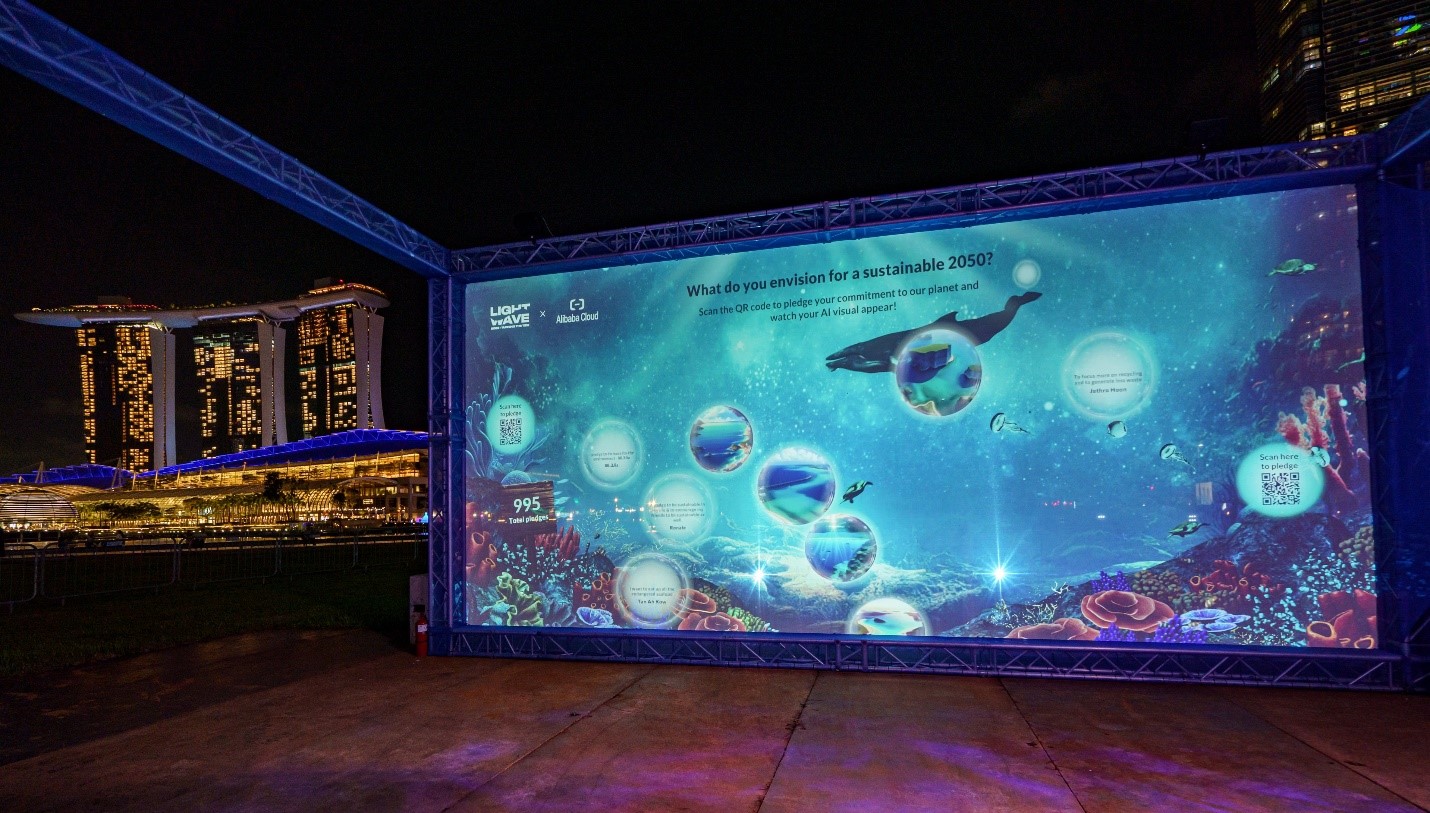 Energy Expert, Alibaba Cloud's software-as-a-service sustainability solution, will be used to analyze carbon emissions at Lightwave: Turning the Tide, an immersive light display coming under the umbrella of the festival's lineup of programmes held at Marina Bay from 1 to 25 June 2023. The sustainability solution will also provide actionable insights and energy-saving recommendations for future editions of the event.

The general public will be invited to start and own their personal sustainability journeys by pledging their own green movements and vision for achieving net-zero emissions by 2050 online via i Light i Pledge. For each pledge submitted online, a visual unique to each pledge will be generated using Alibaba Cloud's artificial intelligence (AI) technologies. The visuals can be viewed on a screen as part of the closing chapter of Lightwave: Turning the Tide. This initiative aims to show how a small step from an individual can contribute to a more sustainable future for all. For each pledge submitted by the public (up to the first 5,000 pledges), 100 grams of waste will be removed from Singapore's waterways.

"We are excited to partner with URA at this annual landmark event to showcase how Alibaba Cloud's AI technologies are developed with carbon neutrality in mind to support a more sustainable future for all. Beyond the festival, we hope this paves the way for deeper collaborations between technologies and innovations that prioritize and champion sustainability efforts in Singapore. More importantly, we want to spur both individuals and organizations to recognize the important role every person plays in achieving a more long-term sustainable future, and how this can be easily achieved through a single, meaningful act," said Zhou Wenwen, General Manager of Energy Cloud, Alibaba Cloud Intelligence.

As a global leading cloud infrastructure provider, Alibaba Cloud is committed to helping organizations slash carbon emissions with emerging technologies such as intelligence computing and AI technologies. Leading the forefront of this notion, Alibaba Cloud strives to achieve Scope 3 Carbon neutrality and commits to powering its cloud computing with 100% clean energy by 2030.

Spearheading technology-driven sustainability, Alibaba Cloud's Energy Expert has helped more than 2,600 enterprises save energy or reduce carbon emissions since its launch last year. As one of Alibaba Cloud's key product offerings, the enterprise solution can save over 2 million kilowatt-hours of energy daily when deployed at full capacity.

For more details on how individuals can participate in i Light i Pledge, please visit this website here.

Visit https://www.ilightsingapore.gov.sg for more information.

Hashtag: #AlibabaCloud

The issuer is solely responsible for the content of this announcement.
About Alibaba Cloud
Established in 2009, Alibaba Cloud (www.alibabacloud.com) is the digital technology and intelligence backbone of Alibaba Group. It offers a complete suite of cloud services to customers worldwide, including elastic computing, database, storage, network virtualization services, large-scale computing, security, management and application services, big data analytics, a machine learning platform and IoT services. Alibaba maintained its position as the third leading public cloud IaaS service provider globally since 2018, according to IDC. Alibaba is the world's third leading and Asia Pacific's leading IaaS provider by revenue in U.S. dollars since 2018, according to Gartner.