Rising reliance on personal income tax signals need for bolder reforms
Written by

Phil Lewis, Professor of Economics, University of Canberra
The Parliamentary Budget Office (PBO) has just released a report[1] on trends in Commonwealth taxation receipts. While supporting the expectations of a budget in balance by 2019-20, it exposes worrying trends in the balance of the burden of taxes in Australia. In particular, its analysis of trends in the composition of tax revenue identifies an increasing reliance on personal income tax.
The PBO shows that tax revenue from labour (mostly income tax) was 8.6% of GDP in 1971-72. By 2015/16, this had risen to 12.6% of GDP. Over the same period, tax collections from capital (mostly company tax) as a percentage of GDP was virtually unchanged, from 3.3% to 3.2% – although this increased noticeably during the "economic boom", which ended when the Global Financial Crisis (GFC) hit in 2007.
Taxes on consumption (such a GST and excise duties) were 5.3% of GDP in 1971-72 and 5.7% of GDP in 2015-16. While the introduction of the GST in July 2001 raised consumption taxes temporarily, revenue from both GST and particularly excise taxes has been in decline as a percent of GDP since.
Figure 2 from the report shows these trends over the decades.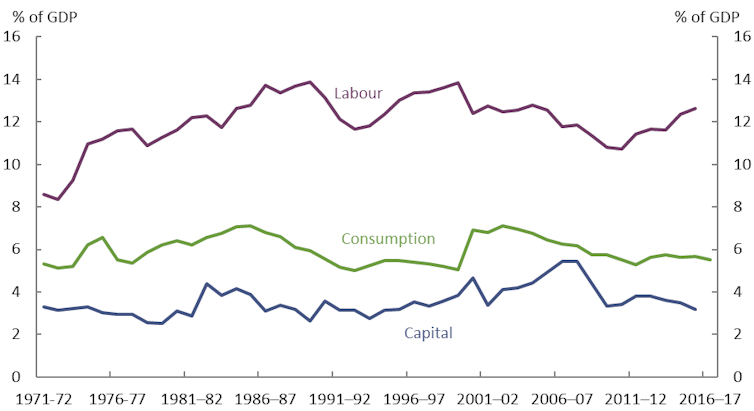 Source: ATO data and PBO analysis
[2]
The main emphasis of the PBO report is on the period since 2001-02. The chart below shows the increased reliance on income tax and declining importance of taxes on consumption and capital.
Authors: Phil Lewis, Professor of Economics, University of Canberra
Read more http://theconversation.com/rising-reliance-on-personal-income-tax-signals-need-for-bolder-reforms-100024