ZOO Group redefines the creative work environment
Written by

Christine Galasinao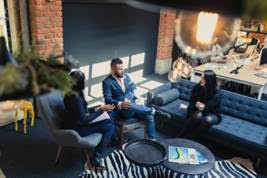 Independent creative network ZOO Group has opened a game changing new office for its Canberra agency that will encourage staff to work where and when they want with the aim of improving overall productivity and quality of work.
The new office is a departure from the traditional corporate office, to a more informal work environment that incorporates various spaces to collaborate, including outdoor work benches, lounge and bar areas and quiet work stations.
ZOO Group Founder, Pawl Cubbin, said, "The new office is like a cross between the foyer of a boutique hotel and a business lounge – it has a completely different feel to any creative agency I've ever been in. Before opening our Singapore agency, we spent about 12 months researching innovative work practices and how they would work for a creative agency."
"We believe that people do their best work where and when they work best, and the new office was designed to activate this thinking. We have five different spaces – both indoor and outdoor – that our staff can utilise depending on how they like to work and what they are doing," Mr Cubbin added. 
The new office is located in the bustling suburb of Kingston, above the pub, Little Brooklyn, in a space that was once a restaurant.
"It has the feeling of a clubhouse that gives it a unique personality and a creative air. We've kept some of the characteristics of the former restaurant, and the connection to what it once was makes it feel quite unique – it has soul."
"Being located in Green Square means our team has even more options for where they work, with an abundance of nearby cafes and the pub downstairs, perfect for informal meetings or just to have a change of scenery," said Mr Cubbin.
ZOO Group Canberra team members moved into the office in September and initial feedback has been positive.
"The team loves the new office. They're finding it easier to 'get in the zone' and collaborate with each other, and we're starting to see that reflected in the work. We've also had feedback from our clients that it feels much more like us than our previous space," said Mr Cubbin.
Recently ZOO Group announced the appointment of Lorinda Wyatt as Managing Director in Canberra. Wyatt joins a team of experienced senior talent, bringing a high level of strategic capability to the Canberra agency and the network overall.