Heritage Christchurch Wins World Luxury Hotel Award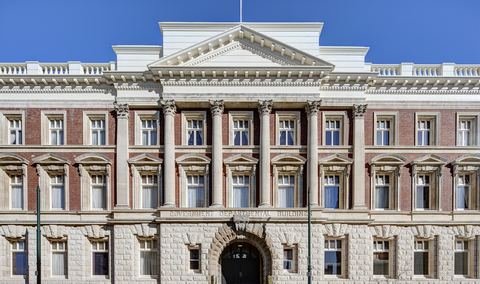 CHRISTCHURCH NEW ZEALAND, Heritage Christchurch has been announced a winner in the World Luxury Hotel Awards in the Luxury Historical Hotel category.
Heritage Christchurch won the award in the Regional section - Christchurch, New Zealand in these prestigious awards, often likened to the Oscars for luxury properties world-wide. The award ceremony took place in Qatar Saturday night 29 October.
"It's an amazing achievement for our hotel to have received this international recognition. We are very proud of the Heritage Christchurch team. There has been a lot of hard work and commitment gone in to the hotel since our reopening. We thank every hotel team member who contributed to this success," says Gary Jarvis group operations manager of Heritage and CityLife Hotels New Zealand.
Set in the 103-year-old Old Government Building (OGB) on Christchurch's Cathedral Square, Heritage Christchurch has been in hot demand for leisure guests and business travellers since its formal re-opening in 2013.
"This is a terrific endorsement for Heritage Christchurch. Guests respond so well to our elegant century-old building. They also comment on our spacious suites and luxurious on-site health club and swimming pool, a unique facility in the Christchurch CBD," adds Gary Jarvis.
The Heritage Christchurch building has been recognised in the Canterbury Heritage Awards in 2010, 2012 and 2014; most recently in the tourism category.
The building was opened in 1913 and is designed by renowned architect Joseph Clarkson Maddison in an Italian Renaissance Palazzo style and is considered of 'monumental' importance to the city by architecture experts. The hotel's Maddison's restaurant is named in his honour. Also on site is the popular OGB Bar and café.
For Heritage Christchurch bookings and information call ++64 (0)3 983 4800 or visit
www.heritagehotels.co.nz/hotels/heritage-christchurch

For information on the awards visit
www.worldluxuryhotelawards.com
For
Holiday Travel Options
visit
HolidayCentre.com
ABOUT HERITAGE AND CITYLIFE HOTELS
Heritage Hotel Management manage a pre-eminent range of four-star-plus properties in New Zealand with convenient CBD CityLife Hotels in Auckland and Wellington, and Heritage Hotels in Auckland, New Plymouth, Nelson, Hanmer Springs, Christchurch and Queenstown. Combined with the growing Heritage Collection, this uniquely New Zealand hotel group has 19 hotels across 15 top New Zealand locations.
HERITAGE CHRISTCHURCH'S OLD GOVERNMENT BUILDING (OGB) HISTORY
The Old Government Building (OGB), home of today's Heritage Christchurch Hotel has a fascinating history of endurance. In the early 1900s, rapid city growth prompted the need for a new government department building for Christchurch.
The site on Cathedral Square was bought in 1908. Joseph Clarkson Maddison (1850-1923), a leading architect of his era was chosen as the architect. Maddison favoured Italianate designs and his Palazzo style OGB building is considered his finest work.
A Canterbury firm, Messrs J and W Jamieson, was appointed building contractor in September 1910. The foundation stone was laid in November 1911 with the Prime Minister and the Mayor in attendance. The building was completed and opened in August 1913 for the cost of £64,380.
Maddison's design required elaborate detailing. The Coat of Arms at the Worchester Street entrance is by Edward Reece and Sons and the magnificent stained-glass windows above the interior grand staircase is credited to Christchurch glass artist Frederick Nash.
600 public servants staff, across many departments, worked in the building to start with. As the city grew, departments moved out until just the Public Works Depart remained, later renamed the Ministry of Works department. Increasing numbers of staff were housed in other newer buildings and by 1989 the building was empty.
The building's fate was up in the air for several years. Public rallies were organised to save the building and petitions presented had thousands of signatures. In July 1991 after much community consultation, the Christchurch City Council purchased the building to find a new use for it, with a hotel chosen as one of the best options.
Integral to the sale to a new owner was the purchaser must maintain the building's heritage architectural elements and conduct extensive earthquake strengthening; the reason the building is still with us today.
The Historic Places category-one-listed building was bought in 1995 by Heritage Hotel Management's parent company with a developer. In 1996 the luxury hotel opened.
The OGB building survived the February 22nd 2011 earthquake with relatively minor structural damage and no harm to guests and staff. The building was formally reopened by the Governor-General of New Zealand on 20 September 2013 with many delighted local dignitaries in attendance.