A shocking statistical fact that will change the way you think about the gender pay gap
Written by

Robert Breunig, Professor of Economics and Director, Tax and Transfer Policy Institute, Crawford School of Public Policy, Australian National University
Domestic violence committed on female partners in heterosexual couples occurs significantly more frequently when the woman earns more than the man — according to our findings about 35% more often.
Our research[1] linking domestic violence to gender income balance is a world first.
We are astounded by the strength of the association.
The following graph tracks the probability of partner violence reported by women against the share of a couple's income earned by the woman.
Probability of partner violence by % of partner income earned by the woman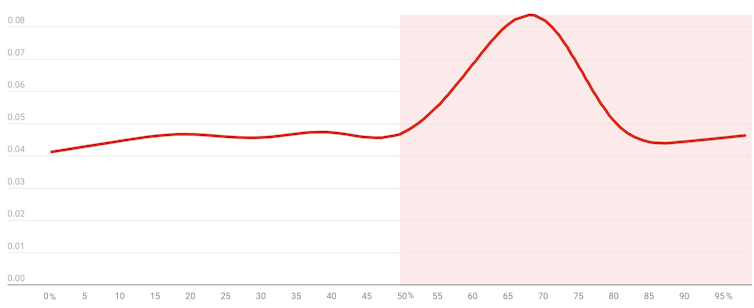 Authors: Robert Breunig, Professor of Economics and Director, Tax and Transfer Policy Institute, Crawford School of Public Policy, Australian National University
Read more https://theconversation.com/a-shocking-statistical-fact-that-will-change-the-way-you-think-about-the-gender-pay-gap-158052