gains for health, housing and education in fiscally conservative budget
Written by

Grant Duncan, Associate Professor for the School of People, Environment and Planning, Massey University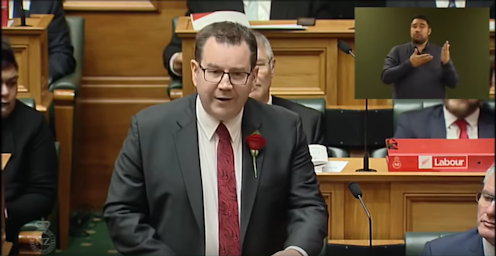 Finance minister Grant Robertson had to achieve two contradictory aims when he announced the budget[1] today: correct "nine years of neglect", especially in health and education, and also produce a surplus and pay off public debt.
He has more or less succeeded, partly thanks to a reasonably buoyant economy and greater than expected revenue, for which the opposition is still taking credit. Nonetheless, this is a government that is still pinching itself to check that it's actually in office, not dreaming it, and that carries a huge load of expectations and promises.
Even before the budget documents hit the table in the House of Representatives, the opposition leader was calling out "broken promises[2]," especially around police recruitment numbers, subsidies for visits to the doctor and plans to invest in affordable houses.
Winners and losers
The winners in this budget are public health, education and overseas development. The latter will see more going into poverty reduction efforts, primarily in the Pacific, partly to balance out Chinese soft power.
A lot of new money goes to social services and justice sectors to improve outcomes, especially to address homelessness. New public housing and affordable houses for first-home buyers get fresh investment.
One potentially big-spending sector that still lags behind is defence, despite $338 million new operating expenditure. Compare that with foreign affairs ($969 million) or corrections ($518 million), let alone health ($3.2 billion).
Labour and Green voters will never be big supporters of defence spending. But New Zealand is accused sometimes of not pulling its weight[3], in spite of its huge exclusive economic zone. The new government has put off replacement of the old Orion marine surveillance aircraft.
Overall, this is a predictable and fiscally conservative budget. There are some disappointments, of course, but accusations that it is full of broken promises miss the target. It puts the Labour-led government's renewal agenda into action.
Read more: NZ budget 2018: election promises and real-life tests[4]
Cautious budget
The budget is surprisingly cautious and restrained, given that the government wants to set New Zealand on a path of economic and social transformation. There is serious spending on health, education and housing but there is also a $3 billion surplus this year.
Well-being of New Zealanders is the key theme, with $42 billion net capital spending for public service and infrastructure. The big winner is health with a substantial boost of funding to rebuild hospitals as well as wider access to free doctor visits. Housing also received a boost[5] with a target of 1,600 state houses each year in addition to the KiwiBuild program[6] announced earlier. To help rural communities, there is a $1 billion provincial growth fund[7] and $1 billion for the Pacific reset.
There are no surprises or lightening bolts in this year's budget. The government has made a start in tackling inequality by providing more support for low and middle-income families and showing a commitment to reducing child poverty[8]. But it shouldn't just stop there. In order to alleviate poverty in a true sense, the government needs to enable all New Zealanders to create a good standard of living for themselves and families. It is not simply about redistribution or sharing of wealth, but ensuring all New Zealanders are able to contribute to our nation's prosperity.
Health spending
The planned spending on health and social care appears morally responsible, with the exception of Whānau Ora[9], an interagency programme focused on the health and wellbeing of families/whānau. Whānau Ora did not receive new funding, undermining the enduring commitment to improving Māori health by Māori health providers and whānau. Funding to support district health boards and hospitals ($3.2b), including upgrades and rebuilds, is welcome and necessary to maintain current services.
The package announced to improve access to primary care[10] for those who most need it is an important gain. The New Zealand Health Survey[11] reported in 2016 that 500,000 New Zealanders had unmet health care needs because they could not afford a GP visit. This number has not changed since 2011. For about 540,000 people who hold a Community Services Card, GP visits will become cheaper by $20 to $30. In addition, free general practice visits for those under 14 years extends eligibility by one year, which adds 56,000 young people from December this year.
The announcement will extend eligibility for the card to people who receive an accommodation supplement, live in a Housing New Zealand dwelling, or get income related rent subsidies. However, the card must be easy to obtain for those who are eligible. Research published in 2002 found that 33.4% of people living in West Auckland who were eligible did not have a card.
Boost for nurses and midwives
The nurses in schools programme received $17m to extend services from decile 1 to 3 secondary schools and teen-parent units to include decile 4 schools, which means that 24,000 more students have access to this support. Mental health needs were acknowledged, with $10.5m allocated to fund a pilot programme giving young people aged 18 to 25 free mental health counselling and therapy; additional funding has been deferred until the current inquiry into mental health and addiction[12] reports back in October 2018.
A shortage of midwives, with many leaving the profession, could well be alleviated by the $112 million allocated to community midwifery services[13], which includes an 8.9% fee increase to align them with hospital midwives.
Education spending
Education receives $1.6 billion new operations expenditure and $334 million new capital expenditure, out of a total increase of $6.1 billion operations and $1.8 billion capital expenditure to rebuild critical public services.
Beyond the headline, we see increased capital appropriations over four years for school building growth[14] ($332m). Among operational expenditure increases, the largest allocations go, similarly, towards increased demand in the early childhood and schooling sectors[15] ($984m).
Assuming that growth and demand allocations mostly provide more spaces and places as a result of immigration and natural birth fluctuations, that leaves government with relatively little scope to do more than signal major future investment priorities and begin to address the chronic underfunding of the last decade[16]. Notably, tertiary education has no new line allocations in 2018 beyond the $2.5 billion "fees free" package[17] announced in 2017 as one of the 100-day plan initiatives.
Learning support
There is some increased cost adjustment for early childhood education ($104.8m) over four years, and for schooling operations grants ($74.6m), together with increases for various forms of learning support for students with additional learning needs[18], the largest of these for the Ongoing Resourcing Scheme ($133.4m) and Teacher Aide funding rates ($59.3m).
Learning support and teacher supply have been two red hot topics among parents and school communities in recent years. Teacher workforce supply receives an additional $20 million over four years, together with $6.4 million for voluntary bonding of teachers entering the workforce.
We also need to look elsewhere in the budget for potential impacts on childhood well-being in educational settings. For example, Kickstart and Kidscan[19] government funding ends in 2018-19. In contrast, school based health services receive new expansion funding of $17 million over four years, and free GP visits have been extended to children up to age 14. These are sending the right signals, but the question remains whether it is enough to reduce overall educational, social and economic disadvantage.
Economically conservative
The budget expectedly focuses on redistribution, health, elementary and secondary education and some infrastructure investment, with a focus on narrowing the gaps New Zealand has relative to the OECD standard. At the same time, the budget steps away from some electoral promises in order to avoid raising the debt levels. It even ends up with a small surplus.
The decision to limit the debt increase resulted in a self-imposed trade-off between growth promoting and redistribution policies, with the government focusing on the latter at the cost of the former. The trade-off seems excessive given that New Zealand's net debt-to-GDP ratio is among the lowest in the OECD while significant gaps in public infrastructure exist.
In some areas, public infrastructure is a prerequisite for business investment (e.g. ultra-fast-broadband initiatives of past governments), while in other areas, such infrastructure is a public good. More targeted capital spending would have been beneficial for renewable energy generation, capital deepening, technological catch-up and R&D in the sorely under-funded university sector.
The government's approach to regional development[20], while laudable in principle, lacks strategy and a careful consideration of costs and benefits of its initiatives. The cost of maintaining the coalition government then seems to lie in a lack of a coherent policy framework that would simultaneously target regional development, infrastructure investment, inequality reduction, and climate change mitigation policies.
Authors: Grant Duncan, Associate Professor for the School of People, Environment and Planning, Massey University
Read more http://theconversation.com/nz-budget-2018-gains-for-health-housing-and-education-in-fiscally-conservative-budget-96794