Marriage and money help but don't lead to long-lasting happiness
Written by

Nathan Kettlewell, Chancellor's Postdoctoral Research Fellow, Economics Discipline Group, University of Technology Sydney
We live in a culture that values "experiences". These are often promoted in the media, and by those selling them, as vital to enhancing our well-being.
We all know big life events like marriage, parenthood, job loss and the death of loved one can affect our well-being. But by how much and for how long?
We set out to measure the effect of major life events – 18 in total – on well-being. To do so we used a sample of about 14,000 Australian adults tracked over 16 years. Some of our results were expected. Others were surprising.
Overall, our results show[1] good events like marriage improved some aspects of well-being, but bad events like health shocks had larger negative effects. For good and bad events, changes in well-being were temporary, usually disappearing by 3-4 years.
Here are some of our most interesting findings.

Happiness versus life satisfaction
Our study distinguished two different aspects of well-being: "happiness" and "life satisfaction". Researchers often treat these as the same thing, but they are different.
Happiness is the positive aspect of our emotions. People's self-reported happiness tends to be fairly stable in adulthood. It follows what psychologists call "set point theory[2]" – people have a "normal" level of happiness to which they usually return over the long run.
Read more: Happiness hinges on personality, so initiatives to improve well-being need to be tailor-made[3]
Life satisfaction is driven more by one's sense of accomplishment in life. A person can be satisfied, for example, because they have a good job and healthy family but still be unhappy.
Life events often affect happiness and life satisfaction in the same direction: things that make you happier tend to also improve your life satisfaction. But not always, and the size of the effects frequently differ.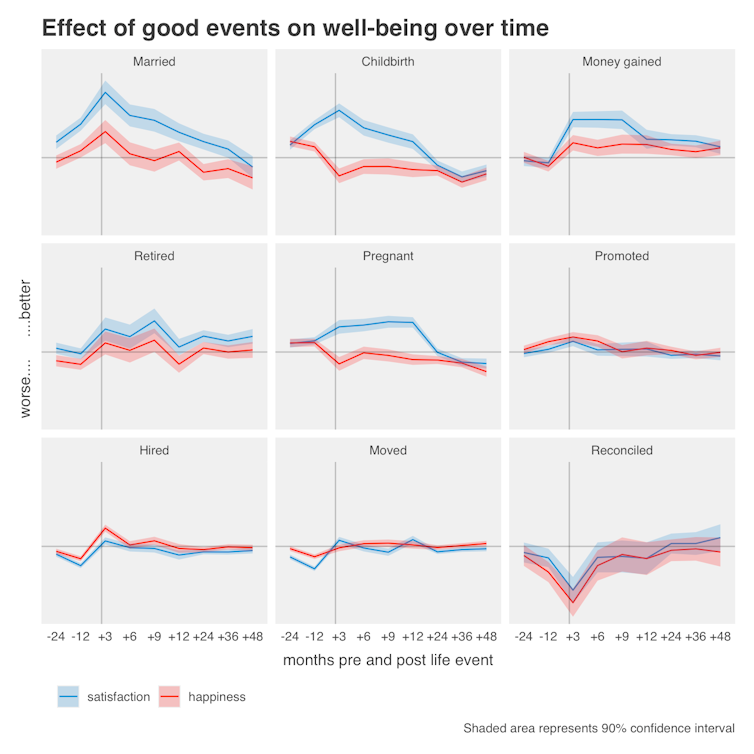 Authors: Nathan Kettlewell, Chancellor's Postdoctoral Research Fellow, Economics Discipline Group, University of Technology Sydney
Read more https://theconversation.com/marriage-and-money-help-but-dont-lead-to-long-lasting-happiness-140431