we'll need war bonds, and stimulus on a scale not seen in our lifetimes
Written by

James Morley, Professor of Macroeconomics, University of Sydney
Governments are being asked to do the near impossible: to deliver on both health and the economy. In many circumstances doing both at the same time would be completely impossible. But fortunately in Australia we have separate instruments we can use to target separate goals.
The health objective is to minimise the number of lives lost and keep the spread of the virus low enough to not overwhelm the health care system. Until there is a vaccine we will need to keep in place many of the current restrictions, including bans on large gatherings and international travel.
The economic objective can be assisted by relaxing other restrictions, such as those on the maximum number of people who can gather in one place, alongside careful monitoring and a readiness to reimpose them where needed. But any relaxing of restrictions won't be anywhere near enough to restore the economy to its full health.
Why we'll need more stimulus
That's where Australia's two separate tools come in. Restrictions are (for now) the primary means of maintaining health.
Huge government spending is the primary means of fending off massive unemployment and a recession worse than any since the Great Depression.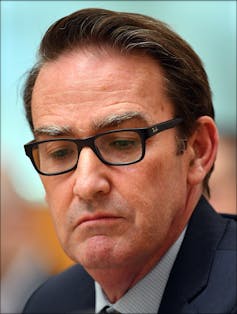 Mick Tsikas/AAP
Treasury Secretary Stephen Kennedy acknowledged the scale of what we are facing on Tuesday, telling a Senate committee[1] Australia had "never seen an economic shock of this speed, magnitude and shape."
Even if we lifted all of its restrictions right now, demand for our exports would remain at global recession levels, pushing our economy backwards.
Adding to the case for enormous extra spending is the additional reality that business cycles are almost always asymmetric[2]: the output lost in a recession isn't regained in the recovery[3].
To allow a big recession is to permanently alter our standard of living, and possibly our future growth path[4]; all the more so in downturns caused by pandemics which have been linked to a long-lasting increase in precautionary saving[5].
Fortunately, fiscal stimulus has been shown to be at its most effective when the economy is massively under-utilising its resources[6], as it is now.
JobKeeper is a placeholder
The bridging measures undertaken by the government, including JobKeeper[7], will be critical for mitigating the severity[8] of the recession and maintaining a platform for recovery.
But they will only mitigate the severity of the recession. They won't avoid it. In common language, they are not "stimulus" measures, but measures that will merely maintain (some of) the status quo.
Even with them, it is entirely reasonable to expect the unemployment rate to climb into double digits as 15-20% of the workforce lose their jobs.
Australia is in the fortunate position of being able to spend big in part because of its prudent policy during the good times and in part because of its comparatively good trade prospects once the global recession is over.
Read more: The charts that show coronavirus pushing up to a quarter of the workforce out of work[9]
And Australia is able to borrow at historically low levels. The Commonwealth government can issue 10 year bonds or longer at an annual interest rate well below 1%.
This means that even A$1 trillion of extra spending (more than one half of Australia's annual gross domestic product) would carry a price tag of $10 billion a year or about $400 per person.
As the economy grows, partly as a result of this extra spending, net debt will shrink as a proportion of gross domestic product, just as it did after the second world war.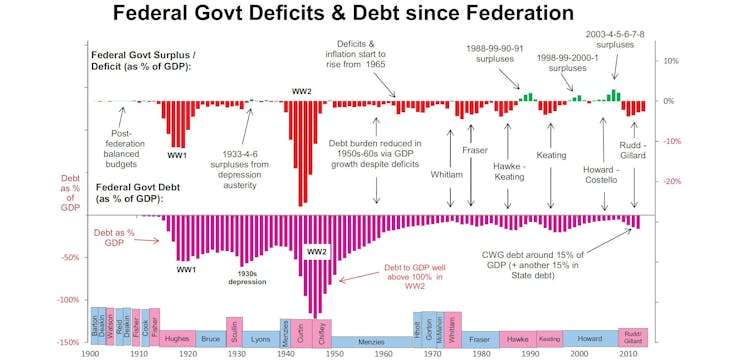 Authors: James Morley, Professor of Macroeconomics, University of Sydney
Read more https://theconversation.com/its-just-started-well-need-war-bonds-and-stimulus-on-a-scale-not-seen-in-our-lifetimes-137155