Why temporary migrants need JobKeeper
Written by

Joo-Cheong Tham, Professor, Melbourne Law School, University of Melbourne
The centerpiece of the Commonwealth government's COVID-19 economic stimulus program is JobKeeper[1]. Priced at A$130 billion, it will pay eligible employers $1,500 per fortnight for each eligible employee for up to six months.
The aim, according to the government fact sheet[2], is to
support employers to maintain their connection to their employees (as) these connections will enable business to reactivate their operations quickly – without having to rehire staff – when the crisis is over
But excluded from the scheme are workers on temporary visas (except for New Zealand citizens on Special Category Subclass 444 visas - they're included).
This exclusion is wrong for four reasons.
1. It penalises the businesses that employ temporary workers
The exclusion of temporary visa holders discriminates against the businesses that employ them.
Given there are close to 900,000[3] temporary visa holders with work rights (excluding New Zealand citizens) the discrimination will have a serious impact.
It will be particularly severe in industries that significantly rely on temporary migrants: among them hospitality (international students), agriculture (working holiday makers), health and aged care (workers on Temporary Skill Shortage visas).
The exclusion of temporary visa holders from JobKeeper will bring about distortions within and between industries. It will likely result in the closure of businesses that rely upon temporary migrants.
2. It breaches fundamental rights
Equal rights at work - regardless of migrant status - is a key principle of
This principle underpins Australia's Fair Work Act[4] which treats migrant workers as within its scope.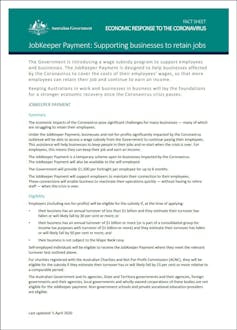 Authors: Joo-Cheong Tham, Professor, Melbourne Law School, University of Melbourne
Read more https://theconversation.com/why-temporary-migrants-need-jobkeeper-135688