your guide to the Australian payments that will go to the extra million on welfare
Written by

Peter Whiteford, Professor, Crawford School of Public Policy, Australian National University
This is longer than the usual Conversation article, so allow some time to take it in.
On Sunday, the government announced a second[1] coronavirus economic package.
In addition to further one-off payments, the package includes some of the most significant changes to social security payments Australia has ever seen, even if only on a temporary basis.
The amendments[2] passed by parliament on Monday night expand them further.
The package effectively doubles rates of JobSeeker Payment for most people without children.
Read more: Scalable without limit: how the government plans to get coronavirus support into our hands quickly[3]
The maximum rate for a single recipient without dependants is currently A$565.70 per fortnight. Lone parents and those over 60 who have been on benefit for nine months or more currently get more, while members of couples each get somewhat less.
For the six months from April 27 the government will boost it by A$550 per fortnight through a special time-limited Coronavirus Supplement[4].
Importantly, the extra $550 will go to all current recipients, including those who get less than $565.70 because they have assets or are in part-time work.
It will also go to both existing and new recipients of the Youth Allowance JobSeeker Payment, Parenting Payment, Farm Household Allowance and Special Benefit.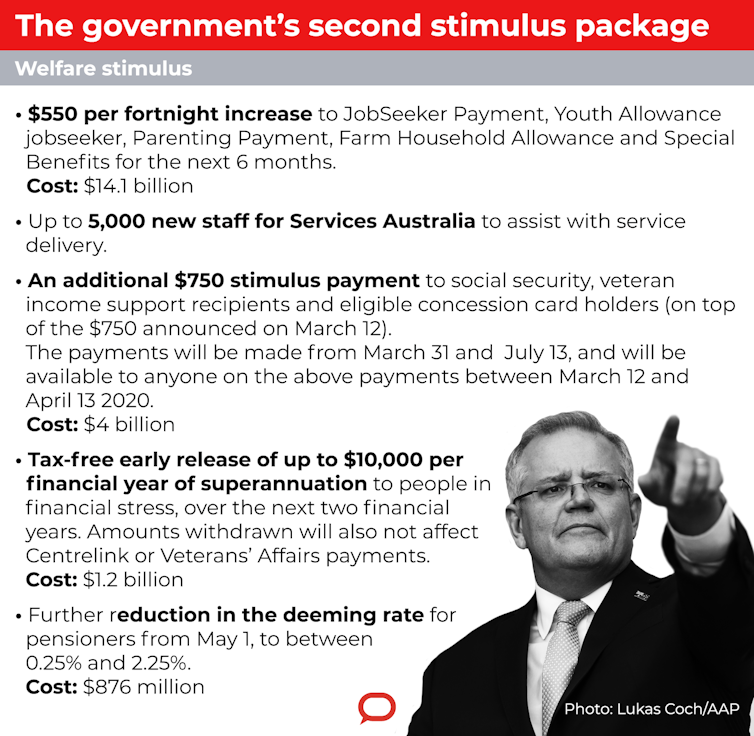 Authors: Peter Whiteford, Professor, Crawford School of Public Policy, Australian National University
Read more https://theconversation.com/coronavirus-supplement-your-guide-to-the-australian-payments-that-will-go-to-the-extra-million-on-welfare-134358