BlackRock is the canary in the coalmine. Its decision to dump coal signals what's next
Written by

John Quiggin, Professor, School of Economics, The University of Queensland
The announcement by BlackRock, the world's largest fund manager, that it will dump[1] more than half a billion dollars in thermal coal shares from all of its actively managed portfolios, might not seem like big news.
Announcements of this kind have come out steadily over the past couple of years.
Virtually all the major Australian and European banks and insurers, and many other global institutions, have already announced such policies.
According to the Unfriend Coal Campaign[2], insurance companies have stopped covering roughly US$8.9 trillion of coal investments – more than one-third (37%) of the coal industry's global assets, and stopped offering reinsurance to 46% of them.
Blackrock matters because it is big
The announcement matters, in part because of Blackrock's sheer size.
It is the world's largest investor, with a total of $US7 trillion in funds under its control. Its announcement it will "put climate change at the center of its investment strategy[3]" raises questions about the soundness of smaller financial institutions that remain committed to coal and to a carbon-based economy.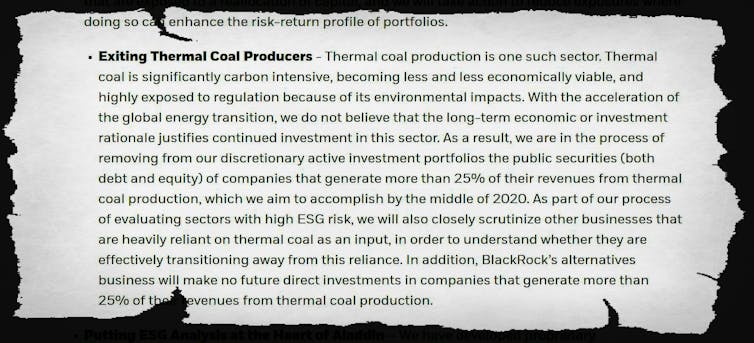 Authors: John Quiggin, Professor, School of Economics, The University of Queensland
Read more http://theconversation.com/blackrock-is-the-canary-in-the-coalmine-its-decision-to-dump-coal-signals-whats-next-129972