HireVue's 2023 Customer Excellence Award Winners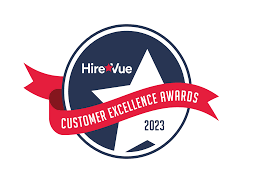 Championing agile and potential-led hiring strategies from across the globe

HireVue, the global leader in video interviewing, assessments, and text-enabled recruiting tools, has revealed the recipients of its 2023 Customer Excellence Awards. Now in its third year, HireVue's program showcases exceptional achievements in talent acquisition and management from across APAC, North America and EMEA.


"We're proud to collaborate with some of the most exceptional companies worldwide. Through these partnerships, we gain insight into and celebrate their inspiring success stories," said Anthony Reynolds, CEO of HireVue. "It's been great to see the tangible impact of our solutions as these innovative brands tackle the growing demands for top talent and navigate the challenges they face in finding and retaining exceptional employees."


The 2023 Customer Excellence Awards celebrate a total of 20 outstanding companies and individuals across categories from "Experience Star," recognising the use of HireVue technology to create a standout candidate experience to "Rock Star," honouring outstanding individuals within recruitment teams who go the extra mile. 


Each award recipient in these categories has demonstrated exceptional leadership, innovation, and commitment to excellence in their talent acquisition strategies. 


Better Together Winners:

Santander

TalentA

Flutter

Diversity Star Winners:

ANZ

The Estée Lauder Companies

Pepsico

Experience Star Winners:

DOD

Optus

Australian Unity

ICON plc

Universal Services (Allied Universal)

CSX

Impact Star Winners:

Nestlé

Keurig Dr. Pepper

Spectrum / Charter

Rock Star Winners:

Rio Tinto

Johnson & Johnson

PwC CEE

JetBlue Airlines
Carlos Garcia, Director of Recruiting Systems at Allied Universal had this to say about the award win:


"Allied Universal is proud to have been granted the HireVue Experience Star award. We encountered the challenge of efficiently managing a high volume of hires and were determined to improve the post-hiring experience for our security professionals. Effectively leveraging HireVue's text surveys, we collected feedback from new hires at various intervals, allowing us to promptly address issues and refine the onboarding process. This has resulted in increased employee satisfaction, productivity, and valuable data insights for process enhancement."


About HireVue 


HireVue is where hiring happens – transforming the way organisations discover, engage, and hire the best talent. Connecting companies and candidates anytime, anywhere, HireVue's end-to-end hiring platform features video interviewing, assessments and conversational AI. The industry leader in science backed, modern hiring solutions powered by ethical AI, HireVue has hosted more than 83 million video interviews and 200 million chat-based candidate engagements for over 1150 pioneering customers around the globe.
HireVue social networks
Twitter: www.twitter.com/HireVue 
LinkedIn: www.linkedin.com/company/hirevue 
Facebook: www.facebook.com/HireVue 
YouTube: www.YouTube.com/user/HireVue 
Instagram: www.instagram.com/hirevue/