The dirty secret at the heart of the projected budget surplus: much higher tax bills
Written by

Peter Martin, Visiting Fellow, Crawford School of Public Policy, Australian National University
The budget is bouncing out of deficit and is set to stay in surplus for the decade to come.
That's what the April budget[1] and the final budget outcome for 2018-19[2] tell us, and Thursday's report from the Parliamentary Budget Office doesn't say any different.
It doesn't have much choice. The Parliamentary Budget Office is required to take the government's surplus and deficit projections for the next four years as given, and to take its economic forecasts and tax and spending announcments for the next ten years as given, whether realistic or not.
What it is allowed to do, and does once a year in a publication entitled medium-term fiscal projections[3], is to set out the implications of those projections.
Those implications, spelled out on Thursday, show the projected budget surplus to be so fragile as to be unrealistic, except the parts that rely on much higher personal income tax collections.
That's right: much higher income tax collections per person, even after taking into account the coming decade of legislated tax cuts.
Middle earners hit hardest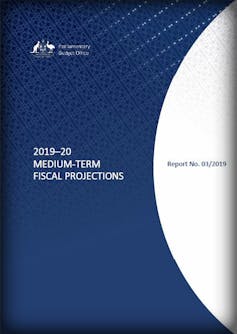 Authors: Peter Martin, Visiting Fellow, Crawford School of Public Policy, Australian National University
Read more http://theconversation.com/the-dirty-secret-at-the-heart-of-the-projected-budget-surplus-much-higher-tax-bills-124273