Why we've the weakest economy since the global financial crisis, with few clear ways out
Written by

Peter Martin., Visiting Fellow, Crawford School of Public Policy, Australian National University
The Australian economy is tepid, with consumer spending the weakest in ten years, business investment shrinking, and economic growth too weak to cover population growth.
Were it not for very strong growth in export income and the biggest surge in government spending in 15 years, the economy would have shrunk.
The treasury believes the Australian economy is capable of growing at a sustained annual pace of 2.75%[1]. The growth rate in the past financial year of 1.4%[2] reported on Wednesday is only half that.
Not since September 2009 has the gap between what the Australian economy is capable of and what it has been delivering been so wide. 2009 was the year of the global financial crisis.
Real GDP growth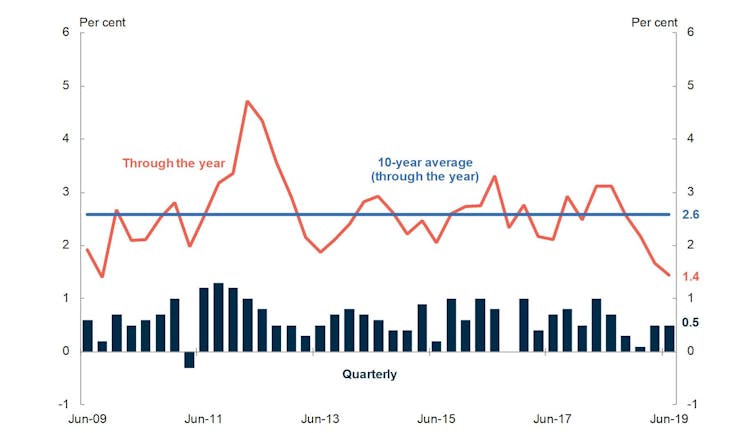 Authors: Peter Martin., Visiting Fellow, Crawford School of Public Policy, Australian National University
Read more http://theconversation.com/why-weve-the-weakest-economy-since-the-global-financial-crisis-with-few-clear-ways-out-122942