Amid talk of recessions, our progress on wages and unemployment is almost non-existent
Written by

Richard Holden, Professor of Economics, UNSW
Legend has it that, when asked by US President Richard Nixon in 1972 what he thought about the impact of the French Revolution, Chinese Premier Zhou En Lai replied: "it's too early to say".
Waiting for progress on wages and unemployment in Australia may not be a multi-century enterprise (the French Revolution was in 1789) but Reserve Bank Governor Philip Lowe's testimony[1] to the House of Representatives Standing Committee on Economics on Friday was reminiscent of Zhou's caution:
In the central scenario that I have sketched today, inflation will be below the target band for some time to come and the unemployment rate will remain above the level we estimate to be consistent with full employment.

While this remains the case, the possibility of lower interest rates will remain on the table. The board is prepared to ease monetary policy further if there is additional accumulation of evidence that this is needed to achieve our goals of full employment and inflation consistent with the target. Time will tell.
That was a week ago, but since then "old man time[2]" has given us two less than completely encouraging pieces of information.
Wage growth isn't really climbing
On Wednesday the Bureau of Statistics released the June quarter Wage Price Index[3] which showed wages rising 0.6% for the quarter and 2.3% on the year.
It provides two things to worry about.
First, wage growth isn't rising. Annual growth has remained unchanged for three quarters.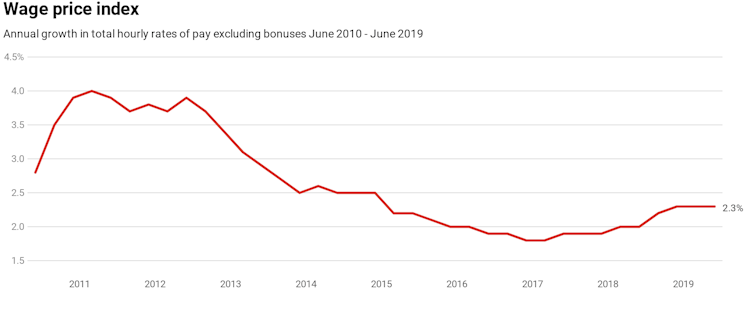 Authors: Richard Holden, Professor of Economics, UNSW
Read more http://theconversation.com/vital-signs-amid-talk-of-recessions-our-progress-on-wages-and-unemployment-is-almost-non-existent-121813