Trump's nominations for the US Federal Reserve are an odd lot, and an even bet
Written by

Richard Holden, Professor of Economics, UNSW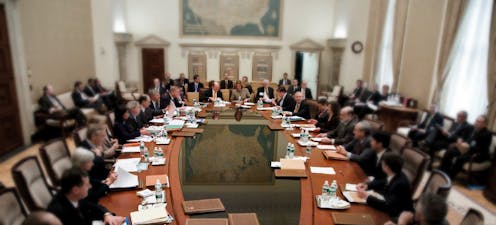 This week US president Donald Trump announced two more nominees — Judy Shelton and Christopher Waller — for the two vacant positions on the US Federal Reserve's board of governors.
He will be hoping for better luck than he has had thus far in filling the vacant slots. Four nominees have already gone down in varying degrees of flames.
These are important positions, with the board's seven members having significant influence over monetary policy and financial supervision.
The board doesn't sets official interest rates, but all seven governers are also members of the Federal Open Market Committee, which does.
Given this, and the fact the governors serve terms of up to 14 years, they are influential and important figures.
Read more: Why Federal Reserve independence matters[1]
In the pre-Trump era, those nominated to be governors tended to be distinguished individuals with an extensive background in a relevant field.
A significant number of recent governors[2] have been academic economists. Examples include Janet Yellen, Jeremy Stein, Lael Brainard, Richard Clarida, Stanley Fischer, Ben Bernanke, Randall Kronser, Frederic Mishkin and Alice Rivlin.
Some have been long-term employees of the Federal Reserve system (Donald Kohn, for example), while others have had extensive experience in financial markets (Jerome Powell, Sarah Bloom Raskin and Betsy Ashburn Duke).
The Fed Board's weighting towards PhD economists and those with impeccable credentials in financial markets contrasts somewhat with the Reserve Bank of Australia, which is largely comprised on people from the business community.
Read more: Vital Signs: the RBA's marching orders are no longer realistic. They'll have to change[3]
Current RBA board member Ian Harper has a PhD in economics, and so did former member Warwick McKibbin, but there has never been more than one such member (setting aside the RBA governor and deputy governor) at a time.
Failed nominees
Trump tends to favour people who agree with him. Two of his failed nominees were former presidential rival Herman Cain and Club for Growth[4] founder Stephen Moore. Both were criticised as being egregiously unqualified, but both had consistently said very nice things about Trump.
Before Cain and Moore, Trump nominated Marvin Goodfriend, a Carnegie Mellon professor, and Nellie Liang, a long-time Fed official.
Goodfriend failed to gain enough support in the Senate because he had put both Democrats and Republicans offside. He had been critical of the stimulus spending following the Global Financial Crisis. This alienated Democrats. In 2000, he suggested the government put magnetic strips on money so it could tax cash to avoid deflation. This did not endear him to the libertarian Republican senator Rand Paul.
Liang should have been a slam dunk. She was widely respected and her nomination was smiled upon by Fed chairman Jay Powell. But she had led the Fed's post-GFC efforts to tighten regulation of financial institutions. The banking lobby apparently didn't like this too much. A confirmation hearing was never scheduled before the Republican-led Senate, and she withdrew[5].
Current nominees
With Waller and Shelton, one is qualified (if not exceptional), the other is dubious.
Waller has been director of research at the Federal Reserve Bank of St Louis (one of the 12 regional US reserve banks). He has a Phd from Washington State University, and has been a professor at the University of Notre Dame.
He has written academic papers about the independence of central banks, and on the determinants of low inflation. His view on the latter is perhaps why Trump nominated him.
In an interview last week[6] he said he didn't think low unemployment drove up inflation:
We don't buy into it. Look at Japan. If you take that off the table, suddenly you're like: Unemployment can stay low, and it doesn't cause inflation, then what are you worried about?
The implication is that he wants the Fed to cut rates – a position consistently argued by Trump.
Shelton also favours rate cuts and seems to support almost every position Trump holds – from tax cuts to deregulation to the trade war with China. She is also an advocate of pegging the value of the US dollar to gold or some composite basket of commodities.
She lacks the academic credentials of anyone who has ever served as a governor of the Fed. But her views on economic matters line up with Trump's.
Will the Senate confirm?
It's hard to predict what the US Senate will do. The confirmation hearings may prove pivotal. Waller is not a star, but he is well-credentialled enough. He holds views on interest rates and inflation – that the Fed can safely cut – that might appeal to both Democrats and Republicans.
Shelton's path to confirmation is much less clear. Gold bugs like Rand Paul will presumably be excited, but her position is way out of the mainstream, and reflexively pro-Trump positions are unlikely to endear her to Democrats.
Perhaps the key question is whether enough Republican senators see her as a Cain/Moore-level intellect, completely out of keeping with past Fed governors.
But Cain's and Moore's nominations ostensibly failed because of their history with and remarks about women. So who knows.
Authors: Richard Holden, Professor of Economics, UNSW
Read more http://theconversation.com/vital-signs-trumps-nominations-for-the-us-federal-reserve-are-an-odd-lot-and-an-even-bet-119868