Top tips for upgrading your pool entertainment area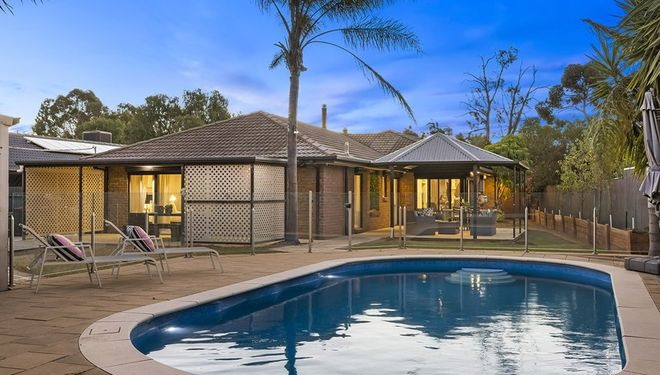 As a nation of water lovers and the outdoors, many of us relish time spent frolicking in the pool, chilling poolside with a book, or entertaining alfresco style. And with so much emphasis placed on indoor-outdoor living, the pool area has become a key space for entertaining.
Here we provide some top tips on how to create the 'wow' factor for your pool entertainment area – without spending a fortune.
Safety First – Upgrade Your Pool Fence
Australia has stringent laws regarding pool fencing and gates for both in-ground and above-ground pools.
If the pool is 30 cm or more, it must be fenced, and it must be a permanent structure of at least 1.2m high, with gaps no larger than 100mm wide. Gates must open outwards and latches must close and bolt automatically. The idea behind this is that children are unable to enter the pool enclosure without adult supervision.
If you or your installer already know the regulations for pool fencing in your State, that just leaves making a style choice, and with a myriad of pool fencing options available, it comes down to personal preferences.
There are various tips to help you choose a pool fence, but here are some key considerations when it comes to the fencing material:
Types of Pool Fencing
The most common pool fence materials in Australia are wood, composite, steel, aluminium, mesh and glass panels. They all come with their pros and cons, and again, the type you choose will depend on your personal taste, the existing style of your home, backyard and pool area, and of course, your budget.
Metal Fencing
With metal, choose a good quality non-rusting option, which may cost extra but a rusted pool fence will not only be an eyesore but also need to be replaced for legal and safety reasons. You need to be particularly careful of rust issues especially if you live by the coast.
Aluminium fencing: Aluminium is a popular fencing material because it is lightweight, easy to install, and needs no maintenance. You shouldn't have rust issues with an aluminium fence, but over time it may oxidise, and it might dent easily. Rust occurs in iron and metals that contain iron, like steel. However, you can paint it to match the colours of your home for a synergistically pleasing appearance.


Steel fencing: Steel is much stronger than aluminium, but also heavier, and it is more expensive. It is better suited than aluminium for areas that experience heavy storms, falling debris, etc. A steel fence will withstand a heavy tree branch falling on it much better than an aluminium pool fence, for example. Steel, however – due to the iron content – is known to rust, so you'll need to make sure your steel is galvanized.
You can also choose to have your metal fencing powder-coated, which is more resilient and longer lasting than paint and creates a barrier to resist rust. Not only that, but there are a huge range of colour options when it comes to powder-coating.
Timber Pool Fencing
A wood pool fence using natural timber will match perfectly with a rustic or country style home and garden environment. Lightweight and easy to work with it is probably the cheapest option. You can seal it and maintain the natural colour of the timber, or you can let it age and provide the silver-grey look, or you can paint it.
It won't last as long as a metal fence though, and you will have a lifetime of maintenance to keep it from warping, fading, splintering, cracking, etc. If you have time and money for this ongoing upkeep, then that is not a problem.
If you have your heart set on the timber pool fence look, but turned off by its lack of longevity and ongoing maintenance requirements, you can also consider a composite pool fence, which will last a lot longer than a natural timber fence.
Composite looks like real timber but doesn't have the maintenance requirements of natural timber. It will stand up to the rigours of the Australian climate and with its 360-degree capping, it is protected from the wet pool environment.
Whatever fencing material you opt for, keep in mind darker colours are less noticeable than lighter colours. If you want the view of your pool to be the main focus, opt for dark pool fencing colours, but if you want the fence to be obvious, choose a lighter shade.
Glass Panel Fencing
Glass panel fencing is the most expensive option, but is popular because it provides the no-fence look for a seamless vista.
You can choose from the more expensive frameless fence option or the slightly cheaper semi-frameless, framed, or even inground options. Safety glass is used and the panels are available in different thicknesses.
If an uninterrupted and unobstructed view of your pool and backyard area is important to you, glass panels might be your best choice. Clear glass panels are also perfect for small yards, where the use of other fencing can make the area look even smaller and compartmentalized.
To DIY or to Not DIY?
You can save money if you do it yourself, but if it isn't installed properly, your local council will not approve it and you will have to re-do it. Also, installing it yourself will take your time and effort and you need to ensure you get everything correct i.e. the legal distances between the fence, your pool and your house, the legal maximum gap at the bottom, etc.
It might cost extra to have a professional install your pool fence, but at the end of the day, you know it will be installed properly, take less time to complete, and pass Council inspection first go.
Upgrade the Paving
Due to its sheer size, the area surrounding your pool draws the eye almost as much as the pool itself. So, getting it right is crucial for creating an appealing pool entertainment area.
Replacing broken, chipped, or dated paving with an attractive alternative. Not all paving is expensive, so shop around. You may even be able to buy second-hand outdoor floor tiles on Gumtree or Facebook Marketplace. Just be sure the tiles are anti-slip – even if it means paying a bit more.
Also, consider accessibility; is your home accessible for people living with a disability? For example, if a family member or friend uses a wheelchair, will they be able to easily access the pool area?
Install a Deck
A great alternative to paving is decking. Cost-effective and relatively easy to install, decking is a great solution for larger spaces. Frequently used to create dining and lounge areas, it is also a popular choice for pool surrounds. Decking looks slick and can create a luxurious feel.
Consider composite decking as a low-maintenance, long-lasting substitute for natural wood.
Composite is generally UV-protected and will not split, rot or swell. It is also resistant to mould, mildew and pests. Not only that, but a good-quality composite will be fade, stain and slip-resistant and will usually come with a 20+ year warranty.
Create Shaded Areas
Shaded areas are essential in Australia. For the ultimate 'wow' factor, you may wish to build a loggia, or pergola. Think rustic European elegance, Hamptons style, or a Bali hut.
If your budget doesn't stretch that far, consider installing an outdoor umbrella, but make sure the fabric is UV-resistant. And if space is tight, a shade sail or wall-mounted umbrella will be a better option than a free-standing umbrella.
Smarten Up Your BBQ Area
The BBQ area is another focal point of any outdoor space; it is where people congregate. So, smartening up your BBQ area will have significant impact your guests' impression of your entertaining area.
Give your BBQ a thorough clean, including the grill, cook box, burners and hood. If it's old and beyond help, it might be time to invest in a new BBQ. Or, if your budget allows, why not install a fancy outdoor kitchen for the ultimate 'wow' factor?
Let There Be Light
Lighting not only improves functionality and safety, allowing for extended usage in the evenings, but it also creates ambiance.
Illuminate your pool with lights and allow for brighter lights in areas such as dining areas which require better visibility. But subtle lighting can create a better aesthetic for pathways and seating areas, so aim for a soft glow. You can achieve this with deck lights or small wall lights.
Add Greenery
Greenery is a must for any outdoor area. It can transform an unattractive area into a beautiful oasis. If you have a harsh wall that needs softening, plant a climber such as Ivy or Star Jasmine, or consider creating a vertical garden.
And add some flowers for a pop of colour. If you don't have garden beds, pots work wonders.
Design Decisions
Think carefully about the look that you want to create and how it will work with the rest of your yard. Consider all the design elements you need to incorporate to achieve the look you're after – from decking and paving, to fencing and lighting, right through to plants and furniture.
And try to select a design that will complement the style of your home. For example, a rustic timber look pool entertaining area would look great with a Mediterranean style home, whereas slick metal or glass materials would blend harmoniously with an ultra-modern home.
Lastly, remember that clutter can spoil the aesthetic of any area. Store unused items away, or if you're limited on storage space, consider having a clear-out or hiring a mobile storage unit.
So, there you have it – some top tips to consider when upgrading your pool entertainment area.