Looking for a financial adviser? 6 expert tips to find the best one for you
Written by

Ama Samarasinghe, Lecturer, RMIT University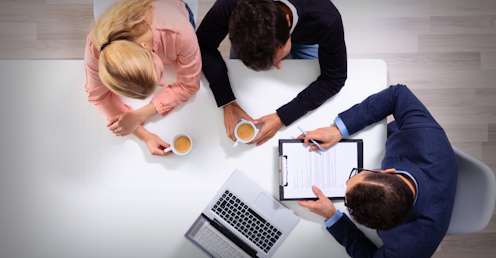 Financial decisions can make an enormous difference to the rest of your life.
As an example, the difference between having superannuation in one of the top-performing quarter of funds compared to bottom-performing quarter can mean retiring with about A$1.1 million[1] instead of $610,000, according to calculations by the Productivity Commission.
Getting good advice can pay for itself many times over. But how do you find it?
It isn't cheap. According to research commissioned by the Financial Planning Association of Australia (which represents financial advisers), the average cost is about $3,300 upfront, then about $4,300 a year[2] if you sign up for ongoing advice.
It used to appear to be free. Financial advisers were paid by commissions sent their way by the makers of the products they steered their clients into and taken from the client's funds. These commissions were not only upfront but also ongoing each year, meaning they ended up costing clients a lot.
Commissions have been banned[3] since 2013. In 2018, the Hayne royal commission into misconduct in the financial services industry recommended the government go further and ban the payment of commissions to mortgage brokers, a recommendation the government rejected[4], which is why mortgage brokers still don't charge upfront.
Here are some tips about how to find the right adviser.
1. Work out what matters to you
What matters to you most? Do you care about maximising your returns no matter what, or do you value social and environmental responsibility? Are you interested in keeping risk to the absolute minimum, or are you happy to accept greater risk in pursuit of higher returns?
Your specific needs are also important. Some advisers offer guidance on a broad range of financial matters such as retirement planning, estate planning and the operation of a business. Others are more narrowly focused on managing money.
Another important consideration is the adviser's approach to working with clients. Some adopt a more hands-on approach, providing regular updates and actively managing clients' investments. Others may check in periodically.
Work out what you want first. This will help you narrow down options to one.
2. Get a recommendation
It is always good to talk to previous clients to get a sense of a adviser's track record and approach.
The most practical way to do it is to get a referral from a friend or colleague or someone else you trust.
Otherwise, it is possible to search for registered advisers by postcode on the government's MoneySmart financial advisers register[5]
3. Check qualifications and experience
Only advisers with an Australian financial services (AFS) licence are able to give advice, and they are all listed on the financial advisers register[6].
Putting the name of the adviser into the search bar will produce a page showing
whether the licence is current

any disciplinary actions against the adviser

the adviser's employment history

the adviser's qualifications and training

what the adviser is licensed to provide advice about.
Financial advisers are required to provide potential clients with a financial services guide[7] that includes a description of the services they provide, including limits to the services provided, information about fees and charges, details of any conflicts of interest and information about the complaint resolution process.
There should be a copy on the adviser's website, or you can ask for a copy.
Read more: How FTX Australia was able to claim it was 'ASIC-licenced'[8]
4. Ask the right questions
The next step is to ask enough questions over the phone to be sure it's worth meeting in person. Start with the questions about priorities listed in point one.
If the answers are not satisfactory there's no point proceeding to a meeting.
If the answers are good, it's time for an open and honest conversation, probably in person. Don't be afraid to ask more about their experience, values and approach.
Useful questions include:
how do you assess my specific financial needs?

how will you manage my wealth?

how do you approach financial planning?
Red flags include
any answer that seems generic, one-size-fits all, not taking into account your specific needs and goals

any explanation that is vague and unclear

any hint of pressure to invest in a certain product or service

any claims or promises that seem too good to be true (such as a very high return without risk).
5. Review the plan
If your meeting goes well, the adviser will put together a financial plan which will be set out in a Statement of Advice (SOA)[9].
The statement must detail the proposed strategy, any financial products being recommended and how they meet the client's financial objectives and the risks associated with these products, what their advice covers (and does not cover), and the associated fees.
The statement is designed to help you make an informed decision. It can also serve as a point of reference in the event of misunderstandings.
6. Don't set and forget
Coming up with a plan usually isn't the end. Regular monitoring and review is the best way to achieve the best outcomes.
This is because circumstances, priorities and objectives change, as well as markets.
Generally, your adviser will recommend annual or two-yearly reviews to ensure that the plan remains aligned with changed circumstances.
If you have a more complex situation, more regular check-ins might be needed.
Read more: Australians need good financial advice more than ever to pay for soaring interest rates. Here's how to get it[10]
Authors: Ama Samarasinghe, Lecturer, RMIT University
Read more https://theconversation.com/looking-for-a-financial-adviser-6-expert-tips-to-find-the-best-one-for-you-199498