12 Must Have E-Scooter Accessories to Give this Christmas
Written by

NewsServices.com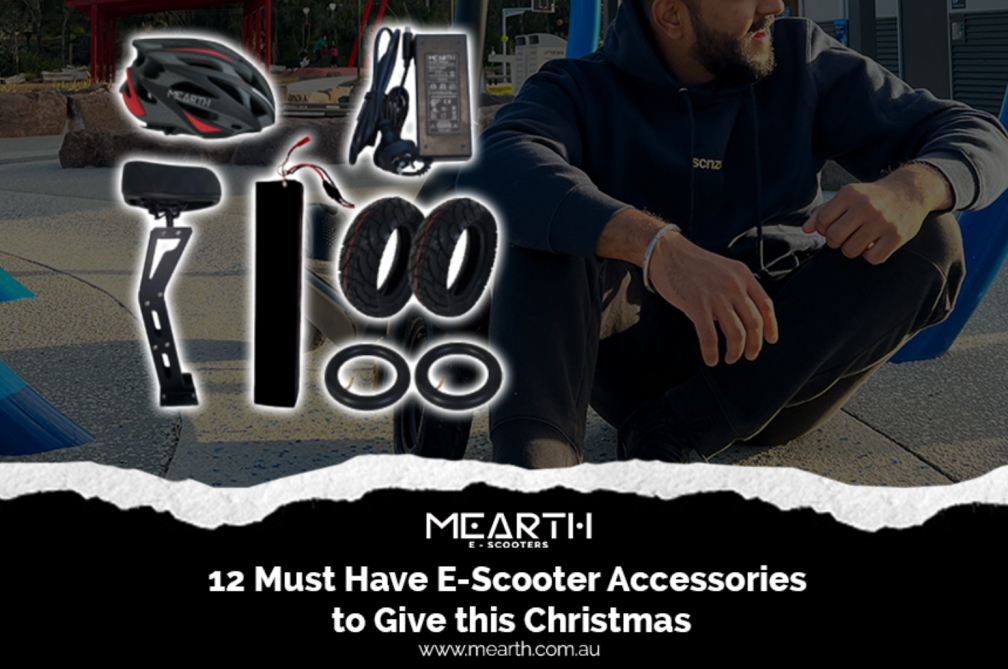 Just a few wee winks and before you know it, the warm spirit of Christmas comes frolicking on your doorstep. No need to do panic shopping. If you or someone close to you rides or own an electric scooter, gifting him or her is one thoughtful and gesture that will be fondly remembered for a long while. 
True, long-range electric scooters like the Mearth RS Pro may have all the features that you need, but who says you can't add a bit of pizzazz to function, comfort, and safety with these important accessories. These accessories are essential items that the rider can wear, install or use for their electric scooter. Without much ado, here are 10 highly recommended electric scooter accessories to give as an essential and useful gift to a dear e-scooter rider, and to yourself as well. 
A Helmet

is a must when riding an electric scooter. This is an accessory that you should definitely buy, or give to someone who doesn't have one yet. While there are different types of helmets available, it's recommended to get a helmet with an eye cover to protect the eyes while riding. The lightweight electric scooter helmet like the Mearth Airlite is also enough. What matters is that the head is protected, in case of accidents. Necessity: strongly recommended. 

A Safety Vest

is an affordable, reflective clothing that usually sports bright neon colors that not only glows in the dark like regular fluorescent light, but also has a turn signal widget that serves as an extra turning signal for you. It provides extra safety to the rider when riding at night. Wearing a safety vest at night makes you and/or the rider visible to pedestrians and other vehicles. This way, the risk of colliding with a pedestrian or a car is minimized. Besides, these reflective (fluorescent) vests will be required for night riding in Australian local laws. It's light and foldable, and can be tucked inside the pocket of one's bag. Necessity: strongly recommended.

Swappable Batteries

come in handy when you truly need 'em. Riders and owners of Mearth S Series electric scooter are have swappable batteries. An extra battery is another essential gift item you can consider giving. It is also highly recommended. The scenario of getting stranded when the batteries run out can then be avoided by having multiple batteries that can even extend one's trip anytime. These batteries are usually small and lightweight, so the rider or you will have no problem carrying them in a bag. Visit

www.mearth.com.au

for more information. Necessity: strongly recommended.

Gloves, Knee and Elbow Pads

, offer added protection to the hands, especially if and when you fall accidentally. Since it's human instinct to put your hands first on the ground to cushion your fall, protect your hands from cuts or abrasions by wearing gloves. Gloves are highly recommended for riders who like to ride at high speeds or off-road. The knee and elbow pads are another important piece of the safety gear set. While not mandatory, they are a good idea, especially if you ride at higher speeds. Also, they are a great idea if you're a beginner, since that's when you will likely fall from your scooter the most. Knees and elbows are the most vulnerable body parts when you fall, and the pads might prevent a serious fracture. Necessity: highly recommended.

E-scooter Lock

is a vital form of protection when you or the rider can't bring an electric scooter inside an establishment. Using a sturdy lock when parking the electric scooter outside can protect your electric scooter from theft and to keep your electric scooter safe while you are away. This is another gift that can double up as an investment. There are different types of electric scooter locks from chain locks to U-locks. Necessity: highly recommended.

A Basket

may seem ordinary, but if you are always carrying a bag or a few items while riding, why not add a basket to your electric scooter? Electric scooter baskets are very useful and can come in different shapes and sizes, yet are generally small and can fit a few small items or just a small bag. When looking for a basket to gift someone with, make sure that it's lightweight so that it doesn't add much weight to the stem and rider load weight nor does it interfere with the scooter's design and ergonomics. Necessity: good to have.

A carry Handle or Strap

is a small handle attached to the stem of an electric scooter. It allows you to carry an e-scooter like a suitcase. On the other hand, a carry strap offers a longer strap so that riders can carry their e-scooters like a bag. Depending on whichever is more comfortable for you, either strap will help you to hold and carry your e-scooter when riding in public or climbing stairs. Necessity: recommended. 

A Bell or Horn

is not to be considered insignificant, because not all electric scooters include a bell or horn in their controls. If your electric scooter doesn't have one, then it's recommended to add one. While riding, you can warn pedestrians, other riders, and vehicles when you are about to approach them. There are no e-scooter bells, so you need to buy a bicycle bell. Choose the sound that you like best, but make sure it's loud enough for others to hear in public. Necessity: highly recommended. 

Not only does the LED strips

accessory add extra cool points, but it can also save your life when riding at night. As you already know, scooters are usually very silent, and not very big or noticeable at night. Having an extra set of lights placed on the bottom or on the sides of your deck will do wonders for your visibility and safety. You can choose any color, or set of colors, your height desires. Necessity: good to have. 

An electric scooter cover

(preferably waterproof) doesn't cost much but is another nice gift to give as it is durable and can be very useful, especially when the rider needs to park or store the electric scooter outside. The waterproof and weatherproof cover will prevent dust, rain, other harsh elements from damaging or corroding the sensitive parts of the electric scooter. Necessity: good to have. 

Having a tyre slime or tyre sealant

at hand will give one's e-scooter a quick fix in case the tyre gets punctured while riding. It will also help prevent the tyres from getting punctures, so it's recommended to use them earlier on new tyres. Necessity: recommended. 

A Mirror

(or two) can be a very useful, yet very inexpensive accessory to your or the rider's electric scooter, especially if one navigates through a lot of traffic or commute a lot. These dual mirrors will probably be a very useful handy gift to give, as therider or you will no longer need to constantly turn your head or look back to check the rear. Necessity: good to have. 
By now, you would already have determined that these recommended gift items are indeed a necessity and are reasonably priced. Showing how much we care at Christmas, or any time of the year with such gestures will be really appreciated. Again, it's the sincere expression of intentions behind the gift that matters. 
So if you are looking for electric scooter accessories in Australia, hopefully, this holiday gift guide on electric scooter accessories gave you an idea on what to buy for your special someone or to give yourself. Check out Ride Hub where you can find ones that are easily installable, removable, adjustable, durable, and most importantly, scratch-resistant. Happy holiday riding!