Jobs but not enough work. How power keeps workers anxious and wages low
Written by

Barbara Pocock, Emeritus Professor University of South Australia, University of South Australia
This is the third in a three-part mini-symposium on Wages, Unemployment and Underemployment presented by The Conversation and the Academy of the Social Sciences in Australia. Read the other pieces in the series here[1].
For the moment, Australia's unemployment rate has a "4" in front of it. The rate for February, released on Thursday, came in at 4.9%[2]. It's the first time the rate has begun with a four since the Rudd/Gillard government when it dipped below 5% several times, and since the Howard and Rudd governments in the leadup the global financial crisis when it usually began with a four and at one point dipped to 3.9%.
It'd be good news were it not for another, almost as important, indicator - the underemployment rate.
Workers are underemployed when they are working fewer hours than they want to. They might be working part-time instead of full-time, or part-time for 10 hours a week instead of 20, or full-time at 35 hours instead of 40.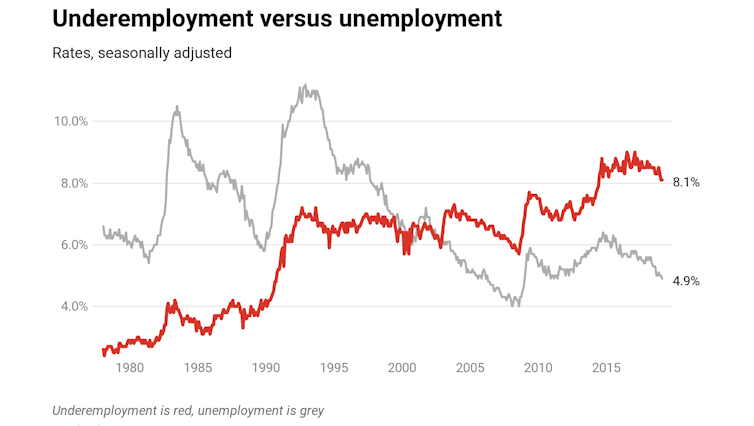 Authors: Barbara Pocock, Emeritus Professor University of South Australia, University of South Australia
Read more http://theconversation.com/jobs-but-not-enough-work-how-power-keeps-workers-anxious-and-wages-low-113360