Australia's populist moment has arrived
Written by

Warren Hogan, Industry Professor, University of Technology Sydney
This is part of a major series called Advancing Australia, in which leading academics examine the key issues facing Australia in the lead-up to the 2019 federal election and beyond. Read the other pieces in the series here.[1]
Populism is driven by the view that everyday people are suffering economic hardship as the corporate and political elites prosper. A sense of rising inequality and injustice is the foundation stone of populist rhetoric.
In Australia, the financial services royal commission[2] has lent credence to these concerns across a large part of the Australian community. Its hearings and reports give weight to the view that Australia's middle and working classes have been systematically ripped off by their financial service providers.
What is of concern for us here in Australia is not so much the lightning rod that has been the findings of the royal commission, but the prospect of much harder economic times ahead.
Australia is not used to tough economic times. It has been 27 years since our last major recession. In the past 26 years, the annual average unemployment rate has climbed on only five occasions. It has been steady or fallen in 21 of the past 26 years.
The economic tide could well turn against us over the next three years. This, as much as anything, will give vigour to the kinds of populist voices that are wreaking so much havoc in other Western societies right now.
Populism is toxic to democratic societies. It preys on people's worst fears and appeals to their darker instincts. Populism brings poor policy decisions and entrenches political dysfunction.
We are already seeing the effects that growing discontent with the major parties has on our political system. A surge of support for populist candidates and parties will magnify these problems.
Australian populism
Defining the concerns of populism is a tricky business. The most common is that economic and political elites benefit at the expense of the public, whether that be because the system is rigged against them or because those elites break social convention and even the laws to extract from the rest.
An extension of this perennial theme is that the elites, particularly in the business world, get away with it. The authorities do not pursue them and they are rarely held to account by the law.
Populism tends to be cultivated in an environment of poor economic performance and is exacerbated by growing inequality, real or perceived.
Australia's democracy has a long history of stable centrist parties dominating the parliament and public policy. Since our Federation in 1901, the two or three major parties at the time of each federal election have averaged about 90% of the primary vote.
These moderate tendencies are regarded as a hallmark of our nation, and key to the resilience of Australia as a society. But, as the accompanying chart shows, there have been periods when voters have drifted away from the major parties with considerable enthusiasm.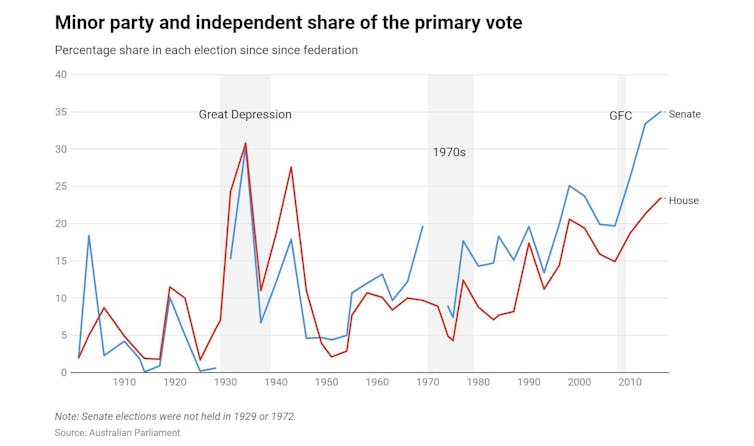 Authors: Warren Hogan, Industry Professor, University of Technology Sydney
Read more http://theconversation.com/australias-populist-moment-has-arrived-111491